---
UN Chief Ban Ki-Moon in California to Urge U.S. Lead on Global Warming

nited Nations Secretary-General Ban Ki-moon urged the United States to take the lead in combating global warming during a visit to California to learn about the state's aggressive campaign to curb its greenhouse gas emissions.

``The whole planet earth is at a crucial juncture,'' Ban told an audience at an event organized by the World Affairs Council of Northern California on Thursday. ``Time is of essence. The cost of inaction will be far greater than the cost of action.''

Ban, who served as South Korea's foreign minister before he became U.N. chief in January, arrived in San Francisco on Thursday for a two-day visit of the Bay Area. He lunched with Mayor Gavin Newsom at the historic Ferry Building and accepted a key to the city at the Herbst Theater, where the U.N. Charter was signed by its 50 original member states in 1945.

During the World Affairs Council event, Ban answered questions about a wide range of issues, including U.N. reform, the crisis in Darfur, the Israeli-Palestinian conflict and the war in Iraq.

Ban said he has made climate change a top priority of his tenure as secretary-general and has invited world leaders, including President George W. Bush, to attend a high-level U.N. conference to discuss the issue in September.

The U.N. ``should be at the forefront of generating strong political will'' needed to confront global warming, but the United States _ as a major emitter of greenhouse gasses and a leader in technological innovation _ is in the best position to bring change, he said.

``If you take leadership, I think we can save this planet earth from plunging into a very difficult situation,'' Ban told an audience of 1,300 people at the Fairmont Hotel.

California has become a world leader in confronting climate change with its efforts to promote renewable energy, boost energy efficiency and develop cleaner technologies. Last year, Gov. Arnold Schwarzenegger signed legislation that made California the first state to impose a statewide cap on greenhouse gas emissions.

Last month, he also met with then-British Prime Minister Tony Blair to discuss an agreement they reached last year for collaboration on research into cleaner-burning fuels and technologies. The two have also discussed linking European and California markets for trading carbon credits.
Fri July 27, 2007 07:24 EDT
TERENCE CHEA Associated Press Writer SAN FRANCISCO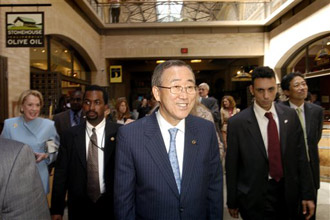 United Nations Secretary General Ban Ki-moon tours San Francisco's Ferry Building during a visit on Thursday, July 26, 2007. (AP Photo/Noah Berger)