Seoul's Best Nightlife Districts

In the past three decades Seoul has developed a half dozen world-class nightlife districts.

by Jack Song

PAGE 1 OF 2
Seoul's Best Nightlife Districts

ven in this age of Samsung flat-panels and cellphones, many visitors still see everything Corean (Korean) through the filter of M*A*S*H reruns and stories told by Uncle Joe who served in Corea way back when. These prejudices offend Seoulites who take pride in their nation's status as the world's 12th largest economy and the seventh biggest trading nation. It leads the world in shipbuilding, LCD displays, memory chips and consumer electronics. In auto technology it's rapidly closing the gap with Japan.

Seoul is home to 12.5 million, making it one of the world's top-10 cities. If you've never been out of the U.S., you've never seen a city as colossally endless as Seoul. Living alongside all those educated, energetic, affluent and exceptionally well-groomed Seoulites are around 170,000 expats from the U.S., Europe, the Middle East, South America, Japan, China and other parts of Asia. Many are executives for foreign or Corean corporations. A surprising number are Corean Americans. There are also about 1,500 young Americans teaching English in Seoul, as well as a rapidly growing population of foreign college students and professors.

So, yes, Seoulites are used to seeing foreign civilians of all races.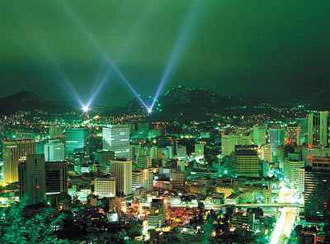 A view of Seoul from the hills north of downtown. The neon district of Myeongdong is in the lower right center. The hill at the center is Namsan. Beyond that lies the Han River, and to its south, the city's newer Gangnam (South of the River) area. Photo courtesy Korea National Tourism Organization