[CONTINUED BELOW]
---
---

This unequal trade threw off obscene profits, affording a hedonistic lifestyle that attracted purveyors of every kind of luxury and pleasure. By the 1930s Shanghai had become a latter-day Babylon to rival the fattest cities of the West. By the turn of the century it was home away from home to shylocks, con artists, soldiers of fortune and prostitutes from every corner of Europe, America and Asia.

The British and Americans eventually merged their concessions into a single prosperous jurisdiction centered around the Bund. The French were less efficient in operating their ramshackle territory sprawling to the south and west of the Bund. The absence of official oversight attracted the most desperate and freewheeling schemers, dreamers, rogues, artists, agitators and gangsters from around the world. They gathered in the French Concession's numberless cafes and restaurants to plot low intrigues and new world orders. The most successful of these would prove to be Mao and Gang — but that's jumping ahead.

These colorful elements of Shanghai society contributed to the development of a lively, sophisticated nightlife that surpassed any in the world. Establishments both gilded and dilapidated filled nightly with British bankers, German industrialists, American soldiers of fortune, Russian prostitutes, French performers, Chinese gangsters and Japanese militarists. This riotous party blossomed against a backdrop of an unbalanced world teetering toward cataclysm, adding to the romance and glamour that has since passed into legend.

The party ended on August 13, 1937. Japan launched a full-scale attack from sea, land and air, sending the city's elite into a helter-skelter rush toward the port. When the dust settled in 1949 with Chiang's departure to Taiwan and Mao's coronation over all China, Shanghai could finally return to a peacetime footing albeit as a somber ghost of its pre-war self. For three decades the famed Shanghainese energy and elegance labored under grim suppression of anything resembling fun and frivolity.

Deng Xiaoping's 1979 declaration extolling the glories of getting rich didn't instantly revive Shanghai's fabled nightlife. That takes a critical mass of people with access to easy money, and China produced precious few of those until recently. In the late 1990s the powers that be decided, not without trepidation, that even a capitalist system with socialist characteristics might require a decent nightlife. That's when developers from Hong Kong, the U.S. and Europe were encouraged to create trendy entertainment venues. To shorten the timeline for developing a full-blown nightlife from scratch, many of the choicest clubs and restaurants allowed to spring up are branches of establishments that have enjoyed success in other international cities.

Like Xin Tian Di (New Heaven and Earth), the hottest establishments are located to exploit the freewheeling, romantic atmospherics of the old French Concession rather than the stuffy dignity of the Bund, say, or the brassy ostentation of Pudong, as many visitors might suppose. But unlike the Bund or Pudong, the boundaries of the old French Concession aren't self-evident.

Those staying in one of the gleaming new five-star hotels in Pudong or west of the Bund will want to access the attractions of the French Concession from its main street, Huaihai Zhong Lu (the former Avenue Joffre), beginning near Shui On Center. You can get there either by walking about 1.7 miles west-southwest from the south end of the Bund or by taking Metro Line 1 to the Huangpi Nan Lu station and leaving via Exit 1. That puts you on the south side of bustling, crowded Huaihai Zhong Lu. By going west past Shui On Center, then turning left to go south a block and a half, you will reach Xin Tian Di, a posh new entertainment area whose two-block contains some of the city's top restaurants.

From Xin Tian Di it is a pleasant but vigorous walk westward to access the other hotspots of the old French Quarter like the Fuxing Park area (a lovely and lively French-style park on Nanchang Lu), cafe-lined Maoming Nan Lu (formerly Route Cardinal Mercier), and the atmospheric establishments in and around historic Ruijin Guest House.

For much of its colorful history Shanghai nightlife catered to adventurous foreigners. That remains true today to a far lesser extent. A sizeable proportion of clubs and restaurants are operated by foreigners or U.S.-educated Chinese American expats and deliberately cater to an international clientele. But the majority are now being taken over by a young generation of Shanghainese impatient with the nostaligia foreigners sport toward the colonial era. The new Shanghainese are eager to put their own unique stamp on the city. But they too seem to favor the richly layered ambience of the old French Concession. PAGE 2
"To shorten the timeline for developing a full-blown nightlife from scratch, many of the choicest clubs and restaurants allowed to spring up are branches of establishments that have enjoyed success in other international cities."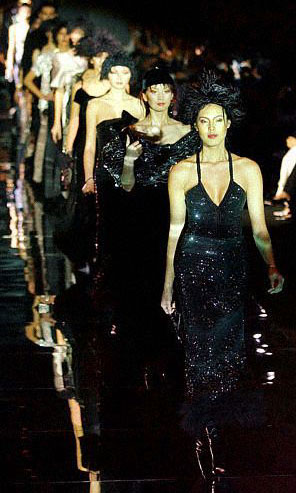 Now that money and glamour have the imprimateur of Beijing's bosses, Shanghai has worked to return itself to its former status as China's fashion capitol. Here Shanghai models strut Giorgio Armani creations during a 2004 fashion show to commemorate the opening of the Armani flagship store near the Bund. (AP Photo/Eugene Hoshiko)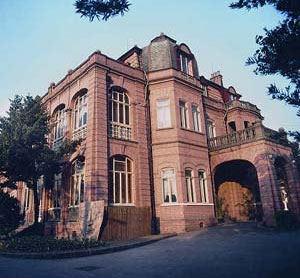 Storied Ruijin Guest House is an example of the kinds of historic buildings dotting the areas of the old French concession. Today it houses, among other establishments, Face, one of Shanghai's most elegant bars.
CONTACT US | ADVERTISING INFO

© 1996-2013 Asian Media Group Inc
No part of the contents of this site may be reproduced without prior written permission.