CONTACT US | ADVERTISING INFO

© 1996-2013 Asian Media Group Inc
No part of the contents of this site may be reproduced without prior written permission.
THE WORLD'S GINSENG CAPITOL
Culture and antiquity takes a back seat to ginseng madness in the town of Kumsan.
by Peter Y. Choi
PAGE 1 OF 5

he 19th century writer Paul Richard noted that "the vagabond, when rich, is called a tourist." His remark articulates my own thoughts on the essential appeal of travelling: the complete freedom -- away from faxes, email, answering machines and needy friends going thru their latest romantic crises -- that comes with the knowledge that each morning the rest of the day stretches before you without agenda.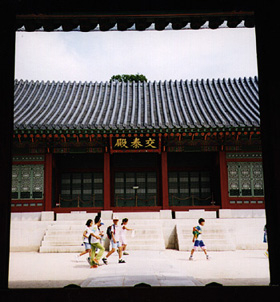 Through a doorway at Kyongbok Palace


&nbsp&nbsp&nbsp&nbsp A childhood scattered among India, Egypt, Morocco and Jamaica has made me an independent traveller. Even with my college days further behind me than I care to admit, I prefer being a footloose nomad to being trapped in an airconditioned bus with a tour group. So it was with some apprehension that I rode the elevator down to the lobby of the super-deluxe Shilla, a Samsung-owned hotel in the heart of Seoul.
&nbsp&nbsp&nbsp&nbsp It was Day One of a five-day tour sponsored by the Korea National Tourism Organization (KNTO) and the Korean Ministry of Culture and Sports "to promote Korean ginseng, the (annual Ginseng Harvest) festival and tourist attractions in the central region of Korea." Until recently, the tourism industry had been overseen by the Ministry of Transportation, but in 1995, feeling that the travel infrastructure -- planes, trains and highways -- was in place, the government transferred that authority to the Ministry of Culture.
&nbsp&nbsp&nbsp&nbsp Last year, the Ministry declared 1997 the Year of --big surprise -- Culture and selected 10 regional culture festivals to promote. These festivals are strong destinations for domestic tourism, but the idea was to tap into the growing demand from foreign tourists with a desire to go beyond tourist sites to experience regional culture. The Kumsan Ginseng Festival -- held every September -- was one of those selected and the reason my motley tour group of a dozen photo-journalists and travel/tour operators from the Americas and Europe found ourselves chatting awkwardly in the elegant Shilla hotel lobby.

[CONTINUED BELOW]
---
---

&nbsp&nbsp&nbsp&nbsp As a fan of alternative medicine, I was up for learning more about this odd, bitter root called ginseng -- or insam, "manroot", in Corean because it looks like the human body. (Ginseng is the Chinese pronunciation for the same characters.) Too, I was eager to experience the Korean countryside. My last visit to Corea had been ten years earlier and that had been confined to Seoul.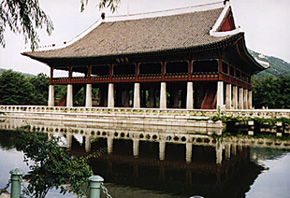 Kyongbok Palace water pavillion


&nbsp&nbsp&nbsp&nbsp Our tour hosts were Mr. Park, an energetic man in his 30's with ruddy cheeks and the classic Corean brush cut, and Mr. Sung, a lean, quiet thinker type. They were assisted by two smurf-like women guides, Ms Young Ja "Jennifer" Kang, and Ms Annie Yu who, being the apparent low person on the totem pole, barely uttered a word. They ushered us aboard what would be our home away from home for the next few days, a comfortable 40 passenger bus with a small table in back to serve as a lounge area where Mr. Park and the other smokers quickly established their domain and lit up. Fortunately, the fall weather was beautifully sunny and the issue of second- hand smoke dissipated out the open windows as the non-smokers adopted a "when in Rome" attitude.
&nbsp&nbsp&nbsp&nbsp Our first stop was the KNTO's headquarters in Seoul where we watched what would be the first of many short films about Corea which all seemed to open with the same baritone narrator intoning "Corea... the land of the morning calm..." followed by a flourish of Korean instruments ( ...). We then gathered around a large map of Korea as the KNTO spokeswoman pointed out where we were going. For some reason, she insisted on using a microphone that boomed her voice from speakers around the otherwise empty cavernous hall even though we were standing right next to her.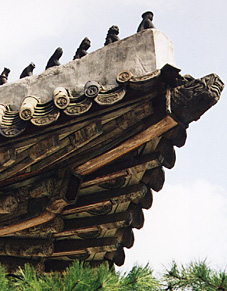 Roof detail at Kyongbok Palace


&nbsp&nbsp&nbsp&nbsp Back on the bus, Jennifer continued her singular style of tour patter which mixed the usual factoids about tourist sights in Seoul with seemingly random anecdotes about life in Corea. At present she was recounting a recent local news story about some teen miscreants who had beat up an old man ("That is why today old people are afraid of young people.").
&nbsp&nbsp&nbsp&nbsp Eventually our air conditioned bus rolled into the parking lot of Kyongbokkung Palace, built in 1394 as a primary residence for the royal family during the third year of the Chosun Dynasty. We strolled through the vast, ornately detailed Palace Grounds, our only company being groups of school children and the occasional wedding couple who traditionally use the Palace grounds as a backdrop for their formal pictures.
&nbsp&nbsp&nbsp&nbsp Reboarding the bus, we headed to the Yehyang restaurant for a "Korean Green Tea Ceremony". After a traditional Korean lunch of delicately seasoned beef soup along with the usual array of condiments and appetizers, we waited for the "Tea Master" who was late -- stuck in Seoul"s perpetual gridlock. Conversation was still stiff, but we soon learned that despite our different backgrounds, cultures and ages, we had one thing in common -- a love of travel and an appetite for good travel stories and tips.
&nbsp&nbsp&nbsp&nbsp A half hour later, Tea Master -- a woman -- finally arrived. I was under the impression that tea ceremonies were very formal, but she said she was doing an informal tea ceremony which sounded vaguely oxymoronic to me. The highlight (or lowlight) of the ceremony occurred when the Tea Master -- after making a big to-do about how one NEVER touches the tea pot to the cup when serving ("Very bad luck! Take much care!") -- proceeded to pour us tea and clinked her pot against a cup. ("Sorry!" she said.) When her assistant later refilled my cup, she also accidentally clinked my cup.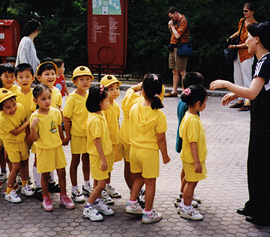 Young students at Kyongbok Palace


&nbsp&nbsp&nbsp&nbsp With full bellies and much joking about whether the aforementioned clinking was an omen for our journey ahead, we reboarded the bus and started our 3-hour drive south from Seoul to the Ginseng Scientific Research Insitute near Taejon. Jennifer's attempts to get us to sing folk songs from our home country was spectacularly unsuccessful and we turned instead to private conversations amongst ourselves. The clinking tea ceremony had broken the ice and the group was conversing quite a bit more freely. I noticed that Guido, a pleasant young man from Germany, had a toy bear in his backpack. He and his wife had just had a baby, he explained, and since the baby was back home sleeping with his wife, he was sleeping with the baby's doll.
&nbsp&nbsp&nbsp&nbsp After a while, the rhythm of the bus lulled us into a drowsy calm and everyone kicked back and enjoyed the scenic countryside dotted with farms and occasional villages. PAGE 2

"As a fan of alternative medicine, I was up for learning more about this odd, bitter root called ginseng."