CONTACT US | ADVERTISING INFO

© 1996-2013 Asian Media Group Inc
No part of the contents of this site may be reproduced without prior written permission.
ESSENTIAL JAPAN
Sumatakyo is that sacred place deep inside the Japanese soul.
Photos and essay by Megumi Mochizuki
PAGE 1 OF 3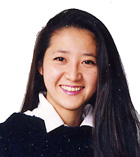 The Author

ilence. Silence in a frightening vivid nature. Last winter a long trip from the United States brought me to Sumatakyo, a small village located southwest of Tokyo, a sanctuary.

After one and a half hours in a high-speed train from Tokyo, and after experiencing the beauty of Mount Fuji, the highest in Japan and a symbol of Japanese aesthetics, we arrive in Shizuoka City, the prefecture's capitol and our starting point. At Shizuoka Station we recognize the slower and more warm-hearted air. There we leave behind the high-speed of Tokyo's mentality -- or at least its train -- and take the local routes.

From Shizuoka City to Kanaya we travel the Tokaido line, in the company of local students and workers. We can relax listening to their voices which too are slower than those we hear in Tokyo. In Kanaya we change to a steam locomotive, once an important form of transportation and now a tourist feature. Its steam whistle makes long echoes in the quiet and deep nature. The sound sometimes makes us nostaligic; this is a place where we can be ourselves.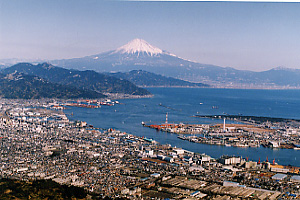 A view of Mt Fuji seen from Shimizu port near Shizuoka City, the gateway to Sumatakyo.



My brief stay in Tokyo had reminded me of my past and of my previous visits to Sumatakyo. Whenever I left Tokyo, I was a little exhausted, perhaps by too much excitement. Tokyo is one of the most stimulating cities in the world for young people. Life in Tokyo stimulates our appetite for frolic, business, career and sensuality. However, too much desire and excitement sometimes ends in confusion, mistakes and fatigue. When the reality of life suddenly threatens us, I see Sumatakyo as a place in which to feel welcomed. The small village has enough heartfelt human relationshps, pure nature, hot springs and tasty regional food to give me back the will to live.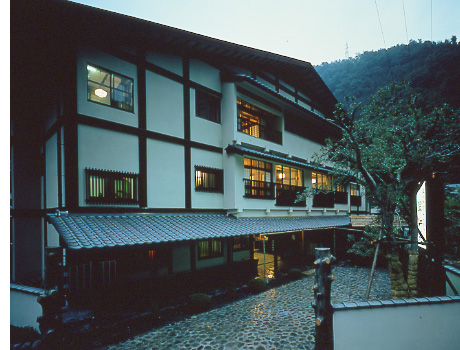 Suikoen's traditional Japanese architecture. The tiled eaves and the stone pavement leading to the entrance glisten after a rain.



The final part of our voyage, from Okunizumi to Sumatakyo, is by bus. The driver -- spontaenously turned tour guide -- stops the bus when we see some deer and lectures us on the need for a balance with our environment. The driver explains that the animals are coming down from the mountains because this year the climate has been cooler than usual and probably there is less food higher up in the mountains.

[CONTINUED BELOW]
---
---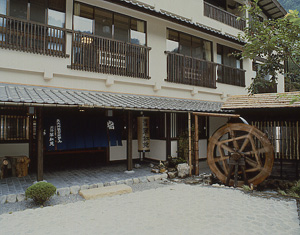 The large water wheel in front of Suikoen's entrance produces beautifully refreshing sounds.



Finally in Sumatakyo, and after a deep breath of significantly purer air, I feel overwhelmed by nature. The streets in Sumatakyo are quiet, it is winter, but soon it will have a new face when the light-green leaves shine with new buds. The green will eventually become more vivid and the leaves will slowly turn to flames, then Sumatakyo will become crowded with deer, monkeys, raccoons, squirrels and... tourists. I head over to one of the local traditional Japanese inns. It is named Suikoen. Like every traditional Japanese inn, Suikoen enjoys a scenic location and provides regional meals, rooms designed according to traditon, public bathrooms and great service for the guests. The inn's name spelt with Chinese characters literally means a green and red house. The inn's name comes from Sumatakyo's nature: maple trees turn to fresh green in summer and scarlet in fall.

The inn's traditional Japanese architecture is emphasized with a large waterwheel at the entrance and a pond in the central garden. As is customary in Japanese traditional inns, the landlady and her attendants welcome guests at the hotel's porch bowing and saying "Irasshaimase." Their beautiful kimonos and delicate manners are the prelude to a very comfortable stay.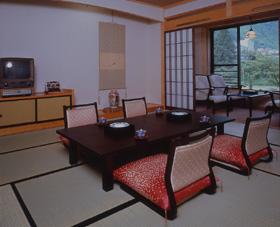 Guest rooms are designed as traditional Japanese rooms, with tatami and shoji, a sliding door covered with rice paper. Guests take off shoes at the entrance of the room. Western-style rooms with carpeting and beds are also available for foreign guests.



As soon as a guest is escorted to his room, tea and local cakes are served for them to enjoy sitting on a tatami (woven straw mat). Previously, the okami (proprietor) used to visit every room to welcome the guests by kneeling down and bending over. Guests would appreciate the formal attitude. The traditional manner and beauty of the okami dressed in a gorgeous kimono were important factors in the enjoyment of the stay at a Japanese inn. Today the okami will only visit the room of her elder clientele. "Recently guests tend to feel more comfortable with more privacy and more casual manners," she explains.

Every detail in the inn has been thoughtfully arranged according to Japanese tradition. Rooms have an old Japanese type of fireplace, but perhaps the most typical feature is the public bath inside and outside the building, where guests can enjoy hotsprings that evoke the smell of cypresses while contemplating the stars. For rainy days the inn borrowed another ancient costume, the straw hats farmers used on the rice fields when it rained. Guests can done straw hats and enjoy pretending to be old farmers while relaxing in the bathtub.

After a bath you're offered a yukata, a casual cotton kimono, to help you prolong the traditional Japanese mood. Kimonos have become very expensive and many young people in Japan have few opportunities to wear them. Many Japanese only have a furisode, or long-sleeved kimono, which they purchased to celebrate their sijinshiki -- ceremony that signals the start of adulthood -- and they appreciate the opportunity to wear yukata during their stay at the inn. PAGE 2

"The small village has enough heartfelt human relationships, pure nature, hot springs and tasty regional food to give me back my will to live."