A young American woman traces engagingly her tasty and tasteful progress from an eager newcomer to a serious student of Kyoto kaiseki cuisine. Interspersed with recipes of favorite Japanese dishes encountered along the way.
CONTACT US | ADVERTISING INFO

© 1996-2013 Asian Media Group Inc
No part of the contents of this site may be reproduced without prior written permission.
GOLDSEA | ASIAN BOOKVIEW | MEMOIRS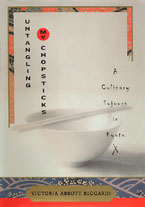 Untangling Chopsticks
a memoir by Victoria Abbott Riccardi
Broadway Books, New York, 2003, 282 pp, $23.95

EXCERPT:

celebrated my arrival in Kyoto with a dinner of grilled eel, a sublime delicacy in Japan. In the water the fish resembles a ferocious jagged-toothed snake. But when sizzled over hot charcoal it looks like a fillet of sole that has spent the winter in Palm Beach. The skin turns crisp and smoky and the fatty white flesh, basted with a sweet soy syrup, becomes deeply tanned and as succulent as foie gras.

The restaurant was located in a cheery yellow mall beneath Kyoto Station, home to the southern bus terminal, north-south subway line, and Japan Railroad Tokaido Main, one of the four major bullet train routes. Being coatless and having underestimated how cold it gets in Kyoto in early November after the sun goes down, I had ducked into the mall in search of warmth and something to eat.

The restaurant lay at the end of a long corridor lined with inexpensive, elegant Japanese sweet shops, and trinket stores selling sandalwood fans, pottery tea bowls, and I Love Kyoto key chains. Like all the other eateries in the area, the eel restaurant displayed lifelike plastic models of the items on its menu in a brightly lit picture window. I chose a small wooden table for two in the back of the restaurant and sat down in the chair facing the kitchen. I was the only diner. The chef, sporting a clean, pressed, white cotton band around his forehead, came over to my table. He was apparently the waiter.

"Are you kmrmshtka?" asked the chef.
[CONTINUED BELOW]
---
---


"Hmmm?" My eyebrows shot up.

"What would you nsmsplka?"

I giggled nervously, then bit my lower lip. He gestured to the window and started walking. I followed him outside. "Unagiijxwbrp?" he asked. I began to tell him I wanted the tray holding the single, not double fillet of grilled eel with rice, soup, and pickles, but he interrupted.

"No English," he said with a frown, shaking his head. I tapped my finger several times against the glass in front of the dinner I wanted, hoping he might make some connection.

"Ah, ah," he exclaimed, pointing at the glass, "Unagixpxwz." I squinted and leaned toward the window to read the plastic plaque marked with the meal's price in yen, then slowly wrote the price on my palm with my index finger and tapped the window again.

"Hai, hai." He beamed, nodding vigorously. "Kirin?" Now, that I understood.