A Japanese American's shrewd, expansive and hilarious account of going from the internment nightmare to success in the executive suite of a major tech corporation.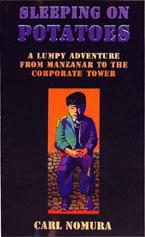 GOLDSEA | ASIAN BOOKVIEW | MEMOIRS

Sleeping on Potatoes
by Carl Nomura
Erasmus Books, Bellingham Washington, 2003, 248 pp, $18.95

EXCERPT

n 1927, at dinner with his family, my father, Kazuichi Nomura, was stunned to see a bottle rolling across the table toward him. According to an old Japanese superstition, this was a sign that he was going to die three years hence. My father was fifty-one years old and in good health, but from that moment on he was preparing for his own death. As part of this, he decided that he must have his entire family around him when he died. It was this self-interest that prompted him to order my older brothers and sister home from Japan.

Then, when he had everyone together, he began to agonize over the future. He told his wife, "My children have no one to marry. We must go where there are many Japanese people. We will move to California."
[CONTINUED BELOW]
---
---