Asian Beauty vs. the American Standard
American Social Overlay

here Asian beauty encounters resistance is more often on the level of the associations that its features evoke in American minds. This social overlay comprises economic, cultural and political associations as viewed through the prism of individual biases. For example, a deeply tanned Asian woman might remind many older Americans of impoverished and wartorn Asian nations, causing them to assign a lower value to her brand of beauty. Another example is a young American male who may associate an Asian woman with media images, prompting him to impute more sexuality to Asian features. The chart below shows the most common biases that produce the American social overlay on Asian beauty.
Asianization of American Beauty
All three components of the social overlay are shifting in favor of Asian beauty. The prosperity and modernity of East Asia and the fast emergence of China from impoverished third-world status to having the world's fastest growing middle class have raised the value of Asians in American eyes. The vibrant hi-tech cultures of Japan, Corea, Taiwan, Singapore and major Chinese cities like Hong Kong, Shanghai and Guangzhou are associating Asians with the glamour of the future rather than the dubious romance of the past. At the same time, the remarkable success of Asians in the United States and Canada have shown that Asians can compete well even as a minority on American turf.

In the sphere of geopolitics, unlike previous generations in which Asians were seen as military threats, today's focus on fighting Muslim terrorism has transformed Asian nations into friends and allies. Even on the economic front, U.S. industries have either conceded the segments in which Asian companies pose the most intense competition or made alliances and other accommodations. The combined effect has been to raise Asians closer to the status of friendly, upscale faces in global society. Consequently, America's beauty standard has shifted to embrace this side of the globe.

The rise of Asians on the global socio-economic charts have had a visible impact in American popular media. Recent years have seen a dramatic increase not only in the number of popular actors of Asian or part-Asian ancestry, but a dramatic shift toward more Asian-looking facial types even among non-Asian celebrities. The biggest source of Asian-looking features in otherwise non-Asian Americans is the Native American contribution to the American gene pool. Upwards of an eighth of the American population claim at least fractional Native American ancestry. Genetically native Americans are indistinguishable from people from northeast Asia, and their genes tend to be dominant, giving a large number of Americans a uniquely Asian look not found, for example, in most people in European nations.

Popular non-Asians beauties like Mandy Moore, Kate Hudson, Renée Zellweger, Shalom Harlow and Reese Witherspoon share facial features more commonly found in Asian women than in the average caucasian women. Most have relatively small eyes, short noses, full lips, pronounced cheekbones and broad jawlines. As for the eyes and the jawlines, popular American tastes seem to defy the supposedly universal beauty ideals isolated by researchers and are actually more in line with features prevailing among Asian women.

This trend is reinforced by mainstream validation of straight-out Asian beauties. For example, Miss USA/Miss Universe 1997 Brooke Lee, Miss America 2001 Angela Perez Baraquio and Miss Canada International 2001 Christine Cho are recent winners before largely western panels. Perhaps an even more convincing validation are the countless Asian female newscasters on American TV. Major media companies are betting market share on the power of their Asian faces to beguile American news viewers for entire half-hour broadcasts. And these aren't new-born infants but adults whose beauty standards are heavily tinted with the social overlay of their biases.
AMERICAN SOCIAL OVERLAY ON ASIAN FEMALE BEAUTY

The century-long suppression of Asian immigration produced an anomalous situation during the 1970s, 80s and 90s in which relatively recent immigrants made up the majority of Asians in America. This fostered the perceptions that Asians are largely poor and unacculturated, seriously discounting the value of Asian beauty. This has been compounded by the fact that until the past two decades, Asia itself has been markedly less affluent than the U.S. and western Europe. Economics has traditionally imposed the most negative overlay on Asian beauty.
The large and rapidly growing numbers of Asian Americans who make up the best-educated and most affluent segment of the American population, combined with the rapid rise of Asian economies, is adding an upscale overlay to Asian beauty among younger Americans.
Asia's long history and exotic cultures have always added a rich and complex backdrop against which Asian beauty has been showcased. On the one hand, the perception that Asian women have historically been raised to be docile has added a super-feminine overlay (largely unwelcomed by Asian American women) that makes Asian beauty less threatening and more appealing to many Americans, both men and women. On the other, the misconception that Asian women were traditionally considered second-class tends to detract from their perceived value.
The industrialization of East Asian nations, and their association with advanced consumer products, is adding a chic, fun overlay to Asian beauty.
Since the 19th century, laws have been enacted to restrict or stop Asian immigration for motives of racial purity, economic competition and military threat. The U.S. military occupations of Japan, Corea and Vietnam and the resulting association with prostitutes and bargirls, have added an unsavory cast to perceptions of Asian women, especially among those old enough to remember these wars. This long history continues to add a mixed emotional charge toward Asian beauty as being both sexually alluring and potentially treacherous.
Steadily warming due to U.S. quest for friends and allies in war against terrorism.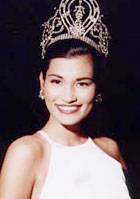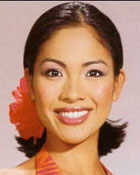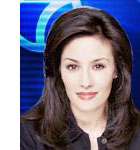 The appeal of Asian female beauty is shown by the increasingly frequent selection of Asians as newscasters and beauty queens. Among them are 1997 Miss USA/Universe Brooke Lee (upper left), 2001 Miss America Angela Perez Baraquio (upper right) and ABC news anchor Liz Cho.
"Popular non-Asians beauties like Mandy Moore, Kate Hudson, Renée Zellweger, Shalom Harlow and Reese Witherspoon share facial features more commonly found in Asian women than in the average caucasian women."
| | |
| --- | --- |
| | Recent years have seen a marked increase in the numbers of Non-Asian beauties bearing Asian facial features. They include Renée Zellweger (facial proportions, eyes, cheeks), Mandy Moore (eyes, nose, lips) Shalom Harlow (cheekbones, jawline). |
---
CONTACT US | ADVERTISING INFO

© 1996-2013 Asian Media Group Inc
No part of the contents of this site may be reproduced without prior written permission.