ASIAN CANADA
The economic and cultural energy that Asian immigrants are bringing may turn a green and promising land into the next California.
by Marc Star
Page 1 of 5

t's green, the air's clean and it's arguably the earth's most culturally diverse country. The U.S. pretends to be a melting pot, but the recipe calls for free input from northern European nations with tightly measured input from Asia, Latin America and Africa. Canada is more honestly multicultural. It eschews the somewhat dishonest melting pot metaphor in favor of the more apt salad bowl. Each citizen is free--even encouraged--to retain his unique heritage, and Canada embraces them all. That's why many otherwise qualified Asian immigrants, especially those from the sister British commonwealth state of Hong Kong, forego the quest for the elusive U.S. immigrant visa in favor of Canada's open arms.

"I moved here because Canada seemed to me the greatest country in the world. My expectation was correct."

Canada is the largest trading partner of the U.S. The two-way trade exceeded $268 billion in 1993. Canada ships 75% of its exports to the U.S. and gets two-thirds of its imports from the U.S. Toronto, the economic capital for its 27 million, is just across a very open border from 265 million Americans.
Investors from 70 foreign countries operating 6,000-plus businesses contribute to the opportunities that make Canada a land of opportunity in its own right, especially when combined with its vast resources--seas of wheat, bottomless oil fields and ore deposits, vast virgin forests and rich fishing grounds.
Nearly three million Asians call Canada home. Half are of Chinese descent. Most of the 1.4 million Chinese Canadians live in the metropolitan districts of Vancouver and Toronto. Toronto alone has five distinct downtown Chinatowns. They look more like California's Monterey Park or Alhambra than the decrepit tourist traps most Americans associate with Chinatowns. The Chinese areas of Vancouver and Toronto offer modern shopping malls bristling with bilingual signs, crowds of Chinese shoppers and plenty of dim sum.
The Chinese first arrived in late 19th century to take part in the construction of the Canadian Pacific Railway. From 1880 to 1885, 17,000 men from Guangdong Province blasted and chiseled the treacherous western stretch of railway through the Canadian Rockies. More than 4,000 died in the effort.
Japanese Canadians began to arrive in the 1890s as merchants and fishermen. They currently number around 120,000 and are among the best established of Asian Canadians. Today, however, they are quickly being dwarfed in numbers by exploding communities being built by the huge wave of immigration that began in the early 1970s. Coreans now number 130,000. Perhaps the fastest growing in proportionate terms are the Vietnamese whose 1996 population is estimated at 170,000. Asian Canadians now include a presence from Thailand, Cambodia, Laos, Burma, Philippines, Indonesia and Malaysia, among other countries.
It's a harmonious spectrum and it makes up the mainstream of Canadian life. The Atlanta Olympics, for example, saw Asian Canadian competitors like Richard Ikeda on the men's gymnastic team, Taro Tan in judo, Daryl Yung on the men's badminton team and Sian Deng on the women's. Pop star Sook-Yin Lee is a VJ for MuchMusic TV, Canada's answer to MTV. FANT-ASIA, an Asian fantasy film festival featuring Hong Kong live-action and Japanese animation, is currently touring the country.
Canada is increasingly becoming a hotspot for Asian tourists. 323,893 Japanese, Coreans and Taiwanese visited Ontario from January to September 1995, a 4.4% increase of Japanese, 21.9% of Coreans and 24.7% of Taiwanese.
Canada has seen a steady flow of Asian immigrants over the past 20 years. The past five years has seen the most. The single biggest reason is June 30, 1997, the day Hong Kong reverts to the Chinese. Hong Kong emigrants have found a welcoming safety net in Canada. Since January 1995 over 1,000 Hong Kong Chinese entrepreneurs have each brought in an average of $1.7 million of capital to the province of British Columbia alone. They're setting up small businesses in the growing Chinese commercial districts, sending their kids to school and fueling the real estate market. Their Canadian homesteads give them an option should the new Chinese rulers prove less than hospitable to Hong Kong businesses.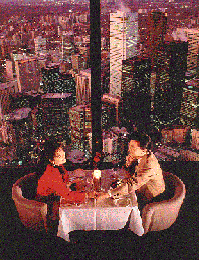 An Asian Canadian couple enjoys the view from a restaurant atop Toronto's landmark CN Tower. Courtesy Ontario Ministry of Culture, Tourism & Recreation



If the Communists make a smooth transition, however, the rest of Canada has something to worry about, Robin Ajello wrote in Vancouver magazine. "If Hong Kong survives China's takeover, this city will suffer a colossal drain of brains and money," so valuable is the Asian contribution now.

VANCOUVER


n 1792 when Captain George Vancouver first caught sight of this rugged and beautiful area, he declared that once settled, it would be "the most lovely country that could be imagined." High above the Vancouver of today rise towering snowcapped mountains, adorned by ancient forests that extend toward the deep blue Pacific. Miles of sun-soaked beaches border Vancouver to the west. Small islands and fiords carved into the Coastal Mountains, grasslands and lakes--all lie in proximity to the city which Geneva-based Corporate Resources Group ranked second among 118 international cities for quality of life.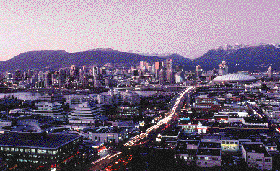 Vancouver, British Columbia is a Pacific Rim boomtown that attracts over 30,000 Asian immigrants each year. Asians of Chinese descent account for about 25% of Vancouver's 1.8 million residents.

The Vancouverites take their nature seriously. Ever since pioneers in 1886 created the 1,000 acre Stanley Park--giving Vancouver a stunning oceanfront oasis just beyond downtown--lush forested parks and huge gardens have popped up everywhere, decorating the city with the life and character that alabaster grey Chicago and New York seem to miss. It's little wonder that Chinese railroad workers of the 19th century remained, spawning what is now the second-largest Chinese population in North America. Little wonder Vancouver lays claim to the continent's second largest Chinatown. Page 2

| Page 1 | 2 | 3 | 4 | 5 |


CONTACT US | ADVERTISING INFO

© 1996-2013 Asian Media Group Inc
No part of the contents of this site may be reproduced without prior written permission.