WOMEN WITHOUT MEN
The works of some prominent Asian writers actually hurt Asian Americans by helping to validate offensive prevailing media stereotypes.
by William Nakayama
PAGE 1 OF 2
"Asian artists who let their imaginations get coopted by media stereotypes are the saddest victims of racial strereotyping."

t isn't easy for an Asian writer -- or any writer for that matter -- to achieve the level of success enjoyed by the likes of Amy Tan and David Henry Hwang. But the degree of acclaim their works have enjoyed has always made me ambivalent.
What turned my ambivalence into outright disgust is Joy Luck Club, the movie. It does nothing to enhance or balance the prevailing image of Asians in the American media. Instead it caters to the most chauvinistic impulses fueling Hollywood portrayal of Asians. Not to beat around the bush, the movie caters to two groups: Caucasian men and Asian women who are discomfited by Asian men. And it does so entirely at the expense of Asian men, and ultimately, of all Asian Americans.
The movie is premised on the suffering of four Chinese mothers whose lives are so un-credibly pathetic (bathetic?) that they verge on the comical. How many Asian American women have been forced to abandon two daughters by the side of a road, drown an infant son to avenge the cruelty of her playboy husband, or forced into concubinage by her own malign family? Not one of these unfortunate women's stories contains a single sympathetic Asian male character. Their tales of woe depict Asian males as crass, cruel, weak or simply non-existent. Sounds familiar, doesn't it? It's typical of the worst products of white Hollywood exploiting Asians as a handy foil to demonstrate the superiority of white America.
Here's the payoff. Each of these unfortunate women bears a daughter who, to a greater or lesser degree, is given the option of suffering her mother's sorry fate by proxy or escaping this whole gruesome Asian scene by marrying a white man. Well, what is a rational girl to do?
Of the four daughters, the two who are more spirited and physically attractive marry Whites. Both white husbands are successful and attractive notwithstanding one or two cute, understandable flaws corrected in the course of the movie. One is a lawyer, the other is the dashing scion of a publishing family.
The third of the daughters -- the simpering loser of the bunch -- is given an Asian husband who is financially successful but pathetically miserly, geeky and cold. He insists on maintaining separate checking accounts and keeping a list on the refrigerator of every item of grocery either of them buys so that at the end of each month they can split the total. I found this character not only offensive but downright un-credible.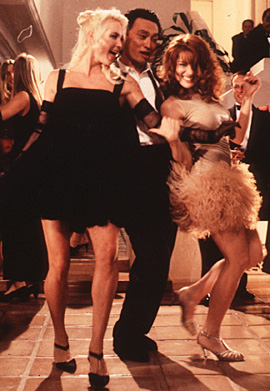 POP QUIZ: Which hurts Asian Americans more -- Rising Sun which features Cary-Hiroyuki Tagawa as a shameless Japanese party animal or Joy Luck Club by the Amy Tan-Wayne Wang duo, below, which portrays Asians as a joyless, luckess race of women without men?
GO VOTE!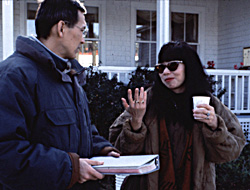 As a group we Asian men may possess our share of unappealing characteristics, but miserliness with groceries isn't one of them. Every Asian male I know turns over care of the checkbook to the wife. I know of a number of Asians who are tight-fisted but none stingy enough to make the wife pay for half his ice cream habit. In fact, most Asians I know are baffled by the sight of groups of white people divvying up the restaurant tab.
As for the fourth daughter, the narrator, the only man in her life is a doddering father. PAGE 2


CONTACT US | ADVERTISING INFO

© 1996-2013 Asian Media Group Inc
No part of the contents of this site may be reproduced without prior written permission.