ASIAN PARIS
Asians receive a different reception in the city of light.
by Hanh Hoang
PAGE 1 OF 8
"You don't need to fly to get to Asia any more, just take the subway."

aris -- La Tour Eiffel, Le Louvre, Les Champs Elysées, L'Arc de Triomphe, La Seine. Les restaurants chinois et vietnamiens.
Chinese and Vietnamese restaurants? Indeed. Asian restaurants, making up a fifth of all Paris eating establishments, are now as much a part of the landscape as bistros, bakeries, museums and monuments.
The French capitol is also Asianized in other ways. Its Musée Guimer houses one of the world's richest Asian art collections. Its Institut National des Langues et Civilisations Orientales (National Institute of Oriental Languages and Civilizations) teaches 80 rare languages, more than any university in any country. Paris's first Chinatown is Europe's largest.
"You don't need to fly to get to Asia any more, just take the subway," writes Marie Holzman and René Giudicelli in L'Asie à Paris (Asia in Paris).
A new map, that of the Far East, is now drawn over the map of Paris. Stop at the Palais Royal station, and there you are in the middle of Japan: the bookstore Junku, the restaurant Osaka, the cultural center Espace Japon, to name but a few, will greet you in thousands of bows. At Maubert-Mutualité station, you'll find Vietnam with its spices and scents. At Porte d'Ivry, you'll reach Hong Kong and Taiwan: all the signs are in Chinese, and people on the street speak Cantonese, Haikou, Cambodian and several other languages. Do you want to know India? Then get off at the Strasbourg-Saint-Denis stop and be ready for the fragrance: patchouli, rose or sandalwood, all is possible. If the China of the 13th Arrondissement is not enough for you, find out about the one in Belleville, which is around the subway station of the same name. From India to Japan, you can discover everything without having to leave Paris.
In fact in Paris, one can find Asian culture so authentic that even the most cosmopolitan of Parisians are disconcerted. Japanese bars in the Latin quarter like Anemone and Akiko practice, for example, the system of "keepu" (from the word keep), where customers can buy a whole bottle of rice wine or whisky and come back any time to sip it. At Akiko Holzman and Giudecelli were told the patrons speak only Japanese. "It won't be long before Akiko puts up a sign saying, 'French and dogs are forbidden here,'" sniffs the authors.
It is no exaggeration to say that Paris offers almost everything you could want to see or learn in Asian cultures. Interested in movies? You can easily see films from Japan, India, the Philippines and Hong Kong. I know of a theater on the Left Bank that for years showed Pather Panchali, a 1955 film by Indian director Satyajit Ray. If you want to take up dance, choose from Indian classical or theatrical forms, Vietnamese and Laotian folk dances, classical Khmer ballet, Japanese Noh, Kabuki or Butoh -- all within a 30-minute subway ride from where you live. And if you love plants, you can go to a bonsai supermarket in a southern suburb of Paris, where you can find more than 10,000 of those miniature trees, or order for ten dollars a small Chinese shrub, the solanum ovigerum, which produces purple flowers that later turn into white edible eggs.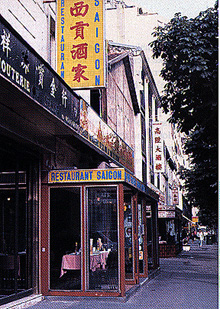 Asian restaurants make up a fifth of all restaurants in Paris.

Asian make up only about 3% of the population of metropolitan Paris of 11 million, but the city's density allows as many contacts as desired with Asians of any background.
I met the most interesting people, who broke my own stereotypes about Asians, during my five-year stay in Paris: a Corean woman who spoke impeccable French and wrote a dissertation on Simone de Beauvoir, the philsopher and author or the feminist treatise The Second Sex; a Japanese who co-authored with her mother a book on African cultures; a Japanese specialist on Marcel Proust who knew more about Europe than Asia and therefore considered other Asians and their cultures exotic. I learned to my surprise that almost as many Japanese as French students wrote their theses on Proust. One Japanese dissertation counted, with a computer, the number of words in Proust's sentences.
One of Asia's significant contributions to French culture is martial arts. Judo has become the third most popular individual sport in this country, and since 1965 French athletes have earned many gold medals in international competition. Even some Japanese now come to improve their techniques. PAGE 2

| PAGE 1 | 2 | 3 | 4 | 5 | 6 | 7 | 8 |

CONTACT US | ADVERTISING INFO

© 1996-2013 Asian Media Group Inc
No part of the contents of this site may be reproduced without prior written permission.