HOLLYWOOD'S ASIAN STRATEGY
Page 5 of 7

hina always uses the same argument against us as we use against the Japanese," says Gray. "They'll ask a studio executive, 'How many films did you import last year from Beijing or Shanghai studios?' And the executive will usually say, 'Well, we didn't.' And they'll say, 'So why should we then import American films into our country?' Quid pro quo and reciprocity are very valuable to the Chinese. If we want to force the issue, there's an easy way to do it--start helping Chinese studios invest in co-productions, buy some of their films to try out on the world market and clearly establish that these foreign devils are there to assist and not put these people out of business."

"I met Joan Chen when she was an 18-year-old. She wanted to be an actress. I thought, 'The poor thing. She really thinks she's going to become an actress.' Now my message would be, 'Great! There's room!'"

Not surprisingly, it is Hollywood's smaller companies that are taking the lead in this regard, most notably Disney's semi-autonomous independent wing Miramax. The big studios, they point out, are simply not structured to effectively release anything but mass market product--a category that immediately excludes the artsy fare for which China is famous. Companies like Miramax, however, thrive on strategic distribution of specialty and art house material, making them ideal partners for the Chinese. Current talks to secure two of the annual ten slots for Miramax films would be a tremendous coup for the former independent, as well as for China who would receive, in return, commitments for cooperation on a series of future co-productions and guarantees of U.S. distribution. Moreover, it would solidify Miramax's position at the forefront of American companies doing business in Asia. It was, after all, Miramax that transformed Chen Kaige's Cannes festival winner Farewell My Concubine into a stateside art house hit, notching a pair of Oscar nominations to boot--a feat they hope to repeat next year with the release of Temptress Moon.
But Miramax's Asian commitment stretches far beyond the art house. Having successfully released Supercop through its more commercial Dimension label, forthcoming releases of other classic Jackie Chan films appear equally promising. Miramax's close relationship with Pulp Fiction director and Hong Kong film buff Quentin Tarantino has also proved fruitful via Tarantino's specialty releasing division Rolling Thunder. Defying initial industry skepticism, Rolling Thunder's inaugural release of Hong Kong director Wong Kar-Wai's Chungking Express proved an unqualified hit, earning the maverick filmmaker a solid American following and stirring renewed interest in previous efforts like the cult classic Ashes of Time.


Were it not for New Line Cinema's gamble at dubbing and importing Rumble in the Bronx, however, Hollywood and Hong Kong might still be perfect strangers. But thanks in part to New Line's previous relationship with Golden Harvest with whom it co-financed the successful Teenage Mutant Ninja Turtle films, the groundwork has already been laid for fruitful East/West cooperation.
"A big part of my job is covering the world cinema scene," says New Line's Ordesky. "Obviously, Hong Kong and the whole of Asia are incredibly active with a lot of talented directors and stars and producers. The great thing about being in business with Jackie and Golden Harvest is that it has opened the door to meet these other people. Our strategy is to clearly find as many of these good people as can possibly be found and see if there's a way to bring their sensibilities for film into a profitable and creatively valid marriage."
New Line's lucrative relationship with Golden Harvest, say some, has set an important precedent for the establishment of local partnerships throughout Asia, proving that a market for Asian subject matter and themes exists in the U.S., and contributing to growing American commitment to maintain ongoing dialogue and exchange via festivals, conventions, trade shows and films markets.
A major turning point was last November's Asia-Pacific Economic Cooperation (APEC) Forum in Osaka which built on progress already made in agreements like NAFTA (North American Free Trade Agreement) and GATT (General Agreement on Tariffs and Trade) to lay groundwork for what will hopefully become a Pan-Pacific free trade zone. Yearly review of China's Most Favored Nation status and coveted membership in the World Trade Organization (WTO) were not resolved, but enough progress was made to appease even an isolationist state like North Corea.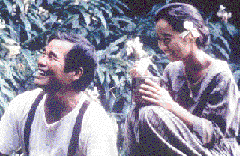 Kayo Hatta's debut film Picture Bride, starring Tamlyn Tomita, won the audience award at the Sundance Film Festival.

More specific to Hollywood's interests is the annual CineAsia Film Exhibitors Convention, begun in 1994 by Cinema Expo International, the parent organization to the successful ShowEast and ShowWest shows. Now entering its third year, CineAsia continues to grow in leaps and bounds, sustained by a new market of multiplex owners in search of new and better exhibition technologies with which to seduce blossoming audiences. A major event for American independent filmmakers was last summer's regional film market in Bangkok, sponsored by the American Film Marketing Association (AFMA), the major representative of Hollywood's independent filmmakers and production companies. At the time AFMA President Jonas Rosenfield cited the Bangkok market as "the most successful one we've ever had." In a similar vein this last October, Robert Redford's Sundance Institute initiated a series of screenings and panel talks in Beijing as a sister event to the popular Sundance Film Festival held each January in Park City, Utah. Instituted largely at the encouragement of Sundance graduate Quentin Tarantino, the event marked a rare chance for major U.S. and Chinese filmmakers to meet and exchange ideas.
On China's end, the fledgling Shanghai Film Festival, begun in 1994, is gaining in popularity, fast becoming a hub for cutting deals and forming alliances in the East, much as the Cannes Film Festival has done for Europe. But few gatherings provided the kind of hope for long lasting cooperation like last October's U.S.-Chinese Film Industry Conference in Shanghai where executives and bureaucrats from both nations were able to informally discuss their respective legal and political differences free from the stresses of trade negotiation.
Yang attended the conference and well recalls the pitfalls of how business used to be done. "I'm a definite believer in trying to work with the local talent, just being able to have an understanding of the markets you're working in. On a personal, a professional and on a business level, I think it makes sense."
Such exchanges have yet to defuse the thornier issues between the U.S. and China with regard to film importation and distribution, but the two nations have managed to reach promising accords in other areas, namely those of television and video. In July, while Time Warner was signing a deal to distribute videos in China, Disney and China USA Entertainment were signing a deal to provide Disney programming on China National Radio. Sony Pictures, meanwhile, is expected to begin providing programming for China Central TV while Universal is partnering with Shanghai Film Studio to build a major Chinese theme park. PAGE 6

| Page 1 | 2 | 3 | 4 | 5 | 6 | 7 |

CONTACT US | ADVERTISING INFO

© 1996-2013 Asian Media Group Inc
No part of the contents of this site may be reproduced without prior written permission.