CONTACT US | ADVERTISING INFO

© 1996-2013 Asian Media Group Inc
No part of the contents of this site may be reproduced without prior written permission.
GOLDSEA | ASIAMS.NET | ASIAN AMERICAN PERSONALITIES
Michelle Branch: Unscented Voice
PAGE 1 OF 2

very cute chick with an achey-breaky voice and a sweaty pen wants to be Sheryl Crow. The top Asian American contender to get from wanna-be to gonna-be? Check out Michelle Branch. Okay, she's only part Indonesian on her mother's side and Irish on her father's, but look perceptively and you'll see the Asian accent in her features.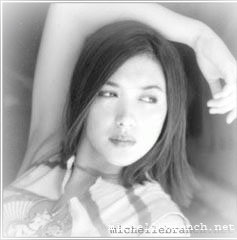 Her professional credentials are stronger. She won't even turn 20 until July 2, 2003 but she has the longest-running Billboard Top 100 album of the past 18 months. Spirit Room (EMI Classics, 2001) has lingered on the chart for 82 weeks. Its chart life has been enhanced by the June 24 release of Hotel Paper, her second big-label album. Its lead single "Are You Happy Now?" has already been on the Billboard Hot 100 for 5 weeks. It has reached number 35 and is rising.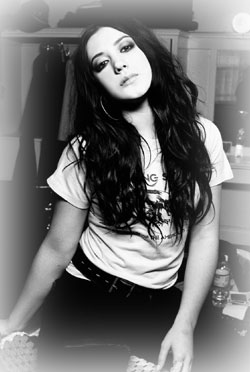 The L.A.-native didn't pick up the guitar until the age of 14. That was the catalyst that released a flood of pent-up lyricism. Branch was only 17 when a talent agent spotted her opening for Hanson. A self-produced demo album (Broken Bracelet (2000)) followed. It helped her get signed by EMI.

Spirit Room took Branch only six weeks to create, but it earned praise for delivering up the voice of a real girl, PMS and all. She was a breath of unperfumed air in a music scene gagging on the sexed-up vocal stylings of too many over-produced girl Frankensteins. The album sold over 2.5 million copies. Four of the singles made it into the top-10, earning Branch an MTV Viewers Choice Award.

And give her people credit for smartly leveraging her honest gifts into pop currency. Branch's gigs have included opening for Sheryl Crow, Santana and Dixie Chicks. Her duet with Santana ("The Game of Love") climbed to number 3 on the Billboard Adult Contemporary chart, giving her name the burnish of old gold.

CONTINUED BELOW
---
---
With Hotel Paper Michelle Branch is pairing up with big names like Jon Levinthal on the title track and Josh Abraham on a ballad. Why tinker with the success she's enjoyed as your fresh-faced teen dishing tough tenderness beyond her years? Branch is in a big hurry to find her place among acoustic legends.

"Just start with Stevie Nicks, throw in Sheryl Crow, and put me somewhere at the bottom of that," she suggests modestly.

No denying it, Branch feels she has been anointed for pop greatness.

"When I worked with Sheryl Crow and Carlos Santana, both said something to me that I will never forget -- 'youčre the real deal.' And when artists of that caliber say things like that, it helps me to remain focused on the songs and not my age."

It was during those heady, hectic days of having her talents stroked and stoked that Hotel Paper was born. "I spent the last 2 years of my life traveling, so when it was time to begin work on a new record, I realized that the record had already been written in hotel rooms around the world, hence the name 'Hotel Paper.'"

Michelle Branch's ultimate ambition? To keep writing songs for herself and others, and to move into the business side to help other young talents make it big. PAGE 2
"It earned praise for delivering up the voice of a real girl, PMS and all."