ASIAN AMERICAN PERSONALITIES
Chen Kaige sheds his trademark dark vision of Chinese society with a little help from a new wife.

by Genessee Kim
CONTACT US | ADVERTISING INFO

© 1996-2013 Asian Media Group Inc
No part of the contents of this site may be reproduced without prior written permission.
GOLDSEA | ASIAMS.NET | ASIAN AMERICAN PERSONALITIES
A New Life Together
PAGE 1 OF 2

hen Kaige sweeps into the press room and strides confidently to the head of the table. Accompaying him is actress Chen Hong, his new wife. She's a beauty but must content herself today with a place in the shadow of her distinguished older husband.

The director eases himself into his seat as his large eyes survey the faces around the conference table. His are a dreamer's eyes, but his movements and words are those of an exacting taskmaster. He leans forward as though to cue the start of questioning about Together, his latest film.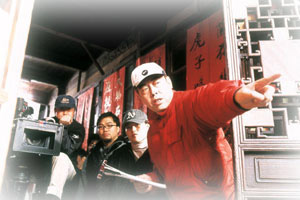 Acclaimed Chinese director Chen Kaige directs a new vision of Chinese society.
Photo by Zhao Hong Yang.

The first question is inevitable: why the switch to happy endings?

"I am a very happy husband and father I really enjoy my life," he begins. He seems conscientious about answering the question. "I used to be very nervous because I did big films. Now I think I'm a little bit changed. I don't really believe that this film has a cheap happy ending. The father and son deserve to be with each other. I like to be very idealistic."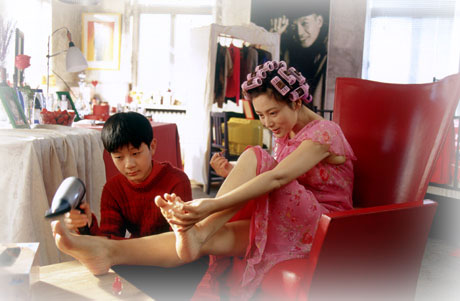 Mrs Chen Kaige stars as Lili, a young woman who befriends a violin prodigy, in Together. Photo by Zhao Hong Yang.

Together is a rather jawdropping departure from his earlier oeuvre. Chen's acclaimed Yellow Earth, Farewell my Concubine, Temptress Moon and The Emperor and the Assasin were period dramas that pointedly mirrored current Chinese social and political realities. All were richly smothered in historic sets and costumes, a bit of cover from the suspicious eyes of censors. Together is set in modern China, one sign of that nation's aggressive recent social and economic liberalization. A father takes his young son to the big city to seek his fortune as a violin prodigy only to be confronted with the son's own ideas for his life.

CONTINUED BELOW
---
---
His latest film gave Chen Kaige the opportunity to work with wife Chen Hong on several levels. In addition to directing the film, he co-authored the script and co-stars as the music professor. She is the leading lady and co-producer -- a very supportive one who caused him no problems, Chen declares. In fact, he credits her eye for details with contributing to the success of several key scenes.

Chen Kaige found inspiration for the script in a reality TV episode centered around the big-city odyssey of a father-son duo. What intrigued Chen was the dynamics between a father who is overly solicitous of his offspring's talents and a son who wants to explore other career paths.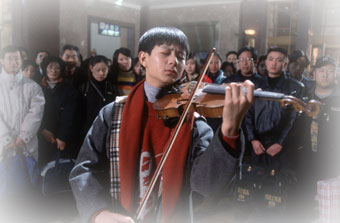 A young violinist named Xiaochun (Tang Yun) draws an appreciative crowd. Photo by Zhao Hong Yang.

"The father was very proud of his son, always saying 'my son's going to be number one [violinist] in the world'. The sort of tragedy is that the son doesn't want to continue. He wants to become a businessman. I was very moved because I realized that this was reality. It's not changeable. The father cannot do anything about it. This is the son's decision."

We must assume that Chen Kaige, of all people, was also drawn to the parallels with present-day China -- a communist regime that has been forced to embrace capitalism in order to preserve its authority and influence.

PAGE 2
"I am a very happy husband and father I really enjoy my life. Now I think I'm a little bit changed."