ASIAN AMERICAN PERSONALITIES
Henry Cho's jaw-dropping accent was the springboard for a roaring comedy career.

by H Y Nahm

Photography by Michael Schwartz


CONTACT US | ADVERTISING INFO

© 1996-2013 Asian Media Group Inc
No part of the contents of this site may be reproduced without prior written permission.
GOLDSEA | ASIAMS.NET | ASIAN AMERICAN PERSONALITIES
Comedy's Southern Squire
PAGE 1 OF 6
n Asian guy with a good-ol'-boy twang is funny, no questions asked. Fortunately, Knoxville native Henry Cho is in the business of getting laughs.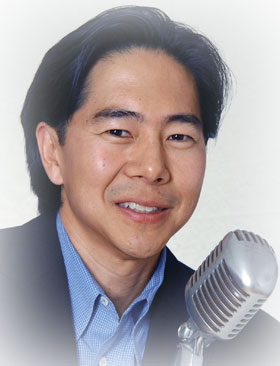 Cho was just 21 when he lucked into a slot in a New York comedy competition. He and a college buddy sketched out some material while driving to the club. The number of busted guts and bodies rolling into the aisles impressed the club enough to book Cho for two days later. That was back in 1986. It kicked off a blazing career that has landed him on countless national comedy shows, as both guest and host, as well as in a half-dozen movie roles.

The happily married father of two has resisted two expedients to which lesser talents might have succumbed -- using adult language and keeping his material centered around race. The resulting package is wholesome and all-American, with an irresistable twist. It has found favor with the country-club/VIP circuit, as well as in mass-market venues, making Henry Cho -- now 17 years into his career -- a prosperous family man and a bi-coastal bull-breeding Southern squire.

We caught Cho during his summer hiatus with the family. Between working on a TV project, writing and testing new material and being a doting father to two young sons, Cho gave us a picture of his early years as a Corean American growing up in Tennessee, building a career as a comic and actor, and married life with a diehard Crimson Tide fan who is funnier than he is.

GS: How did your family come to give birth to you in Knoxville, Tennessee of all places?
HC: My dad is your basic 2-doctorate, 11 patents, kind of dad. He graduated at the top of his class from the top boys school in Seoul. My mother matched him with her gender's version. Nowadays, my parents would be going to Harvard, but back then their reward was to go to Warren Wilson Junior College in North Carolina. I was named after the man who brought my father over, Dr. Henry Jensen. My parents came over single and were married in Asheville, NC at the age of 18. My father ended up working in Oak Ridge, Tennessee which is just outside of Knoxville. Most of the scientists lived outside of Oak Ridge since living next to nuclear reactors and labs where they attempt to split atoms isn't the smartest thing to do... and who said scientists have no common sense.

CONTINUED BELOW
---
---

GS: What was it like growing up in Tennessee?
HC: The Asian population in Knoxville when I was growing up consisted of my parents, 2 sisters and me. I commend my buddy's parents for treating us like the neighbors next door, not the Asian neighbors. Although, my mom introduced my buddies to seaweed and rice and chopsticks and other Corean dishes...except kimchee. I was never the Corean guy, or the Asian guy, or the Oriental (which was pc back then) guy. I was just one of the guys. It wasn't until me and my buddies were in college, at the University of TN, that we found out my southern accent was different. We met these girls from Michigan and they thought I was mocking my buddies with my southern accent. My buddies replied, "Henry always talks like that." The girls thought it was the strangest and funniest thing. Soon, my accent became natural to all my new college friends, acquaintances and even professors. I love the fact that I was born and raised in Tennessee. It defines me as a guy.

GS: Recreate for us the moment you decided to become a standup comic.
HC: My college buddy and I were painting houses on summer break. Working long, hard hours and not making much money. One week we were so broke we bought a gallon of whole milk, cut it with a gallon of water, bought 2 loaves of bread and luckily we had a huge jar of honey his dad gave him before he went off to college and we ate that for an entire week. We had to go to work on my motorcycle because my buddy's car didn't have any gas. We just left it where it ran out and scraped together pennies for gas for my bike. The bus was 25 cents a piece... one way... that's a dollar a day for the two of us. For 50 cents I could ride my motorcycle a long way..it really saved us. I kept it until a few years ago. Wish I still had it.

Anyway, me and my buddy were painting houses and he asked me what we were going to do. I said I wanted to be an actor and so did he. I said I'm going to try the comedy route and he was going to New York. I entered a comedy competition at the local comedy club, it was a huge Showtime production so it was a big deal. The list was full, but I was first on the waiting list. Someone canceled and I got the call. I went on stage with jokes and stories me and my buddies talked about actually on the way to the comedy club. I went on stage and told my jokes and absolutely killed. I got a standing ovation and got hired that night. It was a Monday night and I started my professional career on Wednesday.

I never knew who dropped out and let me in but I owe him bigtime. My buddy went on to NYC and got accepted to the American Academy of Dramatic Arts. Pretty cool for a couple guys who used to eat bread and honey. PAGE 2
"We met these girls from Michigan and they thought I was mocking my buddies with my southern accent."