GOLDSEA | ASIAMS.NET | ASIAN AMERICAN PERSONALITIES
MAC MILLIONAIRE
John Chuang turned his tiny college copy shop into a global temporary employment services leader.
PAGE 1 OF 2
"We were the staff and the owners, so we were sending ourselves out on jobs as well as trying to run the company."
t the age of 31 John Chuang isn't far from the days of using a door as a table to save a few bucks. That was back in 1986 when he was running a tiny print shop above a convenience store in Harvard Square. The Harvard sophomore was in the perfect place to spot his clients' growing need for trained Macintosh operators. That was the seed of his $75 million MacTemps, barely a decade old, which saw sales of over $50 million in 1995. During its most recent three years the fast-growing temp agency has averaged 40% annual growth with a solid profit margin.
"Back then all I knew was I wanted to create a company that would be scaleable and that could be replicated in other cities," says Chuang. "The Mac computer became our niche in the market, because most companies were focused on using PCs. The Mac was still small and not everyone used it." But those customers that Chuang wanted were using the Macintosh.
"We ran a small ad in a computer newsletter that basically asked, 'You don't use any computer. Why use any computer specialist?' recalls Chuang. "The phone rang off the hook."
"We were the only game in town." Within three months there was an office in New York City, and two months after that, Los Angeles. "We (Chuang and his two partners) were the staff and the owners, so we were sending ourselves out on jobs as well as trying to run the company." The company developed a training program for new temps and quickly began hiring the best Mac computer gunslingers it could find. In the first year of operation, 5 offices opened across the country. "Sooner or later somebody would have started this company, but we were the first." John Chuang had brought popcorn to the movies and the results were predictably spectacular.
Originally, the company began opening offices quickly because they had made a unique marketplace discovery. Others began imitating the idea and unless MacTemps opened their own offices they were in danger of losing at their own game. "We were the first," says Chuang, "and now we're the largest." Recently the company expanded internationally, opening offices in London, Paris and Melbourne, Australia in 1995, bringing their worldwide total to more than 40 offices.
In any given MacTemp week 2,300 temps are on assignment, 70 percent in graphics, 20 percent in networking and another 10 percent in administrative capacities. Confirming the company's success, Inc. magazine placed MacTemps on its list of America's 500 fastest-growing privately held corporations in 1992 and 1993. Chuang himself was named "Entrepreneuer of the Year for Service" in New England by Inc. Magazine/Ernst & Young and Merrill Lynch. John also received the "Excellence 2000" award from the United States Pan Asian American Chamber of Commerce, the only national award of its kind. Chuang says modestly that his company "performs very well," but recent figures reveal that the company enjoyed sales of over 50 million dollars in 1995. Over the last three years, the company has enjoyed a steady 40% growth and a rock-solid profit margin.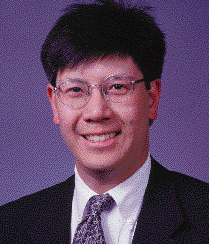 By 1996 MacTemps had developed two entirely new and thriving units -- Portfolio and 1-800-Network. Portfolio specializes in high-end creative graphic arts personnel, art directors, designers and illustrators. Currently, the company is number two in the country for graphic arts specialists and Chuang predicts a number one ranking by the end of the year. Since its inception, nine months ago, Portfolio has opened offices in New York, Atlanta, Chicago, Houston, Los Angeles, San Francisco, San Diego and Detroit, each within a month of each other and the company continues to expand.
The other new unit is a techical support staffing company for Network and LAN systems. It provides personnel for all aspects of network operations, from original design to administration to trouble shooting of Windows, NT and Novell systems. It also has eight offices nationwide in Detroit, Atlanta, Dallas, Denver, Los Angeles, Seattle and Boston. "With each new unit we create," says Chuang, "we examine the marketplace first to see if the market has a need for our service and can sustain it." Once that is completed, the company moves swiftly to capitalize on its opportunities in each new market.
MacTemps is also experimenting with two new additional units--Montage, a company which specializes in the rapidly-expanding world of Multimedia, and MacTemps Technical, which, as the name implies, will offer technical support for Mac users on-site as well as by telephone. Montage is currently up and running only in the Seattle area, and Mactemps, according to a spokesperson, is currently on the drawing board.
John Chuang was born and raised in the Queens district of New York City. He attended Stuyvestant High School before moving to Cambridge, Massachusetts to attend Harvard University and receive his MBA. "I always knew I would be in some kind of business for myself," says Chuang. "My parents never really pushed me in any one direction or another. My father was in business and my mother was a librarian." PAGE 2


CONTACT US | ADVERTISING INFO

© 1996-2013 Asian Media Group Inc
No part of the contents of this site may be reproduced without prior written permission.