Mia Crowe wants to work with her whole body, not to mention her lively mind, sweet voice and excellent timing. She hopes to make her mark as a comic actor. When we caught up with her, she was heading out to New York to do in-store signings for the DVD release of a film that spoofs Being John Malkovich.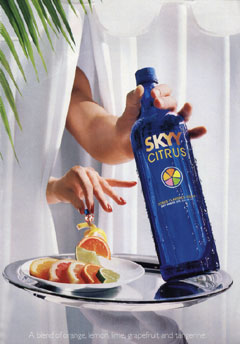 Crowe recalls this Skyy print ad as one of her sexiest shoots.



The film is Being Ron Jeremy. Crowe hesitates to reveal the title for fear of damaging her lucrative hand modeling career. Apparently, Ron Jeremy is a name familiar to people who frequent the back corner of video-rental shops. He's a legendary porn star. The film's tagline is "Why be John Malkovich when you can be Ron Jeremy?"

Crowe's agents were horrified when they learned of her interest in acting in the film. "They said, No no, you can't put your name on a film that has the name of a porn star on it," Crowe recalls. "Everyone's going to think it's a porno and that you're a porno star!"

A friend had approached her for the "smartass role", analogous to the one played by Catherine Keener in Being John Malkovich. "This loser comedian finds a portal into the brain of Ron Jeremy," explains Crowe. "And he gets to date me."

"It's a very funny film," she emphasizes. "There's no nudity, nothing pornographic in it at all."

Being Ron Jeremy is one of three movies being released this year in which Crowe has roles. The other two are big-budget films in which she has smaller roles won on the strength of her hands. But Mia Crowe is a woman of many parts. She has also done foot modeling and voiceovers. Two years ago she even tapped into her abundant comic sensibility to write and sell a TV pilot called Super Skirts. "It's the female version of Jackass," she says. The network paid for several pilot episodes with Crowe playing host, only to kill the project.

Today Mia Crowe is at a crossroads. She makes a great living as one of the world's top hand models. She's afraid to jeoparidize it by revealing details about herself. But her ambition to become a comic actress requires her to integrate her many parts under a name and a face. So with some trepidation she has begun submitting to a barrage of personal questions that may define and even pigeonhole her.

Crowe reveals that she's a half-Corean Navy brat who happened to be born in Georgia but spent only a week there. Her father was an A-6 pilot whose postings kept the family jumping from small American towns to big Asian cities and back. She went to junior high in Yokohama, high school in Oxnard and college at UC San Diego where she was a rare communications major among future med students and biotechnologists. The only time Crowe lived in her mother's native land was when she spent a post-grad year at Seoul's Yonsei University.

Yet, Mia Crowe is very much her mother's daughter. She was raised speaking Corean with her mom and still breakfasts on dishes like kimchi chigae (kimchi casserole), dwanjang chigae (soy-bean paste casserole) and yeemyunsoo (a fish popular with Coreans). For more Corean food she drives an hour and a half for weekly visits to her parents' home in Ventura. She's still single and lives with roommates in West Hollywood. For those who like physical dimensions attached to less eluctible inner qualities, Mia Crowe is 5-5 1/2 and slender but "curvy", in her words.

Our curiosity aroused, we posed some questions about the particulars of making good money by shamelessly hustling one's appendages. PAGE 2
"It's good to treat your hands with as much care as you treat the skin on your face."
CONTACT US | ADVERTISING INFO

© 1996-2013 Asian Media Group Inc
No part of the contents of this site may be reproduced without prior written permission.