THE 80 MOST INSPIRING ASIAN AMERICANS OF ALL TIME

PAGE 7 OF 8
Nos. 1-10

Nos. 11-20

Nos. 21-30

Nos. 31-40

Nos. 41-50

Nos. 51-60

Nos. 61-70

Nos. 71-80
GOLDSEA | ASIAMS.NET | ASIAN AMERICAN PERSONALITIES
THE 80 MOST INSPIRING ASIAN AMERICANS OF ALL TIME
61. Margaret Cho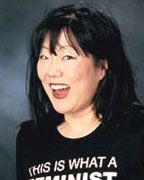 Back in 1994 comic Margaret Cho was hailed as the star of the first network TV show built around an Asian American family. When All-American Girl was cancelled during its first season, Cho's career went into a tailspin. It took four years to shake off the failure of Margaret Cho Lite and build the bigger, better full-strength version. It was worth the wait. In 1999 Cho took her one-woman show I'm the One I Want on the road. Its success laid the foundation for a mini-conglomerate fueled by the wellspring of laughter Cho manages to tap at the many absurdities of American society.

Cho's four one-woman shows have been critically acclaimed and turned into films. She's now in the midst of a 26-city concert tour of her "Assassin" show and recently wrapped principal photography on Bam Bam and Celeste, her first narrative feature project. She has been honored by the National Organization for Women (NOW), GLAAD, Lambda Legal, the National Gay & Lesbian Task Force (NGLTF) and the Asian American Legal Defense and Education Fund (AALDEF).

Margaret Cho has gone beyond speaking for the Asian American or gay and lesbiain perspectives. Today she is recognized as one of America's most penetrating and relevant voices. Her success inspires all Asian Americans to reject the limited roles assigned by the mainstream media and to grow as big as our talents allow.
---
62. Christine Poon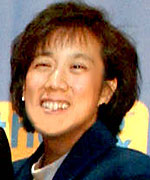 No Asian American woman has exercised management responsibility over as large, prestigious and as dynamic a business Christine Poon. As Worldwide Chairman of Johnson & Johnson's pharmaceuticals group Christine Poon manages the biggest division of the Fortune 500's Number 30 company. Under Poon's leadership, since November 2000 J&J acquired five pharmaceutical companies and now gets over half of its $43 billion annual sales from Tylenol, Motrin and a long list of less famous medicines under Poon's division. By comparison, J&J's more famous consumer products division accounts for only 9% and its medical devices group for 36% of total revenues. In recognition of her success in leading J&J's drive to grow its global pharmaceuticals group to the level of giants like Merck, Pfizer, GlaxoSmithKline and Novartis, in Poon was recently named a Johnson & Johnson Vice Chairman.

Christine Poon grew up in Cincinatti. She graduated a year early from Northwestern University with a degree in biology. She worked briefly as a lab technician at USC before returning for a masters in biology and biochemistry from St. Louis University. The prospect of bigger paychecks motivated Poon to acquire an MBA from Boston University while working as a manager at New England Nuclear.
---
63. Chi Huang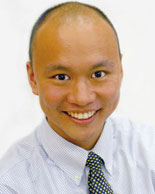 Why would the Medical Director of the Pediatrics Inpatient Services at Boston Medical Center spend every summer wandering the sewers of Bolivia? To save at least a few of the city's most hopeless street urchins from spending their entire lives there. The satisfaction of saving lives blighted by destitution and illness may be heavenly, but the working conditions are hellish.

"The sewer smells like a dumpster in the summer," says Huang. "When I pass a dumpster in Boston, it provokes memories of Bolivia. In that sewer, the stink of the feces and the urine mix with the odor of paint thinner." Then there's the frigid air of Southern Hemisphere winters at 12,000 feet.

Chi Huang isn't a total stranger to above-average hardships. Before he graduated from Harvard Medical School in 1998 he grew up in a South Carolina housing project and in one of the poorer sections of Texas. His immigrant parents struggled to make ends meet. "My Mother always bought pants that were several sizes too long," Huang recalls. "I always got free lunches, while the other kids came to school with checks. At Christmas, I got socks."

Huang has set up a foundation to create Bolivia's best private school so that the urchins can look forward to brighter Christmases. [Learn more about Chi Huang's crusade at Bolivian Street Children Project.