GOLDSEA | ASIAMS.NET | ASIAN AMERICAN PERSONALITIES
CAT WOMAN
The first Asian American pop diva has an excellent chance of looking and sounding just like Cat Kim.
"I like painting, and I love writing poetry. I also have started a series of children's books."

hese days pop divas are teen fantasies come to life: sweet, sassy and, of course, sizzlin. That's a good state of affairs if you're a 23-year-old Corean American named Cat Kim. She has a candy face, a sassy mouth and a body that screams to be bouncing around on VH1. Oh, yes, and a voice set at the precise temperature required to melt steel. The release of Love Inspired, her first CD, should convince the world that unconditional surrender is the only option.

GS: You look like an Asian American pop star in the making!
CK: Thank you very much! I soon hope to be.

GS: How did you get started on the pop diva road?
CK: I started singin' at age 6 and my parents made me take guitar lessons when I was 10. I never really wanted to play guitar, I just wanted to sing. So my parents, being Korean and not liking pop music, made a compromise with me and I started taking opera.

GS: Who are your professional role models?
CK: As far as singers, Janet Jackson, Madonna, Whitney Houston, Coco Lee, and I love Chaka Khan.

GS: Who writes your songs? Who comes up with the music?
CK: I write most of my lyrics. I have various producers. I am currently working with K.Ski from Roc-A-fella.

GS: You seem quite religious. What role does religion play in your music?
CK: I wouldn't call myself religious, but I am a strong believer in GOD and my spirituality. GOD is love and I pour my love into my music.

GS: We assume from your last name that you are Corean American. How much of a role does Corean culture play in your life?
CK: You're right, I am Korean American and I was raised to appreciate Korean culture as well as American culture.

GS: Tell us a little about your personal background? Birthplace, birthdate, family, schools...
CK: I was born in Korea but was raised in Los Angeles. My mom and dad still live in Los Angeles, though my dad travels back and forth to Korea quite often on business. I have an older brother who drives me crazy, but he's one of my best friends. I was born in March, 1979 on a day that I'll keep to myself. I'm a very private person. I attended college at UCLA.

GS: What kind of backing have you had so far in your singing career?
CK: So far, it has been amazing. Everyone has been sooo supportive and encouraging. Being the first Asian female to try and break into the hip hop/R&B scene is not easy, but so far I haven't run across anything negative. My producers are all famous Black hip hop/R&B producers, but in the hip hop community color doesn't seem to matter, only your talent. My label, LF8R Records (pronounced "Elevator") really believes in me which is fine, cause I really believe in myself.

GS: What's special about the CD Love Inspired which you are about to release?
CK: The title says it all. This CD was inspired by years of hard work, dedication, and love.

GS: Who do you see as your most important fan base?
CK: I've been asked that question before. I feel it's very important for people the world over to really feel your vibe. My goal is to become known as a Great singer, not just a great Asian singer.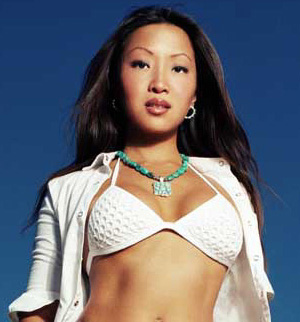 GS: What are you hobbies and interests?
CK: Anything artistic. I like painting, and I love writing poetry. I also have started a series of children's books.

GS: Is there a significant other?
CK: No... But, I have a huge crush on someone that will remain anonymous. I'm very private, remember?

GS: Please feel free to add anything else you'd care to share!
CK: I would just like to thank everyone out there who supports my music and all the other artists. I want to say to anyone who has a dream of being in the business, "Remember, 'if you can see it . . . you can be it,' and I wish you all the love and success." Feel free to visit me at www.catkimmusic.com.


CONTACT US | ADVERTISING INFO

© 1996-2013 Asian Media Group Inc
No part of the contents of this site may be reproduced without prior written permission.