CONTINUED BELOW
---
---
He scratched out a living playing the Challenger circuit in the small towns of middle America. Kim's knack for making it past the exhausting qualifying rounds for entry into the major tournaments earned him the title "King of Challengers." However, he rarely made it past the first or second rounds. His recent elevation to first-tier tournament play has earned him the privilege of being beaten by some of tennis's biggest marquee names.

Kim's victory over Juan Carlos Ferrero last fall announced his arrival into the sport's major league. In early 2005 USTA provided him with a coach and he now has a sponsor, Lotto Sport, an Italian sport apparel company.

By March 2005 Kevin Kim had played six events and had lost to the likes of the Swede Thomas Johansson (ranked 31), Vince Spadea (21) and Tommy Haas (14). Now his losses get more coverage than all his Challenger Circuit wins.

To date Kim's best performance in the majors was at the 2005 Australian Open, when he beat Hyung-Taik Lee and Guillermo Garcia-Lopez before being knocked out in the third round by Thomas Johansson in a match that went to five sets and was broadcast on ESPN. He credits switching equipment with his rise up the ranks.

"I was really struggling a year ago," Kim recalls. "I was using Prince. I was with [Filipino American tennis player] Eric Taino at a tournament and he was using Voikl. I said, 'My racquet's terrible. Let me try one of yours.' So I tried it right before a tournament, and I said 'Oh, this is pretty good. Let me use it.' He gave me two and I ended up doing pretty well in the tournament, so I just trashed the other ones."

Kim was born July 26, 1978 in Torrance California. He has one younger sister. His father introduced him to tennis and golf when he was five. Kevin soon discovered a natural affinity for tennis and eventually dropped golf. He practiced every day, spending as much time on the court as he did studying. He was fortunate to have parents who didn't pressure him to get straight A's. Instead, they encouraged his tennis, especially his father. For two years of high school, they sent him to tennis academy in Florida.

Little has changed from his childood days when Kevin would return home to his mother's home-cooked Corean (Korean) meals. Despite a tennis career on the upswing, Kim still spends much of his free time at his parents' place, enjoying their company and hanging out with friends.

When we caught up with Kevin Kim, he had just returned to L.A. after being knocked out of Wimbledon in a second round match against Taylor Dent (ranked 32).

"I had a few fantasies about playing in big tournaments, but time has flown by. Eight years down the road it kind of all passed by. You go through a lot of ups and downs."

Goldsea: What accomplishment are you most proud of?
Kevin Kim: In tennis? Results wise? Probably third round in Australian open. It's one of the Grand Slam tournaments.

GS: How do you like playing on grass?
KK: I hate it.

GS: How is it different from hard court?
KK: It's so tough to move and the ball slides on the court. It's just kinda boring. I get bored out there all day.

GS: Because it's slower?
KK: It is a lot slower. The balls are very heavy.

GS: What's the hardest match you've ever played?
KK: Marat Safin. I don't know what rank he is but he's definitely one of the best players I've played. PAGE 2
"I think my parents are a little relieved," says Kim of his recent rise to a top 100 ranking.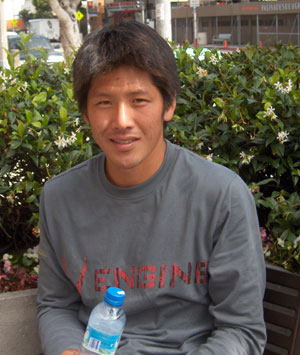 Kevin Kim relaxes on the patio of a Starbucks in Venice Beach, July 2005.
CONTACT US | ADVERTISING INFO

© 1996-2013 Asian Media Group Inc
No part of the contents of this site may be reproduced without prior written permission.