---
&nbsp&nbsp&nbsp&nbsp Since the age of 13 Michelle Kwan has been tagged as having the steely focus and the innate grace to be the best figure skater of her generation, maybe the best of all time. During the past decade the world watched her develop from a gawky adolescent to a poised grande dame. As of the end of the 2002-3 season she had won 7 U.S. championships and 5 world championships -- as many or more than any skater in history. She lived up to her early potential in every respect.

&nbsp&nbsp&nbsp&nbsp Unless you count getting to the Olympics favored for gold only to have it snatched away by some upstart. Twice. It happened in Nagano in 1998 when 15-year-old Tara Lipinsky turned in the performance of her life to edge out Kwan, then 17. It happened again in the 2002 Salt Lake City games when 16-year-old Sarah Hughes skated flawlessly after a sluggish Kwan two-footed her triple toe loop, then crash-landed her triple flip.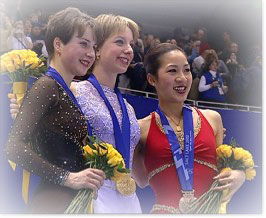 Michelle Kwan on the Olympic medal podium after winning bronze behind Sarah Hughes and Irina Slutskaya.



&nbsp&nbsp&nbsp&nbsp What about 2006? The Turin Winter Games pose serious obstacles to what will likely be Michelle Kwan's final shot at Olympic gold. For one thing, she will be 25. That's like 57 in figure-skater years. The spine stiffens as one enters the 20s. The legs lose their spring. Sooner or later the mind is overtaken by the ennui of repetitive and unrelenting physical exertion. And there's the not-so-little matter of Sasha Cohen, the five-footer with the diabolically supple frame and a killer instinct. To many observers Cohen is every bit as talented as the 5-2 Kwan, four years younger, and in possession of a more exciting skating style. Turin may be Kwan's last chance but for Cohen, it will be the showcase for her talent in its prime, her chance to emerge forever from Kwan's long shadow.

&nbsp&nbsp&nbsp&nbsp In late October at the 2003-4 season opener at Madison Square Garden, Cohen beat Kwan for the first time ever, and the grande dame of figure skating was reduced to underdog status for the January nationals in Atlanta. Michelle Kwan had reached that point in a great champion's career when the only choices are to dig deep or get out, and she knew it.

&nbsp&nbsp&nbsp&nbsp So in mid November Michelle Kwan bit the bullet and put herself under the coaching of jumpmeister Rafael Arutunian. Any hope of gold at Turin would turn on the all-important triples. By early December the more difficult new routines hadn't quite gelled, but Kwan managed to best a field of seven top international women, including Sasha Cohen, at Auburn Hills. Even so Kwan chose to devote herself to perfecting new routines with higher levels of difficulty for the nationals in Atlanta rather than participating in the Grand Prix finals in mid December.

&nbsp&nbsp&nbsp&nbsp "I know that it's not going to be easy because I see triple Axels and triple-triple combinations," she said. "I'm in a different stage of my life, and I'm not going to compare myself to anyone."

&nbsp&nbsp&nbsp&nbsp Implicit in Kwan's philsophical attitude is the acknowledgement that this isn't where she's supposed to be at the age of 23. When you take first place way back in 1994 at the World Junior Championship and win your first world championship in 1996, you're supposed to continue the short but glorious line of charismatic American champions Peggy Fleming, Dorothy Hamill and Kristi Yamaguchi. That means winning gold at your first Olympics, then skating off to an afterlife of lucrative exhibitions, endorsements and TV commentating. That's the route Kwan would have followed too but for the untimely peaking of Tara Lipinsky, and four years later, Sarah Hughes.

&nbsp&nbsp&nbsp&nbsp At least financially the decision to keep going for Olympic gold was eased by liberal new rules that let Olympians enter into lucrative endorsement contracts. Even as an amateur Michelle Kwan has been earning seven-figures a year from lending her name and likeness to video games and advertisements for everything from diet foods to cars.

&nbsp&nbsp&nbsp&nbsp Each four-year extension of the quest would take their worst toll on the physical and emotional planes. Instead of expanding out into the life of a celebrity performer, Kwan knew she would have to keep up the strenuous training regimen demanded for competitions that are increasingly centered around those treacherous triple jumps. It's a Sisyphusian fate never contemplated by that little girl who first dreamed of Olympic gold at the age of seven.

&nbsp&nbsp&nbsp&nbsp Michelle Kwan was born third of three children on July 7, 1980 in Torrance, California. Her father Danny, a Guangdong native, and mother Estella had immigrated from Hong Kong in 1971. A year later, they opened the Golden Pheasant Chinese restaurant. Estella managed it while Danny's day job was systems analyst for Pacific Bell. He helped out at the restaurant evenings and weekends. The restaurant did well enough to afford the family a home in the exclusive Rancho Palos Verdes neighborhood. The Golden Pheasant served as a second home. Michelle ate most of her childhood dinners there.

&nbsp&nbsp&nbsp&nbsp She began skating at the age of six after seeing her brother Ron, five years her senior, play hockey. Within a year Michelle entered her first competition and won. Danny had played soccer as a youth and encouraged all three kids to take sports seriously.

&nbsp&nbsp&nbsp&nbsp Karen, two years older than Michelle, was also a competitive skater and often helped Michelle train. "Karen's happy for Michelle, and she helps her a lot," Danny said.

&nbsp&nbsp&nbsp&nbsp By 1991 both Karen and Michelle began living and training at the Ice Castle, a training facility located a mile above sea level near the resort community of Lake Arrowhead, California. That's where Kwan met Frank Carroll, the coach who would take her through the first decade of her competitive career.

&nbsp&nbsp&nbsp&nbsp Carroll recalls that Kwan had "a lot of energy, a lot of spin in her legs but had totally no sophistication whatsoever. She also had no training habits. So what's she learned up here is the beauty of skating, plus the discipline of skating."

&nbsp&nbsp&nbsp&nbsp Michelle had done well in several local junior competitions, and was eager to move up to the senior level. Carroll felt she would be better off waiting. Michelle redoubled her training. She practiced two to three hours per day while attending junior high school. Her parents hired a tutor to help her keep up with her studies. She was willing to put in four hours a day on the ice, but Danny opposed putting that much strain on her developing body. "I don't want to hurt her in the long run. She's never been injured."

&nbsp&nbsp&nbsp&nbsp Less than a year after beginning serious training at Lake Arrowhead Michelle entered the 1993 U.S. championships in Phoenix and finished a respectable sixth. She was only 12 then, but tougher mentally than other girls her age. The only time Danny saw her cry during competition was in 1991 when she finished ninth at the Junior National Championships. Of course he was speaking four years before Nagano and eight years before Salt Lake City.

&nbsp&nbsp&nbsp&nbsp By that time the Kwans were spending $50,000-60,000 per year on training and travel expenses for Michelle and Karen. To continue financing the expense, the Kwans sold the Rancho PV home in 1993 and moved in with Danny's parents.

&nbsp&nbsp&nbsp&nbsp "That's not a sacrifice," Danny insisted at the time. "Skating is like a gift. I give it to them, and I get happiness out of it."

&nbsp&nbsp&nbsp&nbsp When she took second place in the 1994 U.S. championships, some expected Michelle to be given a slot on the U.S. Olympic team -- especially as Tanya Harding had been implicated in the brutal clubbing of the kneecap of rival Nancy Kerrigan. Kwan was eventually picked to attend the 1994 Lillehammer Olympics but only as an alternate. She never saw competition, but the fresh-faced little girl was a breath of fresh air in a scene that had become tainted by the Harding-Kerrigan melodrama. Rather than wilting under the media attention, Kwan seemed to thrive. She finished eighth in the 1994 World Championship, proving that she was no flash in the pan. PAGE 2
"To continue financing the expense, the Kwans sold the Rancho PV home in 1993 and moved in with Danny's parents."
CONTACT US | ADVERTISING INFO

© 1996-2013 Asian Media Group Inc
No part of the contents of this site may be reproduced without prior written permission.