---
&nbsp&nbsp&nbsp&nbsp But during the runup to the 1998 Nagano Olympics Kwan seemed to regain her focus. She scored a perfect 6.0 from one of the judges in the nationals. She was easily favored over teammate Tara Lipinski for the Olympics. But on the fateful night at Nagano Kwan's focus seemed to waver. Perhaps she was distracted by the news that friend Peggy Fleming had been diagnosed with breast cancer. Perhaps she was nervous from having stayed home until the last minute to nurse a foot injury instead of getting acclimated to the supercharged Olympic atmosphere.

&nbsp&nbsp&nbsp&nbsp The upset loss to Tara Lipinski reduced Kwan to tears. The fact that she had skated well made the loss even more difficult to accept. The knowledge that she had been beaten by a lesser skater seemed to weigh on observers as well as on Kwan herself.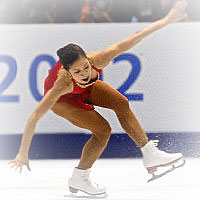 This fall following a triple flip cost Michelle Kwan the gold medal at the 2002 Salt Lake City Olympics.



&nbsp&nbsp&nbsp&nbsp "If you would have had that competition 10 times, Michelle Kwan would have won nine out of 10. If you would have had it 100 times, I think Michelle Kwan would have won 95 out of 100 times," said Christine Brennan, author of Inside Edge: A Revealing Journey into the Secret World of Figure Skating.

&nbsp&nbsp&nbsp&nbsp Kwan was crushed. She seemed ready to end her competitive career. The financial, emotional and physical sacrifices had simply been too great to shake off easily. She wasn't sure if she could deal with an equally daunting preparation during the four years leading up to Salt Lake City. In the end she was inspired to stay the course by Frank Carroll's exhortations.

&nbsp&nbsp&nbsp&nbsp Once the decision was made, Kwan didn't miss a beat in reclaiming her standing at the top of the sport, winning four more U.S. championships (1999, 2000, 2001 and 2002) and two more worlds (2000 and 2001). She was even voted one of People Magazine's 50 Most Beautiful People in 2000. Along the way she enrolled at UCLA in 1999.

&nbsp&nbsp&nbsp&nbsp Going into the 2002 Salt Lake City Winter Games, Michelle Kwan commanded virtually a moral imperative to win gold. No other actively competing skater had skated at her level for so many years or won even a fraction of her titles.

&nbsp&nbsp&nbsp&nbsp "If she wins that Olympic gold medal in Salt Lake City," said Christine Brennan, "I think she will be seen as the greatest figure skater in history. Without the Olympic gold medal, I think she will be seen as the second, third or fourth best in history. So, that's not a bad choice. Either way, she wins." That was no choice for someone like Kwan. No one believes she would have extended her quest for four more years had she doubted her chances of winning gold.

&nbsp&nbsp&nbsp&nbsp Yet, in October of 2001, virtually on the eve of the Salt Lake City Olympics, Kwan stunned the figure-skating world by firing Frank Carroll as her coach. The parting of ways was rumored to have been caused by differences in training philosophy. Kwan decided to be her own coach. The decision raised eyebrows and some commentators wondered at such a drastic change barely three months before the Olympics. Kwan silenced critics by winning the U.S. nationals in Los Angeles in January. How do you argue with a skater who had taken her sixth U.S. title and her fifth straight, pulling ahead of Peggy Fleming?

&nbsp&nbsp&nbsp&nbsp At Salt Lake City in February Kwan was determined not to repeat the mistake of Nagano. She participated in all the pre-competition festivities. As she began her short program, she looked relaxed albeit a bit restrained and muted. Her performance wasn't the best of her life but it was technically sound. The judges agreed that she deserved a first-place ranking ahead of rivals Irina Slutskaya, Sasha Cohen and 16-year-old Sarah Hughes, definitely the dark horse. After the short program the standings were as everyone had expected. Michelle Kwan looked well on her way to her Olympic gold medal.

&nbsp&nbsp&nbsp&nbsp But on the evening of the free skate, Michelle Kwan seemed to be feeling the pressure. There were some good reasons. Her biggest worry was probably Russian Irina Slutskaya who had finished second in the compulsory. Kwan might have worried too that the talented Sasha Cohen could executive a daring performance for an upset. The one skater she probably didn't worry about was Sarah Hughes. Hughes had begun to show some promise but was green and had never come close to beating her in competition. What's more, the youngster had a puppylike quality and tended to under-rotate her jumps.

&nbsp&nbsp&nbsp&nbsp Hughes was the first of the top four to skate her long program. She picked that night to pull off a squeaky clean performance, easily the best of her brief sojourn near the top of the sport. Next among the top four women was Sasha Cohen. She was seen as the most likely successor to Michelle Kwan and a serious medal threat. But she was somewhat volatile, and the the pressure seemed to have gotten to her. During her first jump combination she crashed to the ice, dooming her to fourth place.

&nbsp&nbsp&nbsp&nbsp That took some of the pressure off Kwan, but apparently not enough. As she began her Sheherezade routine, she seemed tense and flat. She faltered on a triple toe loop and landed on both skates. It was a big deduction, but one that could be overcome. But when she crashed to the ice after a triple flip, the crowd sensed that her gold medal hopes were in jeopardy once again.

&nbsp&nbsp&nbsp&nbsp "I heard the audience try to lift my spirits when they started clapping in the middle of the program," Kwan recalled. "I made a few mistakes, but I kept on going. It just wasn't meant to be tonight."

&nbsp&nbsp&nbsp&nbsp She did keep up a stiff upper lip and landed three more triples -- a Salchow, a Lutz and another toe loop. But the errors put her in second behind Hughes for the long program, and the long program counted for twice as much as the short in arriving at the final rankings. Still the odds were in Kwan's favor. She was three places ahead of Hughes in the short program. The only way Hughes could pull off an upset was if Irina Slutskaya also skated better than Kwan but not as well as Hughes, introducing another full placement point between them and overcoming Kwan's placement difference in the short program. Of course Kwan also knew that Slutskaya was capable of pulling off a first place finish in the long program and taking the gold herself. That's precisely what Slutskaya would have done had she not bobbled a forward landing on a triple flip. That put her in second in the free skate, slipping an unbridgeable chasm between Kwan and her gold medal hopes. As the only top skater to pull off a clean free skate, Hughes was rewarded with gold by a 5-4 vote of the judges.

&nbsp&nbsp&nbsp&nbsp One of the most memorable scenes of the 2002 Winter Olympics is Michelle Kwan holding the hand of father Danny as they anxiously awaited the scores. She had made a practice of having her father by her side to share her many triumphs and occasional defeats. Salt Lake City was to be one of the latter. As father and daughter stood joined in shared defeat, the whole world felt their sorrow. Kwan did her best to put on a brave face.

&nbsp&nbsp&nbsp&nbsp "I think I was a little more disappointed in Nagano, just because I skated much better," she said, but had to add in all honesty, "I guess it's different. But both ended up crying."

&nbsp&nbsp&nbsp&nbsp If her decision to continue her quest for gold was difficult after Nagano, it was even more difficult after Salt Lake City. But even on that most disappointing of days, she showed the kind of fortitude that makes champions: "A lot of people ask me what my decision is after the Olympics. I don't know," she said. "I enjoy competing and I do love the sport a lot. It gives me a lot of pleasure, a lot of joy." PAGE 3
"I heard the audience try to lift my spirits when they started clapping in the middle of the program. I made a few mistakes, but I kept on going. It just wasn't meant to be tonight."
CONTACT US | ADVERTISING INFO

© 1996-2013 Asian Media Group Inc
No part of the contents of this site may be reproduced without prior written permission.