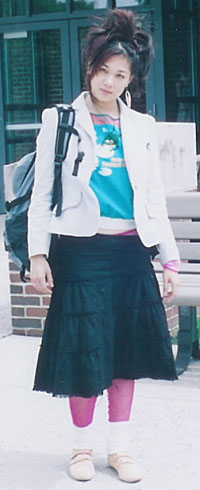 Kathy Lee as Katie Wong in Red Doors, a film about a dysfunctional New York Chinese family.

&nbsp&nbsp&nbsp&nbsp Kathy Lee takes acting seriously. She has trained with several acting schools and appeared in stage productions. She speaks Mandarin and Spanish, plays the violin and sings alto. She swims, skis and tap dances. About the only thing Lee can't do is take herself seriously.

GS: With your long list of sports, you have to be one of the most physical of Asian American actors.
KL: Most physically active? Well, I don't know about that, but yes, I do highly value leading an active lifestyle. I've always been on the go since I was little, always splitting my time among╩figure skating, tennis, running, swimming, gymnastics, ice hockey, horseback-riding and dancing lessons. But a year ago, I discovered what is now my favorite physical outlet: Radu. Radu, who is known as New York's "Toughest Trainer", "Fitness Guru", and "Trainer to the Stars", is from Romania╩and started his "physical culture" in midtown Manhattan a few decades ago. They have classes taught by personal trainers from the most prestigious physical culture universities in the world. The entire program, which is designed by Radu himself, combines track and field, gymnastics, martial arts, calisthenics and stretching, and is the most intense yet surprisingly fun and creative workout I've ever had! Every class is different so I never get bored, which is a common roadblock with workouts. I'm a total endorphin junky, and I'll admit that I got hooked right away. But I'll have you warned that it's not for everyone — but it absolutely works for me!

GS: What was the Eureka moment that made you go into acting?
KL: I've grown up being a performer, but I seriously started to pursue acting when I graduated from high school. My Eureka moment, however, occurred only a year or so ago. I hadn't been actively and aggressively going after roles and auditions. Anyway, when a friend asked me to be a reader for auditions she was holding, I said I'd help out. While I was reading with all the actors auditioning, I realized how much I missed acting and that I'd forgotten how happy it made me. I started really considering it as a full-time option from then on, and since then, I've been working to make it a real career choice, whereas before, I'd always viewed it more as a side hobby.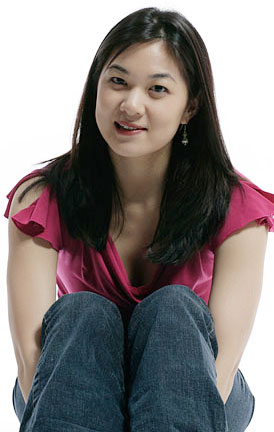 GS: What about your family background and upbringing brought out the actor in you?
KL: That reminds me of the line from 10 Things I Hate About You when Julie Stiles' character mocks her younger sister as thinking: "Look at me! Look at me!" ha ha... But I think there's a lot of truth to that! I definitely╩believe that pecking order greatly influences personality and has subsequently predisposed me to liking being in front of the camera.╩My sisters and I also grew up performing╩all the time, be it a╩Christmas Show for our parents or a Talent Show for the Southeastern Connecticut Chinese Cultural community; so I essentially grew up╩in front of an audience, which I loved and got used to early on. I have to thank my mom for signing us up for so many classes (music, dance, arts & crafts, sports, etc). She was a dancer and always wanted her daughters to be exposed to as many opportunities as possible. So my upbringing and family background have definitely played a huge role in╩forming who I am now as an actress.

GS: What has been your biggest acting coup to date?
KL: My biggest acting coup to date would be Georgia Lee's independent feature film Red Doors. We shot this summer in New York, New Jersey and Connecticut. It's a story about the Wongs, a bizarrely dysfunctional Chinese-American family living in the New York suburbs. I play Katie Wong, the black sheep in the family who is a disaffected high school senior who engages in an elaborate prank war with Simon, her longtime neighbor and nemesis. This was one of the most challenging, exciting, and meaningful experiences for me because I assisted with the production in addition to acting as one of the leads in the ensemble cast! The actors were all amazing (most were from LA), and the crew was so wonderful to work with. We all became really close and devoted to the project, and it looks great as a result! All we need is for the film to be picked up now so that it can be seen!



GS: What has been the worst fiasco of your acting career?
KL: I just shot a short film out in Maryland, where they had to get three generators because we were shooting out in a national park. And the first night, no joke, we lost all power! We were all in the dark in the middle of nowhere without heat and only two porta-potties... Yeah, that was quite a way to start off a shoot. The next day they got a new gennie and things were going fine, or so they seemed, until half-way through the shoot-day we lost power again and got pushed back a day. It's great that we can all look back now and just laugh.

GS: How did you happen to enter the Miss Junior Connecticut Pageant?
KL: There comes a time in every pre-teen's life when all of a sudden, you start receiving pageant fliers and brochures in the mail. I would toss them out without even reading them, until one day, I actually looked one over that had Tiffani Amber Thiessen on it! I'll admit that I really liked Saved By The Bell, and I wanted to act on TV like her. The brochure said that she had won the pageant and subsequently got into the business that way, so I thought I'd try that route. If it worked for her, why not me, right? So, I told my parents I wanted to enter, and they supported me 200%! PAGE 2
"There comes a time in every pre-teen's life when all of a sudden, you start receiving pageant fliers and brochures in the mail."
CONTACT US | ADVERTISING INFO

© 1996-2013 Asian Media Group Inc
No part of the contents of this site may be reproduced without prior written permission.