ASIAN AMERICAN
PERSONALITIES
CONTACT US | ADVERTISING INFO

© 1996-2013 Asian Media Group Inc
No part of the contents of this site may be reproduced without prior written permission.
GOLDSEA | ASIAMS.NET | ASIAN AMERICAN PERSONALITIES
THE PERKY ONE
Lisa Ling talks about what it's like being TV's youngest and most visible Asian American talking head.
by Steve Hirano
PAGE 1 OF 4

o Asian American can claim as much eyeball time with American TV audiences as Lisa Ling. The perennially perky, reed-thin 25-year-old is one of five female co-hosts of ABC's daytime talk show The View which airs weekdays from 11 a.m. until noon eastern time. For that time slot the show enjoys the highest rating since the 1993-94 season. Ling can't take the entire credit for the success of the two-year-old show. It's co-produced by heavyhitter Barbara Walters who also appears two days a week. The panel also includes seasoned talking head Meredith Vieira as moderator, former prosecutor Star Jones and even comic Joy Behar.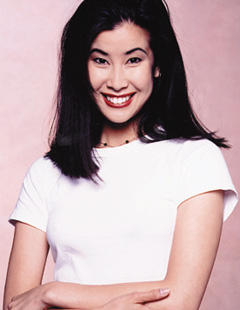 &nbsp&nbsp&nbsp&nbsp But in the eyes of many Asian American TV viewers, especially those who think the Beatles are bugs, Lisa Ling is shaping up as the most prominent Asian American talking head since Connie Chung. Perhaps she owes her stunningly youthful rise to having gotten her start in TV at the age of 15 with a Sacramento-based teen magazine show that became nationally syndicated after its first season. By the time she was 18 Ling had moved on to become the youngest reporter for Channel One News, the satellite programming satellite-fed directly into classrooms across the U.S. In those days she put in 40-hour weeks at Whittle Communications's Hollywood facilities while attending USC full-time. Her four years at Channel One gave Ling the on-camera poise and the national exposure that made her a natural choice to be the host who presents the young woman's perspective on The View.

GoldSea: How did you get started in television? Did you have an entertainment background?
Lisa Ling: Not at all. In fact my parents, being of a traditional Chinese family, were pretty opposed to me pursuing any aspect of television. They wanted me to be a doctor or a lawyer, of course. They're not as traditional as many of my relatives, but they just didn't think that a career in television would be the most wise decision. But then, I'm probably one of the most obnoxious and boisterous people that they have ever met, so they just said, "You know what? You can probably pull it off."

CONTINUED BELOW
---
---
GS: Are you interested in acting?
LL: There was a time when I wanted to do the whole acting thing, but then I started to get educated. I don't mean to insult the actors and actresses -- but I will -- I just decided that I wanted to pursue a career that will allow me to really utilize my mind. I really mean that emphatically. I can't believe that I'm actually getting paid for getting fed knowledge. I'm learning so much every day, and I'm actually getting paid for it. I couldn't ask for a better job. In January I was standing in Red Square [in Moscow] reporting on Russian elections with CBSm ABC abd NBC correspondents. It was incredible.
GS: So you consider yourself very knowledgeable about current events?
LL: Not as much as I would like to be, but I think I could hold my own with anyone that wanted to talk. And I consider myself a very good listener. It's very important to listen. Voltaire once said one could benefit far more as a listener than a speaker, and I believe that. You learn so much more by listening.
GS: Were the other reporters in Moscow surprised to find you there?
LL: They were pretty stunned that there was a Channel One reporter. In the news business everyone has heard of Channel One. They were stunned that a 20-year-old kid was there reporting on the same things that they were and asking the same questions that they were of Vice-President Gore.
GS: Did they treat you as an equal?
LL: I've never had a bad experience with other reporters. They've been pretty great. We've been able to carry on pretty intelligent conversations.
GS: Who's the nicest journalist you've ever met? Have you ever met Connie Chung?
In my high school yearbook they did an article on me because I was doing "Scratch", and they titled it "The Next Connie Chung". I was kind of insulted. They're associating me with this Asian woman. Would you associate a blond girl on our show with Jane Pauley or with Dianne Sawyer? I respect Connie Chung but in no way do I emulate her. I mean, I think she does a great job, but I don't want to be her. PAGE 2
"In my high school yearbook they did an article on me because I was doing 'Scratch', and they titled it 'The Next Connie Chung', and I was kind of insulted."