GOLDSEA | ASIAMS.NET | ASIAN AMERICAN PERSONALITIES
Justin Lin's Sense and Sensibility
The critical and commercial success of Better Luck Tomorrow sparked several studio bidding wars for the director. He was signed first by Disney which offered a $40 million movie budget to make the unfortunate Annapolis.

"Making indie movies is like falling in love," Lin says. "You can take it out there to the edge, go for it with all your passion. Making studio movies is kind of like dating a model. It's pretty hot, but, you know, it is what it is. I just never want to be in a situation where I'm clocking in and clocking out."

Justin Lin was born in 1973 in Taipei. His family moved to Buena Park where his parents opened up a strip mall fish-and-chips eatery that became the in-spot for hookers and pimps. Lin admits to having yearned desperately to fit in like most kids. He joined the Boy Scouts to achieve what he saw as American boyhood's ultimate achievement: the Eagle Scout badge. Between Scouts, sports and school, Lin had little time to develop an interest in film. In high school he was an honor roll, academic decathalon kid who spent his free time absorbing SAT vocabulary words. But he also broke with stereotypes by becoming a varsity athlete.

"It's funny because it was good I did all these activities but I did them for the wrong reasons," he admits. "I just wanted to prove people wrong."

Continuing to defy model-minority expectations, Lin attended UCLA School of Film and Television and earned his BA and MFA in film directing. He worked as production coordinator of the Media Arts Center at the Japanese American National Museum in Los Angeles and gained some behind-the-camera experience directing the offbeat indie Shopping for Fangs. Time spent working with youth inspired a screenplay that became his short-form thesis script and later developed into BLT.

The offers still come in and big-budget prospects loom large on the horizon, but for now, Lin is returning to his indie roots by reuniting his Better Luck Tomorrow cast, then throwing in actors from Annapolis to shoot Finishing the Game, a period comedy co-written by Lin. It's based on the hunt for a Bruce Lee replacement in Game of Death. Lin has already signed on to the dangerous challenge of trying to remake the quirky but masterful Corean (Korean) psycho thriller Old Boy.

"I'm excited, because this is the first time in my life that I don't have to worry about paying my rent next month," Lin says. "I want to see what it's like to be creative in that world, on my own terms. I mean, hell, we'll probably end up sleeping on my parents' floor again, but at least it won't be because we don't have a choice."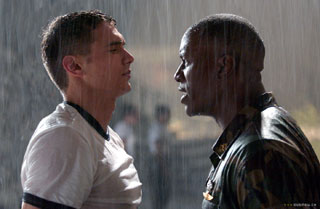 Annapolis star James Franco.
"It's funny because it was good I did all these activities but I did them for the wrong reasons. I just wanted to prove people wrong."
---
CONTACT US | ADVERTISING INFO

© 1996-2013 Asian Media Group Inc
No part of the contents of this site may be reproduced without prior written permission.