GOLDSEA | ASIAMS.NET | ASIAN AMERICAN PERSONALITIES
THE 130 MOST INSPIRING ASIAN AMERICANS
OF ALL TIME
Plucky
Duckling
PAGE 3 OF 3
"Men never asked me out on dates," she told The Sun of her pre-Charlie era. "People got the impression that I am hard. But I can't blame them because people only know me through television and tough characters in films." Combine that with Liu's repeated assertions that she has always been too shy to ask a man out, and one must conclude that Liu had become a media-generated sexual fantasy of epic proportions.

That started the offers flowing. In rapid succession she landed the roles of Princess Pei Pei in Jackie Chan's Shanghai Noon (2000) and Alex Munday. The latter not only marked Liu's emergence as a hot screen property, it rehabilitated her own romantic life.

"In movies like Charlie's Angels I show my softer side and I think that comes through," she told The Sun. "Actually men have started approaching me and asking me out, so I guess all the interviews and the movie have really helped."

And as she has moved up the food chain, Liu has shown a willingness to throw her metaphoric weight around. In April of 2000, during the shooting of the first Charlie's Angels movie, Liu complained about a bit of dialogue in the middle of a take. Bill Murray piped up to defend the line. An argument ensued and quickly escalated until Liu looked as though she were about to start throwing punches. The other actors scurried into the safety of their trailers. Director McG was forced to end the day's shooting early.

As of the fall of 2003 Lucy Liu's acting career is cresting. She has become synonymous with spike-heeled fight scenes. In Ecks vs Sever (2002) Liu is the lead female action figure. Quentin Tarantino's Kill Bill (2003) exploits her image as a woman inscrutable enough to be exotic, sexy enough to kill -- fueling the ages-old male fantasy of having two hot chicks fighting to the death over you. The good woman versus the bad girl. The blonde versus the brunette. The blonde seems slated to win this one, but who knows what the future will hold?
CONTINUED BELOW
---
---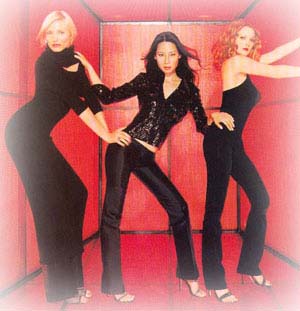 Cameron Diaz, Lucy Liu and Drew Barrymore show off the camp-vamp visual style that made teens flock to the first Charlie's Angels movie.


Yes, Lucy Liu has entered full-fetish mode. For a onetime ugly duckling, that's about as good as it gets in Hollywood.

Liu's new stardom isn't based solely on the sexual reflexes of guys with fetishes for maneaters in spikes and tight leather. Let's not forget the girls -- Asian and others -- who have grown up struggling with ugly-duckling complexes in a society overrun with images of buxom blondes and blue-eyed all-American cheerleaders. Lucy Liu holds out the promise that if you want it badly enough, and if you are willing to pay the price, ignored little girls can grow up to become highly paid players in adolescent male fantasies.



Back To Main Page
" Men never asked me out on dates. People got the impression that I am hard. "
---
CONTACT US | ADVERTISING INFO

© 1996-2013 Asian Media Group Inc
No part of the contents of this site may be reproduced without prior written permission.