---
&nbsp&nbsp&nbsp&nbsp Song's fist-pumping shouts of "Yes! Yes! Yes!" to the cheers of a swollen, admiring gallery couldn't have been easy to shut out, especially as Park stepped up to face the ultimate pressure -- gripping in her sweaty hands a dream on the verge of being realized. All that lay between the 25-year-old and her first major win was a 6-footer for a birdie. The gallery hushed in anticipation of what commentators called the putt of Park's remarkably disappointing pro career.

Park had to fight to hold back thoughts of the other tournaments she had come just as close to winning.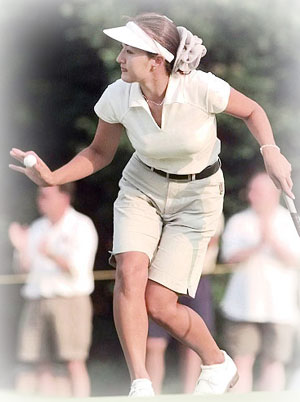 "My knees, my arms, my whole body was shaking," she recalls. "I didn't know if I could start the club back."

The longest putt of her career didn't came off without a hitch. Twice, nerves got the better of Park, forcing her to back off for air, composure. But when she did complete her stroke, the ball rolled true and dropped in with a clink which, for a brief eternity, held at bay the hoots and whistles hailing the most breathtaking finish in the 33-year history of the Kraft Nabisco Championship. "I was shaking like a baby," was her only lucid memory of that magic moment.

When she and caddie Dave Brooker made the obligatory leap into the pond near the 18th green, it seemed to wash off the stigma of a golfer who had lost the aura of a golden amateur career to languish among an elite group of Sunday faders. It hasn't helped that since her rookie season Park has been dogged by a posse of players from her homeland -- the likes of Se Ri Park and Mi-hyun Kim -- who seemed to hang just a bit tougher come Sunday.

"If you want it really, really badly you can do it," Park said as she blinked awake to the reality of the biggest win of her LPGA career. "I guess I was the one who wanted it the most." Everyone knew she was, and with good reason.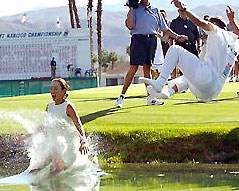 Grace Park and caddie Dave Brooker take the traditional plunge into the pond after winning the Kraft Nabisco, her first major.



Since debuting as the most impressive American amateur of her generation, Park had been shortlisted to win any number of tournaments but had disappointed time and again. Just two weeks earlier at the Welch's/Fry's LPGA season opener in Tucson she had lost the lead on Sunday afternoon to Karen Stupples to settle for a second-place tie with Jung Yeon Lee. A week later at the Safeway International she had lost a strong start with another disappointing Sunday to tie for third with Lorena Ochoa at an 11-under 277.

Until the debut of Michelle Wie, Grace Park was the only Corean female golfing sensation American enough to give untranslated interviews. With the Kraft Nabisco under her belt, Park is likely to be seen as the only Asian woman to stand between Michelle Wie and the title of Next Major Golf Babe. PAGE 2
"My knees, my arms, my whole body was shaking. I didn't know if I could start the club back."
CONTACT US | ADVERTISING INFO

© 1996-2013 Asian Media Group Inc
No part of the contents of this site may be reproduced without prior written permission.