ASIAN AMERICAN PERSONALITIES
CONTACT US | ADVERTISING INFO

© 1996-2013 Asian Media Group Inc
No part of the contents of this site may be reproduced without prior written permission.
GOLDSEA | ASIAMS.NET | ASIAN AMERICAN PERSONALITIES

Everydude Uploaded -- The Key to Keanu
PAGE 2 OF 3

She was thrown out through the passenger-side windshield and was pronounced dead at the scene in the wee hours of April 2nd. A high concentration of cocaine was found in her blood. "Manson knew that Symes didn't use drugs and was suffering from depression resulting from her 1999 miscarriage but took advantage of her by pushing her to take cocaine and "other medication and/or intoxicating substances," alleges St. John's lawsuit.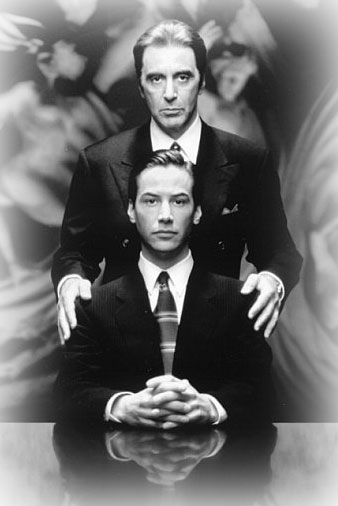 Devil's Advocate (1997) is another project that sought to capitalize on Keanu Reeves's celebrated "blankness". Unfortunately for its box-office prospects, it failed to tap his Everydude appeal.


Manson took time out from work on his fifth album The Golden Age of Grotesque, to release the following statement: "Words cannot express the pain that I feel over the loss of Jennifer Syme's life. After Jennifer was sent home safely with a designated driver, she later got behind the wheel of her own car for reasons known only to her. Her death is sad and tragic."

Keanu Reeves served as one of the pallbearers, along with director David Lynch, Jane's Addiction guitarist Dave Navarro and Anthrax guitarist Scott Ian.

From time to time Reeves has been spotted with other women. Back in mid-June he was seen with Amanda Peet at the Plaza Cafe in Southampton. Both were filming an upcoming Jack Nicholson comedy. The subject of Reeves's love life is more likely to provoke anecdotes of solo club and restaurant appearances and exits, suggesting some weird inability to find a girlfriend. Reeves has done his part to promote the impression that romantically he's a bonehead. In mid-September, 2003 he admitted to being single and available, then added that he is "Begging, pleading," in response to a Cosmopolitan interviewer's question as to whether he is "looking"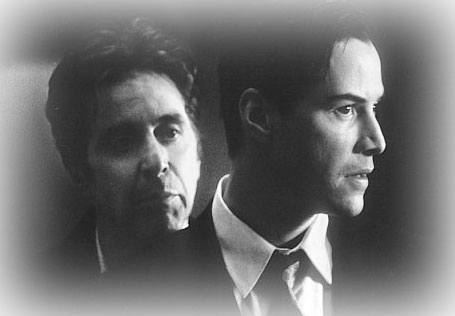 Keanu Reeves with Al Pacino in Devil's Advocate. Reeves earned $8 million for his role.

On his 39th birthday (September 2, 2003), Reeves was spotted eating pasta alone at Dan Tana's, a celebrity hangout on Santa Monica Boulevard in West Hollywood. A half dozen model/starlet types came up offering to help him celebrate but received no sign of interest. Disappointing behavior from the man American women chose in November of 2001 as the Hollywood star with whom they would most like to cohabit a desert island. (In China, France, England, Brazil and Argentina Reeves came in second.)

CONTINUED BELOW
---
---

At least on that occasion, Reeves's preference for his own company may not be strange. Even if he were the type of man to welcome the company of starstruck groupies, he may not have been in a partying mood given that younger sister Kim had begun relapsing back into her leukemia, cancer of the bone marrow. Born two years after him to the same mother and father, Kim Reeves is a horsebreeder who had initially been diagnosed with the disease in December of 2002. The news had sent Reeves rushing from the Matrix sequels shoot. He had flown her to a luxury resort in Hawaii with the thought of bringing ease and joy to her last days. Several months later Reeves bought a luxurious Hollywood Hills mansion, ending nine nomadic years of living in a succession of hotel rooms, and converted a large part of it into a hospital-quality care unit staffed with top specialists. By summer of 2003 Kim began showing remarkable improvement, encouraging the hope that she was on the road to recovery.

Despite Reeves's brotherly solicitude, and presumably the best medical attention money can buy, by late September Kim's relapse became official. She was forced to endure another series of painful treatments. The bad news hit Reeves hard. "During shooting breaks, unless he has to rehearse or talk to the director, he'll sit alone, often just staring at the ground," a studio executive was quoted as saying. Friends worried that Reeves might become reclusive and quit acting. "The diagnosis that it is back has really hit him hard," one friend told Sunday Express "It seems to have pushed him to the edge."

Against that emotional backdrop the lefty with a lifelong fear of the dark continues work on other projects while awaiting the early November release of the final installment of the trilogy that will complete his ascension to the status of icon and make him wealthy beyond caring. Money doesn't seem to be an overriding priority for a guy whose preferred ride is a 1974 850cc Norton Combat Commando and who gets satisfaction from playing bass for little-known bands Dogstar and Becky. He gave away a big chunk of his Matrix salary to members of the production team. He bought $9,000 Harleys for each stuntman. Four years ago, when he was much less wealthy, he deferred part of his salary on The Replacements (2000) so Gene Hackman could be cast. In August he spent weeks in the Oregon mountains filming an indie called Thumbsucker because it happened to be a friend's first directing gig. His generosity and loyalty is especially notable as Reeves didn't begin life with abundance and emotional stability. PAGE 3
"On his 39th birthday Reeves was spotted eating pasta alone at Dan Tana's, a celebrity hangout on Santa Monica Boulevard in West Hollywood."