ASIAN AMERICAN
PERSONALITIES
CONTACT US | ADVERTISING INFO

© 1996-2013 Asian Media Group Inc
No part of the contents of this site may be reproduced without prior written permission.
GOLDSEA | ASIAMS.NET | ASIAN AMERICAN PERSONALITIES
THE NEXT ACTION HERO
Mortal Kombat may catapult Robin Shou into the action-hero stratosphere.
by H Y Nahm
PAGE 1 OF 6

t's been brewing since last spring, this summer's slugfest between Batman and Robin. The Robin in question isn't the caped crusader's red-breasted sidekick but Chinese American Robin Shou. He's the star of Mortal Kombat, the one movie that can snapkick Batman out of the summer's box office throne. It's a fight to the death, and the battle isn't confined to 5,000 screens across the country. It'll spread to every corner of consumer market--toys, fast-foods, clothing, books, software, video. It will continue in Hollywood watering holes as deals are struck to allocate astronomical sums to years of sequels to come.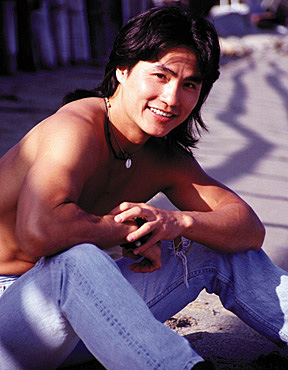 Batman is a formidable, venerable action figure. Robin Shou, however, isn't necessarily the underdog. To see what Hollywood's newest action hero is made of, we meet him at the Sandcastle at Paradise Cove in Malibu. It's Monday afternoon in early June and the place is dark, practically empty. Shou nurses a cup of heavily creamed coffee at the bar while three regulars talk baseball at a nearby table. Shou stares straight ahead, showing no interest in the conversation. He glances over as we enter but checks himself from getting to his feet. He probably can't quite make us out in the gloom, especially against the backlight streaming through the door from the sunlit ocean-view restaurant.

We approach and address him. As he stands to shake our hand, his voice is soft, somewhat tentative. He is wearing a baggy crewneck sweater that is a little out of place given the weather and locale. At 6 feet and 165 pounds, he seems lean rather than muscular. He doesn't want to bulk up, Shou explains, for fear of becoming too heavy to do the stunts in the fight sequences, all of which he does himself. Stripped to the waist for the camera, however, Shou displays a sculpted musculature which, he says, is important cinematically. "My legs aren't muscular," he says, "but you can wear pants."

Shou declines to be photographed doing kicks or other fighting poses. "That's what everyone wants to shoot me doing," he says. He wants to be depicted as an actor who happens to do martial arts very very well. He is obviously proud of his role in creating the key fight scenes in Mortal Kombat.
CONTINUED BELOW
---
---
In the parking lot is Shou's black and red 1980 280Z. What with the amateur paintjob, it's definitely not the Batmobile but a holdover from Shou's youth, preserved at his parents' home during his nine years in Hong Kong.

"I had a 1978 Z too," Shou offers. "My parents made me sell it because it was taking up too much room."

Shou is poised on the cusp between nine years as a stuggling young actor and the stardom that awaits after the full run of Mortal Kombat. The black and red Z, we suspect, will soon be a part of Shou's teen memories.

There's good reason to believe that Mortal Kombat will be big enough to knock out Batman. Its creator is Larry Kasanoff, producer of True Lies and Terminator 2. Its box office potential is piggybacked on the most popular video game of all time--the movie rights to which Kasanoff had the foresight to option a year ago. By late August it became clear that millions of video arcade junkies were swarming to see Mortal Kombat. Twice. Three times. Ten times! Kombat topped the box office charts with $23 million for its opening weekend. It has a shot at topping the $176 million Batman Forever grossed in U.S. box office. PAGE 2
"That's what everyone wants to shoot me doing."