ASIAN AMERICAN
PERSONALITIES
CONTACT US | ADVERTISING INFO

© 1996-2013 Asian Media Group Inc
No part of the contents of this site may be reproduced without prior written permission.
GOLDSEA | ASIAMS.NET | ASIAN AMERICAN PERSONALITIES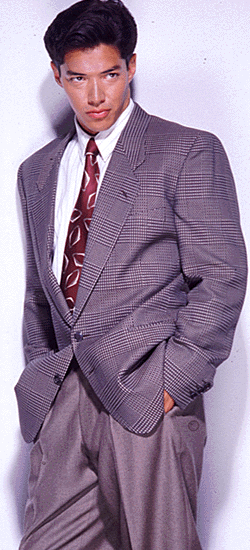 DEEP, DARK & HANDSOME
Russell Wong works on becoming an actor you can respect.
PAGE 1 OF 5
MORE RECENT RUSSELL WONG PROFILE (Oct 2003)

ussell Wong doesn't need a menu at a quiet Japanese restaurant he frequents on 89th Street in New York. He orders "the usual"--maguro, hamachi, anago, miso and Perrier. After ordering Wong lights up a cigarette.
Wong will soon be off to Hong Kong to film China Cry, based on the true story of Nora Lam (to be played by Julia Nickson). Produced by Parakletos Productions, China Cry Wong is also a contender for the lead in China Night, a CBS Movie of the Week starring Melissa Gilbert (Little House on the Prairie). She falls in love with a Chinese student in Berkeley in 1977. The film explores the seeds of Tiananmen Square. Ultimately, the part goes to another Asian American hunk named Robin Shou.
Six-foot tall and leading-man handsome, Wong is one of the current generation's most naturally gifted actors. He has appeared in many feature films, TV episodes, music videos and commercials, but his acting career didn't catch fire until recently. He caught our eyes in an episode of 21 Jump Street, then confirmed his heartthrob status with his starring role in Eat a Bowl of Tea in which he plays a young Chinese American who returns to China to find a bride. Wayne Wang directed. Wong considers the film his best working experiences. Some have remarked on the lack of chemistry between Wong and the bride played by Cora Miao and speculate that this may be due to the fact that Miao is the real life wife of director Wang. There was considerably more chemistry between Wong and Jessica Harper who played the American prostitute. Wong admits that working with Harper was an enjoyable experience.
CONTINUED BELOW
---
---

Wong also appeared in China Girl, Tai-Pan, and numerous TV shows including 21 Jump Street, As the World Turns, Harry's Hong Kong, and The Equalizer. On music videos he has danced with the best: David Bowie, Kim Carnes, Donna Summer and Denise Williams. He's also danced with the Westside Ballet Co, practices martial arts and sings.
More recently his memorable roles include a brutal womanizer in The Joy Luck Club and title role in the Vanishing Son TV series. As recently as two years ago, Wong didn't make enough from acting to support himself and had to supplement his income by dancing (ballet and music videos) and calling on his amateur photographic skills to do occasional promotional headshots for fellow dancers. PAGE 2
"I'm sure he broke a few hearts."