ASIAN AMERICAN PERSONALITIES
Her track record of producing quality Asian-themed films establishes Janet Yang as the head priestess of Hollywood's Asian destiny.

by H Y Nahm


CONTACT US | ADVERTISING INFO

© 1996-2013 Asian Media Group Inc
No part of the contents of this site may be reproduced without prior written permission.
GOLDSEA | ASIAMS.NET | ASIAN AMERICAN PERSONALITIES
Manifest Destiny
PAGE 1 OF 8

ragon: The Bruce Lee Story ranks as the Hollywood film most admired by Asian Americans, according to one Goldsea poll. Few know that the project was the brainchild of Janet Yang. She conceived the biopic way back in the mid-80s as a young Universal executive and secured film rights from Linda Lee, the legend's widow. But it wasn't until the release of the more controversial Joy Luck Club in 1993 that Yang became recognized as Hollywood's leading producer of quality Asian-themed films.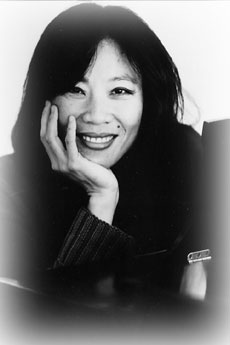 In a film-industry career spanning nearly two decades, Janet Yang has proven her versatility. She has distributed films, secured shooting rights from the highest levels of the Chinese government, developed numerous projects and packaged them for the major studios. Through it all her name has been linked with acclaimed films like Empire of the Sun, South Central, The People vs Larry Flynt, Savior and High Crimes. Some of that came with her seven-years heading up production for Oliver Stone's Ixtlan. Even after leaving the acclaimed director in 1996, Yang has shown an affinity for quality projects. What distinguishes Janet Yang to Asian Americans is that promoting Asian themes hasn't been a mere sideline or an afterthought but a cornerstone of her career.

Janet Yang was born July 13, 1956 in Queens, New York. When she was a teen, hers became one of the first Chinese American families to visit China. The experience prompted her to major in Chinese studies at Brown. Upon graduating in 1978, she spent a year and a half working as an editor and translator for the Chinese government's foreign press office. She then obtained an MBA from Columbia in 1984 and was hired to run World Entertainment, a company created to distribute Chinese films in the west. In 1985 she was tapped by Universal to help distribute movies in China. When Steven Spielberg needed someone to secure shooting permits in Shanghai for Empire of the Sun, Yang was suggested. The connections made on that project provided her entry into the creative side of producing movies as a Universal executive.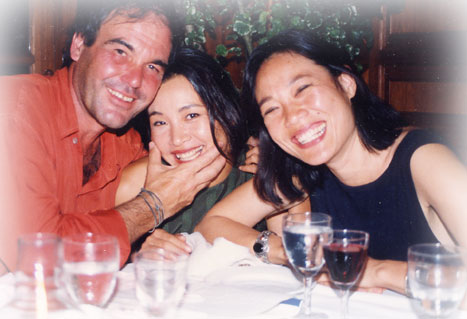 Janet Yang (right) with Oliver Stone and Joan Chen. Yang was president of Stone's Ixtlan which produced Heaven and Earth in which Chen played an old Vietnamese woman.

In 1989 award-winning director Oliver Stone hired her to be president of production for Ixtlan. While working on The People vs Larry Flynt Yang became friendly with Columbia president Lisa Henson. By then the mercurial Henson had come to be seen as difficult to deal with. Her opportunity to opt out came in the form of a first-look deal from Sony (which owns Columbia) to cover the overhead of her independent production company. She asked Yang to become her partner and they started Manifest Films in 1996. When Sony didn't renew the deal in 1999, Henson left Manifest to work for her family's Jim Henson Productions. As Manifest's sole owner, Yang weathered several tough years during an industry slump. Recently she has emerged with a handful of projects moving toward production. Among them is a film about Helie Lee, a Corean American who helped nine relatives escape from North Corea.

Yang is appealingly earnest and soft-voiced for a woman of her long and wide-ranging Hollywood experience. But she is by no means a passive participant in the interview to which she devoted an hour in early September. She is catlike in transitioning between a watchful stance and an enthusiastic, proactive one. At times she short-circuits lines of questioning with long narrative responses. Then she pulls back to let the interviewer resume control. At one point she feels that a question has overstepped the boundary between the professional and the personal. She voices her ambivalence as a matter of principle, then answers anyway. She is incapable of evasion about herself, but doesn't hesitate to use that tactic to shield associates. Her written responses to several emailed followup questions are not only meticulously punctuated but reveal a lively feel for the written word.

CONTINUED BELOW
---
---

GS: Let's start with your transition between Ixtlan and Manifest Films. How did that come about?
JY: I had been with Oliver for seven years. One of the last movies I had made with him was The People vs. Larry Flynt at Columbia Pictures. It was directed by Milos Foreman directed and starred Woody Harrelson and Courtney Love. It was a big movie. It was a special movie. I got to know Lisa Henson in the process. She was the President of the studio at the time. We just started talking about doing movies together. I hadn't realized she was thinking about leaving the studio. One thing led to another and we decided to form our own production company.

GS: How could you justify leaving such a highly acclaimed director like Oliver Stone?
JY: That seems like a loaded question. [laughs] A lot of people would say, "How did you survive that long?" Seven years is a very long time, especially by Hollywood standards. Ixtlan was a wonderful place to cut my teeth and Oliver was a fantastic mentor and really taught me a lot, let me do my thing in a big way. But because his name was so big there was always this sense that Oliver was the magnet for the company, and at a certain point you have to define your own taste. There were projects Oliver wanted to do that I wasn't as fond of. There were projects that I wanted to do that Oliver didn't feel that strongly about. Sometimes they would come to the company because they wanted Oliver -- which he usually wasn't available for. Sometimes they'd come with projects for me and Oliver was too much of a gorilla to have hanging on.

That wasn't really the main reason. But you kinda know when a relationship is done. And the idea of having a partner -- a woman who was really going to be my partner -- was very attractive. It was also monetarily attractive. We had a deal at Sony. In a lot of ways it felt like a good situation. I enjoyed myself quite a bit with Oliver but I felt like it was time.

GS: What were your parting words?
JY: Oliver is very funny. His parting words were, "Oh, yeah, she's divorcing me to have a lesbian relationship."

GS: Any truth to that?
JY: Absolutely not.
It's so funny because I'm usually not put through this kind of interview. I can tell you're trying to provoke me. They do it to actors.

GS: Janet Yang is about as close to a big Hollywood figure as we Asian Americans have.
JY: You see those kinds of articles in Premier or Vanity Fair or whatever. They use the same tactic and it's funny. I've never actually had it done to me.

GS: We're not trying to be offensive. There have been a lot of interviews of you, so we're just trying to get a new perspective.
JY: I have nothing to hide so go ahead. [laughing] I'm not offended. When I read the interviews with the actors, the reporters are all trying to be so cute, part flattering and part kind of digging and I get that tone from you. It's not offensive. It's just that usually producers aren't treated in that style but I'm up for whatever you want to do. PAGE 2
"And the idea of having a partner -- a woman who was really going to be my partner -- working with me was very attractive."