Hitch
Teddy Zee and the Sundance Kids
After working his way up through the Hollywood establishment, Teddy Zee takes a bold leap into the wild blue yonder of Trans-Pacific entertainment.

by Tom Kagy

PAGE 1 OF 3
GOLDSEA | ASIAMS.NET | ASIAN AMERICAN PERSONALITIES
Hitch Teddy Zee and the Sundance Kids

t's a big day for Teddy Zee. Four o'clock is closing time on a deal that will infuse Ironpond, his new entertainment company, with venture funding from an established Hollywood-Wall Street group. He's munching and sipping between takes on the phone. His voice is resonant, oozing relaxation and confidence, precision-paced with judicious pauses and pin-point emphasis.

After 20 years in Hollywood Zee is, at age 49, his own boss. For some in Hollywood that's a euphemism for being out of work. Not when you're Teddy Zee,with producer credits on big-studio hits like Hitch, the experience of being studio exec on Charlie's Angels, and dirt still under the fingernails from babying acclaimed little films like Saving Face. Not when you have the Asian contacts and the creds to get projects like West 32nd Street funded under your own shingle. And certainly not when you have investors about to bankroll some serious new Beverly Hills offices and the credit line to greenlight your own movie deals.

Still, as Zee sees it, being your own boss is like being a hunter. When he was heading up production for Will Smith's Overbrook Entertainment, he was a fisherman. "When you're working as a studio executive, you can just bait your pole, stick it in the water and wait. Now you really have to be active in going after things."

The game he's hunting as President of Ironpond remains the same game that all Hollywood dealmakers pursue, hunters and fishermen — movies that human beings of all nationalities will pay money to see. The main difference is that Zee now has both the opportunity and the obligation to seek out projects that have a trans-Pacific angle. That means movies made in Hollywood for Asian audiences and Asian movies that may translate well for American audiences.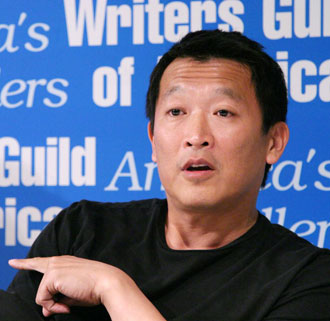 (Courtesy Teddy Zee)