Hitch
Teddy Zee and the Sundance Kids
PAGE 2 OF 3
GOLDSEA | ASIAMS.NET | ASIAN AMERICAN PERSONALITIES
Hitch Teddy Zee and the Sundance Kids
As he looks to that future Teddy Zee relies heavily on his past. Hollywood careers, at least the great ones, go through at least a few incarnations - gopher-agent-producer-studio head, say, or actor-director-producer, or writer-actor-director-producer. The true survivors know when to make the switch before everyone else does. Zee is now in what may be his sixth or maybe seventh incarnation.

His last extended incarnation was heading up the film production arm of Will Smith's multi-faceted entertainment enterprise. Several things told him the time was right to undergo one final metamorphosis. For one Zee was approaching 50 and yearned for the freedom to flex the dealmaking and project-creating muscles he'd built up under the auspices of employers. For another, he could see that Hollywood had stopped growing and was, as a matter of fact, making fewer and fewer movies with each passing year.

"Hollywood made fewer movies last year than the year before," Zee says. "China is the final frontier." That's why he decided to partner up with Peter Shiao, the son of a famous Chinese writer who built extensive contacts while working as a D.C. lobbyst practicing the delicate art of negotiating Chinese bureaucracy. "Everyone has made a lot of mistakes in China," says Zee. "We can leverage Peter's experience in China and my experience in Hollywood to smooth out the process and make good things happen."

In refocusing his career on an Asian-centric future, Zee isn't some carpetbagger. He established his Asian American bona fides for most of the two decades he was deeply immersed in the Hollywood establishment.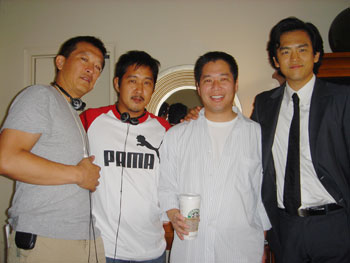 Teddy Zee (far left) with, from left to right, Michael Kang, director of The Motel and West 32nd Street, Ted Kim, head of CJ America, the Korean studio that financed West 32nd Street, and John Cho, star of West 32nd Street, Harold and Kumar Go to White Castle and a new NBC-TV mid-season replacement series. (Courtesy Teddy Zee)