GOLDSEA | ASIAMS.NET | ASIAN AMERICAN PERSONALITIES

SUPERMARKET SPECIAL
PAGE 2 OF 5

"Darling, you're gorgeous! You should meet our son who's producing a movie."

Carrere enunciates purposefully, often repeating words for emphasis. Her movement is measured and her expressions animated. She's a natural for the silver screen. But Carrere claims that she had never even thought about pursuing acting. Instead, acting found her in the classic Lana Turner fashion--but with a twist.
The scene of the discovery was a supermarket. An elderly couple approached her. "Darling, you're gorgeous!" they told her. "You should meet our son who's producing a movie." Carrere smiles at this recollection of how she came to be cast in Aloha Summer, a low-budget film that had trouble finding a distributor.
Carrere remains grateful for that opportunity. "I was very lucky. I had just graduated from high school and I didn't have any plans for the future. I don't think I even applied to college. But I love to sing. So I just figured that I was going to sing or something."
Aloha Summer armed Carrere with a Screen Actors Guild card. That was enough to encourage her to leave her family and Oahu for the brighter lights of Hollywood.
"She was very determined," says her mother, Audrey, a computer supervisor at a Honolulu bank, "though I was kind of leery because of her age." PAGE 3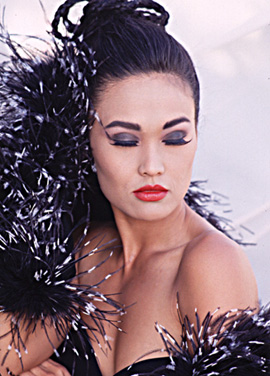 CONTACT US | ADVERTISING INFO

© 1996-2013 Asian Media Group Inc
No part of the contents of this site may be reproduced without prior written permission.