GOLDSEA | ASIAMS.NET | ASIAN AMERICAN PERSONALITIES
THE LEGEND
The life of Hollywood idol Sessue Hayakawa was as glorious as the legend that has grown up around his Hollywood career.
PAGE 1 of 3

uring Hollywood's silent screen era Japanese screen star Sessue Hayakawa rivaled Douglas Fairbanks, Charlie Chaplin and John Barrymore in popularity with film audiences.

To uphold his family's samurai tradition, Hayakawa stabbed himself in the abdomen more than 30 times.

Hayakawa was one of the highest paid Hollywood stars of his time, making over $5,000 a week in 1915, then $2 million a year through his own production company in 1920s. He was handsome and flamboyant and gave some of Hollywood's legendary parties. Hayakawa was also Paramount's first choice for the role of The Sheik that launched Rudolph Valentino's career in 1918.
Not bad for a student from Japan who stumbled into acting during a vacation. in Los Angeles.
Hayakawa was a remarkable man who lived a remarkable life. He was an actor, producer, author, martial artist and an ordained Zen monk. He starred in over 80 movies and achieved stardom on three continents. In one night during the peak of his success, he gambled away $1 million at Monte Carlo, shrugging off the loss while another Japanese gambler who lost a fortune committed suicide. From the gaudy heights of Hollywood in the early 20s, to occupied France in the 30s and 40s, to his academy-award nomination in 1957, Hayakawa's movie-like life brimmed with extraordinary adventures and accomplishments.
The future matinee idol was born Hayakawa Kintaro on June 10, 1890 in Chiba, Japan, the second eldest son of the provincial governor. From early on he was groomed for a career as a naval officer. But in 1907, at 17, he took a schoolmate's dare to swim to the bottom of a lagoon and ruptured an eardrum. He was studying at the Naval Academy in Etajima but his perfect health was now shattered and he failed the navy's rigorous physical. His proud father became depressed, humiliated and shamed. Consequently, the father-son relationship suffered.
The strained relationship between the Kintaro's drove the 18-year-old to decide to commit harakiri. One quiet night after dinner Hayakawa entered a garden shed on his parents' property, locked his favorite dog outside and spread a white sheet on the ground. To uphold his family's samurai tradition, Hayakawa stabbed himself in the abdomen more than 30 times. But death wasn't ready for him. The dog's barking alerted Hayakawa's family and his father smashed through the shed door with an axe in time to save his son.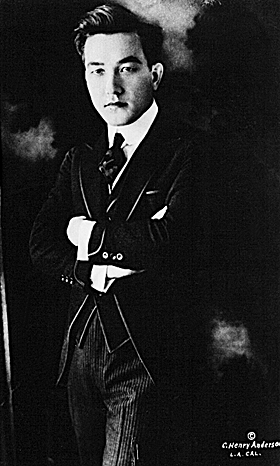 Hayakawa enrolled at the University of Chicago to study political economics. His family decided that if he couldn't become a naval officer, he would become a banker. He quarterbacked the university's football team. He was once penalized for using jujitsu to bring down a rival player.
Three years after arriving in the U.S., Hayakawa returned briefly to Japan to attend his father's funeral. His older brother tried to entice him to stay but saw no future for himself in Japan. PAGE 2


CONTACT US | ADVERTISING INFO

© 1996-2013 Asian Media Group Inc
No part of the contents of this site may be reproduced without prior written permission.