ASIAN AMERICAN
PERSONALITIES
CONTACT US | ADVERTISING INFO

© 1996-2013 Asian Media Group Inc
No part of the contents of this site may be reproduced without prior written permission.
GOLDSEA | ASIAMS.NET | ASIAN AMERICAN PERSONALITIES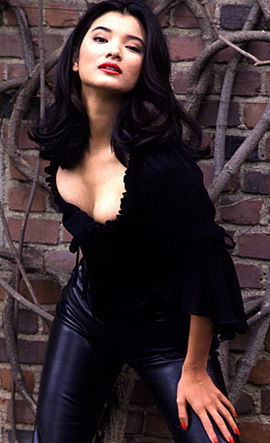 KELLY GREEN
PAGE 3 OF 5
In fact, it was another change of skin-color that put an end to her early modeling aspirations.
I used to go to the beach a lot when I was a kid. In fact I used to tell my mom that I was going to church on Sunday, and I would wear my swimsuit under the muumu and then go to the beach with friends. I'd spend the whole day at the beach, then put my muumu back on and go home. My mom couldn't understand why I was getting so dark. My mother would go nuts because she's Chinese and she didn't want me to get dark. Chinese think that fair skin is more beautiful, but then I didn't care."
Hu started to care at the age of 13 when she started looking for modeling jobs. "The first thing the agent asked me was 'Is that your natural skin color?' My mom jumped in and said, 'No, it's not!' The agent told me I had to lose my tan."
It took over a year for Hu's tan to fade. Then she signed up for the only modeling class she could afford. "My mom pretty much raised me by herself, and she didn't really have a lot of money. She sent me to the cheapest one around, the Sears Charm School." It paid off. "I know it sounds stupid, but I learned a lot. I think it was because I wanted to learn so much, I was like a sponge. I worked on it a lot."
CONTINUED BELOW
---
---

Her career got its start thanks to a strong demand in Japan for eurasian models. "They were recruiting a lot of girls to spend summers there." When she was 15, Hu decided she would follow in the footsteps of fellow Hawaii native Malia Yamamura who had won first runner up in the national competition the year before and went on to achieve spectacular success in Japan. Hu succeeded too well.
"I won the national title and wasn't even allowed to model for a whole year, which defeated the purpose of entering in the first place. But of course it opened a lot of doors for me." PAGE 4
"She sent me to the cheapest one around, the Sears Charm School."