GOLDSEA | ASIAMS.NET | ASIAN AMERICAN PERSONALITIES

THE NEXT ACTION HERO
PAGE 2 OF 6

"Me and my brothers were rowdy. So we got kicked out a lot. We moved a lot."

The portentous could easily read into this box office duel the intergenerational struggle of our day. In one corner, in the corny tights and goofy mask, is the pulp and ink icon who embodies the ambivalent morality of a generation that grew up reading comics tucked inside their schoolbooks. In the other corner, unmasked and free of moral baggage, is a digital action hero guided by a figure with the godlike powers wielded only by a video game junkie.
The outcome of this massive box office and merchandising duel will reveal the passing of disposable income from the pockets of pulpheads to the chocolate-covered hands of videots.
For Asian Americans Mortal Kombat's reception in America will be a gauge of the place Asian males are coming to occupy in the American imagination. The last Asian to star in a full-budget Hollywood action feature was Bruce Lee a quarter century ago. Lee's shot at American theater audiences wasn't exactly handed to him on a silver platter. Despite his immense popularity as the lightning-quick Kato in The Green Hornet series, he was passed over for the lead in the Kung Fu series because Asian males, Hollywood deemed, couldn't grab American audiences. A bitter and frustrated Lee returned to Hong Kong to star in a series of low-budget kung-fu flicks with names like Fists of Fury and The Chinese Connection. Only when they successfully stormed U.S. theaters and earned huge profits for Run Run Shaw did Warner Brothers offer to finance Enter the Dragon. Bruce Lee hadn't been given a chance--his immense appeal had simply beat Hollywood prejudices into submission.
Robin Shou's career presents some parallels with Bruce Lee's.



ike Lee, Shou was born in Hong Kong. Like Lee, Shou became a martial artist before starting an acting career. Like Lee, Shou had to return to Hong Kong before being offered a leading role. The big difference, however, was that by 1994 Hollywood, in the form of Larry Kasanoff, was open enough to the global possibilities of an Asian action hero to gamble on an actor of unproven appeal. That difference represents a small step for Hollywood and a giant leap for Asian Americans.
Robin Shou was born in Hong Kong on July 17, 1960. His father was a Shanghai tailor, a breed famed for the quality of their stitching. "We were a typical Chinese family," Shou says. "My mother stayed home, helped my dad, took a lot of crap." Robin was the fourth child, born after two sisters and a brother. A younger brother followed.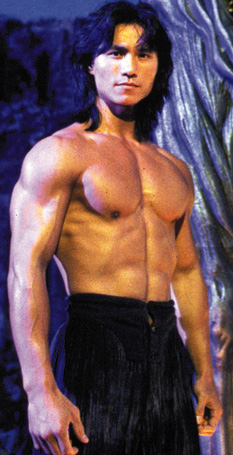 The family of seven came to the U.S. in 1971. Their first home was a 2-bedroom apartment near Olympic and Vermont in what is now Koreatown. His father supported the family by doing alterations at Sears. "We didn't have much money," Shou recalls. "Back then it was Whites & Mexicans."
The most gregarious and sociable among his siblings, Shou found the adjustment easy. "Kids adapt so well that language isn't really a barrier. I communicated.
"Me and my brothers were rowdy," Shou says, "so we got kicked out a lot. We moved a lot."
Amazingly, the martial arts skills Shou displays in Mortal Kombat didn't start with years of rigorous training in early childhood. He never went to a martial arts class until the age of 19 when he began taking kempo while attending Cal State L.A.
"Karate didn't do a thing for me," Shou says. He took it for a year and a half until he happened to see a demonstration by a group of wu shu practitioners from Beijing. "I said 'This is Chinese!'" Shou was inspired to become a martial artist. PAGE 3

| PAGE 1 | 2 | 3 | 4 | 5 | 6 | LARRY KASANOFF Q&A |




CONTACT US | ADVERTISING INFO

© 1996-2013 Asian Media Group Inc
No part of the contents of this site may be reproduced without prior written permission.