GOLDSEA | ASIAMS.NET | ASIAN AMERICAN PERSONALITIES

THE NEXT ACTION HERO
PAGE 3 OF 6

"I looked at [my supervisor], and he was 37, he had a belly, dandruff and was out of shape. I asked myself, 'Will I look like that when I'm 37?'"

So inspired, in fact, that in 1981, just before starting his senior year, he sold his car and used the money to spend a quarter studying wu shu in China. He didn't dare tell his parents. His mother found out anyway. "An aunt wrote [my mother] and said, 'I saw Robin in Nanjing.'
"I take a lot of chances," Shou says. "I follow whatever impulse comes. I'm a fanatical guy."
Shou returned to Cal State L.A. to get his B.S. in civil engineering. The year and a half he spent working at an engineering firm convinced him that he needed a different career.
"I found computer and electronics too boring," he says. "Finishing school, getting a job and getting married--I couldn't take that. My job was boring. I wasn't happy. The only thing that kept me going was martial arts."
One day his supervisor asked Shou to join him in starting a company to develop properties in Monterey Park to profit from the big influx of Chinese moving into the area. Shou was 25 at the time. "I looked at [my supervisor], and he was 37, he had a belly, dandruff and was out of shape. I asked myself, 'Will I look like that when I'm 37?'" Shou resolved to leave engineering and find a career that would excite him. He traveled to Hong Kong, "not doing anything, just to take a long vacation and think." There he was offered the chance to appear in a movie as a stuntman. The pay was $200 for a 9-hour day. Not bad for 1986.
"We were in a 14-story high elevator shaft," Shou recalls. "My first day the choreographer asked me if I could jump from the top of the number 1 shaft to the top of the number 3 shaft. Number 2 was down on the ground floor." Miss the beam, and he would fall 14 stories to a messy death. "I said that don't seem that hard. When the action came, I jumped, dangled for a few seconds, then [steadied myself]. That choreographer is now a good friend. I asked him 'How could you let me do that?' He said, 'Well, you seemed pretty confident.' He also asked if I could roll down 10 flights of stairs."
That first job lasted 20 days. When shooting finished, the producer asked Shou to play a bodyguard in another action film. The same pay, less danger. His first two years in Hong Kong Shou played bit parts in five action films. He lived alone in a little Kowloon rooftop apartment that cost $250 a month, cheap even by Hong Kong standards. He had a girlfriend. Life was good, especially compared to the alternative back in the States. Hard times came, however, when Shou got tired of playing bodyguards and began holding out for something better.
"I started to be a little picky," Shou recalls of that period. "I was turning down a lot of stuntman/bodyguard roles." Occasionally he landed a speaking part, but he often went six months between jobs.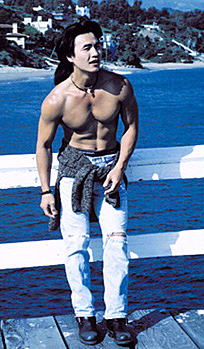 His first real dramatic role was in Forbidden Love, a Warner Brothers made-for-TV movie filmed in 1989. Shou played a Chinese student who becomes the lover of an American teacher played by Melissa Gilbert of Little House on the Prairie.
"Everything [about that role] was a coincidence," Shou recalls. The producer and casting director were in Hong Kong to scout locations. Not having been able to cast a male lead in the States, they put out a casting call while in Hong Kong. "I went in and they said, 'Start reading.' After two lines they said, 'Wait a minute, Robin, stop. Come back tomorrow. We want to put you on tape.' They put me on tape. They went back to the States and called. 'We're having trouble with the network. They want to do the casting. We have to fly you over here to meet with Melissa to see who has better chemistry."
The chemistry between Shou and Gilbert proved excellent. "At the end of the scene," Shou recalls, "one comment she made was that when I said I loved her, I nodded instead of shaking my head. She told me, 'Robin, I feel very comfortable with you.'"
It was as meaty a role as any young actor could wish for, and Shou's performance was credible, especially for an actor whose previous acting jobs had been limited to thuggery. Forbidden Love wrapped that December. Rather than trying to use that as a springboard for landing other Hollywood roles, Shou returned to resume his career in Hong Kong action films.
"There weren't that many roles here at that time," Shou says. "By that time I was getting big supporting roles and leads [in Hong Kong movies] like Black Cat Part 2, Tiger Part 2, Burning Arsenal. They were medium hits, not really big hits." PAGE 4

| PAGE 1 | 2 | 3 | 4 | 5 | 6 | LARRY KASANOFF Q&A |




CONTACT US | ADVERTISING INFO

© 1996-2013 Asian Media Group Inc
No part of the contents of this site may be reproduced without prior written permission.