GOLDSEA | ASIAMS.NET | ASIAN AMERICAN PERSONALITIES

THE NEXT ACTION HERO
PAGE 4 OF 6

"Cary Tagawa is a great actor. I was sort of intimidated by him because he has this mean-looking face, and his voice. But once I got to know him, he got me really comfortable."

At another point of the interview, Shou says, "I didn't feel I was ready to come back to L.A. because I didn't think my acting was that good. I wanted to stay in HK to learn acting, editing, choreography, direction. In HK everything is mixed together. You can talk to the editor, watch your own dailies. Here, everything is too separated [into individual trades to allow you] to learn."
Nevertheless, after nine years in Hong Kong Shou was bored with the endless string of action roles.
"I was ready to quit acting because I didn't feel there was any more for me to go for in Hong Kong. Pretty much they do the same action movie, and I wanted to move up as far as my acting, my choreography. In 1986 I had gone to HK because I was looking for thrills. I wasn't getting that any more."
In early 1994 Shou returned to Los Angeles to start an import/export business specializing in sportswear. The movie business wasn't done with him, however. "My agent called and said, 'There's this movie that's perfect--Mortal Kombat.'" The title made him lose interest. "I thought I'd be playing a villain who gets killed in the end." His agent begged him to audition.
"The casting director asked me if I was from here, went to school here. She called in Larry Kasanoff. He asked me what kind of martial arts I was doing. I told him wu shu and he got all excited. He said, 'We have this master that does wu shu. His picture's right there.'" Shou studied the photo and was flabbergasted.
"He was holding a samurai sword which is Japanese. Wu shu is Chinese. [Larry] didn't know a thing [about martial arts]. I told him I didn't know he was Larry Kasanoff either. The casting director said, 'You have a pretty good sense of humor!' After seven auditions I got the role. They wanted to try out Jason Scott Lee, Russell Wong, Dustin Nguyen."
The nine years Shou had spent acting in Hong Kong action movies paid off in Mortal Kombat. "I never had a stunt double. I did every stunt. I choreographed all my fight scenes."
Shou applied Hong Kong choreography techniques. The spectacular fight sequences featuring Shou's wu shu are the movie's centerpieces.
"They did a test screening and the response was like amazing," Shou says. "Then New Line came back and said, 'Remember those things we didn't have time and money to do? Now we have money and we have time."
Kasanoff had been impressed by Shou's skill with fight choreography during the original shooting and let Shou choreograph the fight sequences during late spring's reshooting.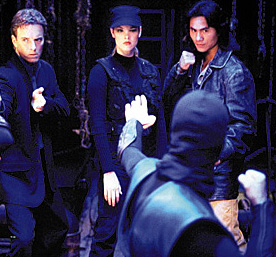 "I choreographed Reptile and Liu Kang, Johnny Cage against Scorpion. Keith Cook is 6-time world champ. He's really good. In that fight we put in a lot of stylized kicks. I want audiences to feel the pain when I get hit. I want the audience to feel the impact when I land on the ground. I choreographed a lot of things that are pretty dangerous. Reptile threw me. I had to fly 10 feet against this pillar. I cracked two ribs."
Hollywood, Shou believes, can learn fight-choreography techniques from Hong Kong. "In Hong Kong it's non-stop, it's like a real fight. Here you have a guy hit and wait for three seconds [before the next blow]. I think HK choreography is great but it's too stylized," says Shou. "That's why American audiences think it's hokey. How can you fight for 15 minutes? I find a medium where there's a lot of impact but not as stylized."



orking on Mortal Kombat gave Shou a chance to spend time with Rising Sun star Cary-Hiroyuki Tagawa who plays Shang Tsung, the evil sorceror out to rule earth.
"Cary Tagawa is a great actor," Shou says. "I was sort of intimidated by him because he has this mean-looking face, and his voice. But once I got to know him, he got me really comfortable. He was being really really nice because he knows it's my first American movie. Between scenes he helped me a lot, gave me a lot of advice. He really wants me to do something new in this movie. He's not afraid that some other actor might get more notice.
As an actor Shou sees Tagawa as his senior. As a choreographer, however, Shou pulls no punches in his assessment of Tagawa's capabilities. In the final, climactic fight sequence Shou as Liu Kang is matched up against Tagawa, the first time in an American feature in which the fate of humanity rides on a duel between two Asian characters. PAGE 5

| PAGE 1 | 2 | 3 | 4 | 5 | 6 | LARRY KASANOFF Q&A |




CONTACT US | ADVERTISING INFO

© 1996-2013 Asian Media Group Inc
No part of the contents of this site may be reproduced without prior written permission.