GOLDSEA | ASIAMS.NET | ASIAN AMERICAN PERSONALITIES
RISING STAR
Cary-Hiroyuki Tagawa is winning the strong, virile roles he has been holding out for.
PAGE 1 OF 3
"It taught me who I was. I felt I was walking a fine line between Whites and Blacks. I was a stranger in a strange land."

've turned down about 20 parts during my six years in this business." Dressed in loose royal blue criss-cross jeans and a white sweater, Cary-Hiroyuki Tagawa is a lean and muscular 5-11. Despite the air of a private and reticent man, he seems to enjoy talking about his philosophy as an actor and as an Asian American male. We are in his Venice, California garage studio. The large room, which once served as his home, is decorated with pastel paintings of Venice by his Caucasian wife Sally. Scattered around the floor are toys belonging to their children. Calen, 4, and Brynn, 2. All in all, the studio's contents are a good reflection both of Tagawa's taste for strong roles and of the rich variety of his interests. In one corner stands a life-size fiberglass cast of the actor's body. On its head is a helmet. Across the chest and down the legs is a dragon/carp tattoo, a momento of Tagawa's role as the yakuza boss in Showdown in Little Tokyo. On a wall hangs a poster for American Me in which he plays the only Asian member of a Mexican gang. A sideboard displays Japanese and Mexican figurines. Among them is a Hopi kachina fertility figure. Above a futon frame rests a Japanese picture box enclosing a toy warrior and horse for a Japanese Boys' Day festival.
&nbsp&nbsp&nbsp&nbsp Just before Brynn was born the Tagawas moved out of the garage and into a rented white two-story stucco house across the street. In a matter of months they will be moving to their new home on a two-acre site in Hawaii.
&nbsp&nbsp&nbsp&nbsp "I know that in my career I'm going to become very visible and I'm concerned for my family's safety," Tagawa says. He is probably right. Once Rising Sun is released at the end of July, Tagawa will likely become recognized as one of the most powerful male actors of his generation, regardless of race. "I think in Hawaii we can remain a little more anonymous and not have to deal on a day-to-day basis with racist feelings toward Japanese. Not only Japanese but mixed marriages."
&nbsp&nbsp&nbsp&nbsp If that seems a touch paranoid, it is only a reflection of Tagawa's earliest experiences in this country. Born in Japan as a U.S. army brat, Tagawa first came to the U.S. at the age of six. One day in Fayetteville, North Carolina he wandered away from his mother to find a rest room. There was a door marked For Colored Only and another one marked For Whites Only. Tagawa waited until everyone had left before runninf into the Whites Only bathroom.
&nbsp&nbsp&nbsp&nbsp "It taught me who I was," Tagawa says. "I felt I was walking a fine line between Whites and Blacks. I was a stranger in a strange land." The race issue is never far from Tagawa's life and work. The 43-year-old actor got his first break as the head royal eunuch in Bernardo Bertoloucci's acclaimed 1987 epic The Last Emperor. In Rising Sun, directed by the superb Philip Kaufman, Tagawa plays a rich, charismatic Japanese playboy. The Michael Crichton novel on which the movie is based has been accused of playing to a Japan-bashing mentality, but Tagawa is far more sanguine about the effect the film will have on American society. In fact, he sees it as a "major turning point" in the way Hollywood presents Japanese, presenting "an intelligent and objective view of what the Japanese believe."
&nbsp&nbsp&nbsp&nbsp Half the reason he is in the acting business, Tagawa says, is his concern about the way Asians are perceived. That is why he has turned down so many parts. "The worst thing about stereotyping in the U.S. is that Asian males are shown as weak. That really burns me. What I see in Asia is that they are much stronger than Western men. I believe that the positive aspects of the human race in terms of relations with other people on a personal, social and business level."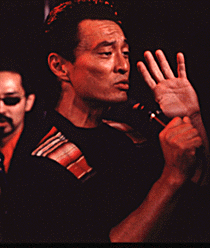 &nbsp&nbsp&nbsp&nbsp That's strong talk for an actor, but Tagawa is a strong actor whose powerful portrayal of a virile Japanese playboy named Eddie Sakamura will raise racist hackles and perhaps even put Asian males in contention for some leading men-roles in Hollywood.
&nbsp&nbsp&nbsp&nbsp Tagawa's strength of feelings and the fervor with which he expresses them are fed by an unusual background. His late father was a Japanese native of Hawaii who was serving in a U.S. Army counter-intelligence unit in Japan when he fell in love with a Japanese actress. She had taken the stage name Hata Mari because of her fascination with Mata Hari, the real-life German World War I spy. Hata Mari was from an aristocratic family. Her father Nakayama Motoharu was secretary of architecture in the Imperial government and her mother's grandfather was a count. Over her family's objections Hata Mari ran away from home to join the Takarazuka theater, an all-female review specializing in Western musicals. Hata Mari played the strong male roles.
&nbsp&nbsp&nbsp&nbsp Tagawa's father was from a working class family, but as a soldier of the victorious American occupation forces, he treated his future brothers-in-law harshly on first meeting them. He never spoke of his war experiences to his son. Years later in Duarte, California when Cary, a high school student, wanted to take the entrance exam for West Point, his strict, uncommunicative father exploded with anger and put a quick end to the boy's infatuation with the military. Later Cary wound up protesting the war in Vietnam. Today his only militarist fantasy is to play Genghis Khan.
&nbsp&nbsp&nbsp&nbsp "There's something natural about the warrior-consciousness in my being," Tagawa says. It was already there when that six-year-old boy watched the men going to their separate toilet facilities in North Carolina. "I felt that Blacks expressed subsurvience and fear," he notes. "The Whites were arrogant and abnoxious. Although I didn't relate to that completely, it seemed a better choice because the Japanese do have a superiority complex."
&nbsp&nbsp&nbsp&nbsp Despite his pride at being Japanese, Tagawa was buffeted by feelings of loneliness and a strong sense of individualism whether he was one of the few Japanese boys growing up on southern U.S. Army bases or the American relative visiting his maternal grandparents in Japan. PAGE 2


CONTACT US | ADVERTISING INFO

© 1996-2013 Asian Media Group Inc
No part of the contents of this site may be reproduced without prior written permission.