GOLDSEA | ASIAMS.NET | ASIAN AMERICAN PERSONALITIES
RISING STAR
PAGE 2 OF 3
"That last year at USC I was very rebellious. I went around in bare feet, overalls, no T-shirt."
fter moving every two years to different southern army bases, the Tagawas went to Pasadena when Cary's father retired. It was a mixed neighborhood with many Japanese Americans and a Japanese American community center. "In a way it created security to find a place where I could be accepted, but on the other hand, I found that kids who had all-Japanese friends tended to be followers/ I didn't find individuals like the kind that I thought myself to be. My best friend was Caucasian. My early years were influenced in my heart by being Japanese, but outwardly a lot of it was Caucasian. I was definitely raised in a White environment. I thought I might have to go back to Japan to find my identity. When I did, it reinforced the fact that I was Japanese in my heart and my emotions and that felt comfortable. But there were also conflicts because I didn't have as much freedom to be rebellious as I did in the United States."
&nbsp&nbsp&nbsp&nbsp Tagawa grew up constantly in search of a place where he could fit in. In Duarte he was the new kind in high school and one of only two Japanese kids. Tagawa felt pressure to prove himself. "I always believed that Japanese were special," he recalls. "It was a very racist, one-sided view, but I felt, 'Okay, you guys want to be racist to me, I'll show you what I can do.'"
&nbsp&nbsp&nbsp&nbsp Tagawa became vice-president of the sophomore class and president of the junior class. He played King Arthur in Camelot and Plato the teen philosopher in Rebel Without a Cause. His mother, who used to take him to movies all the time, discouraged him from becoming an actor because she thought that Asian roles in America didn't have substnace. Tagawa found encouragement from his drama teacher who told him to get experience with life in order to portray life.
&nbsp&nbsp&nbsp&nbsp At the University of Southern California Tagawa participated in anexchange program that enabled him to return to Japan for a year's study. "I wanted to get away from the Vietnam War," he recalls. "The whole My Lai incident affected me," referring to the 1968 massacre of 400-500 Vietnamese villagers by American soldiers. "I felt it wouldn't have happened if it had been a war in Europe."
&nbsp&nbsp&nbsp&nbsp When he returned from Japan Tagawa experienced culture shock on several levels. "I didn't know what was funny any more. My bedroom seemed too big for me. Suddenly I felt like Gulliver. It was a very interesting time in America, comparable to the consciousness the Japanese must have had when the atomic bomb was dropped and they realized they were not invincible. Americans must have felt like that when they lost the war in Vietnam. They were doing everything to escape that thought."
&nbsp&nbsp&nbsp&nbsp Tagawa reacted in a different way. "That last year at USC I was very rebellious." He attended class graduation but never turned in the two term papers necessary for a degree. "I went around in bare feet, overalls, no T-shirt. I was upset at America and the unfulfilled promise of what America was supposed to be."
&nbsp&nbsp&nbsp&nbsp In the late 60s he had started studying martisl arts and connecting with Japanese culture. "It helped to calm me and focus my concentration. But when I was studying in Japan and would mask my masters about meditation and the internal aspects of martial arts, they'd say, 'Don't worry about that. you're young. You fight. When you're old you can think about it.'"
&nbsp&nbsp&nbsp&nbsp Feeling that he was missing out by training only his body, Tagawa studies metaphysics and Native American views on nature and the social structure. He related Indian heroes like Geronimo to Japanese samurai and to the horsemen of Mongolia who also possessed a deep interest in nature and spiritualism. Tagawa ultimately developed his own synthesis of the physical and spiritual and called it Chuu-Shin. Literally, Tagawa explains, it means centered, to be inside the heart and mind.
&nbsp&nbsp&nbsp&nbsp For a few years after college Tagawa taught Chuu-Shin, worked out, did massage and became a Venice street performer. His long hair and Indian necklace became a familiar sight on the streets. Crowds gathered to watch him demonstrate exercises to the tune of New Age music.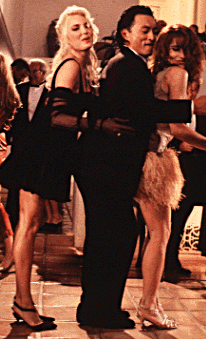 &nbsp&nbsp&nbsp&nbsp In 1984 a friend introduced him to Sally Phillips, a San Diego artist who, at 5-11, was the first woman with whom he could relate eye-to-eye. The most beautiful man she had ever seen- that was Sally's first impression of Tagawa. Sally had recently recovered from painful personal and physical problems with the help of Joseph Rael, a college-educated Native American medicine man in Santa Fe. She talked Tagawa into joining her ona trip to Colorado to participate ina Ute celebration called Sundance. An earthly, unpretentious woman, Sally proved to be a good listener. For the first time, Tagawa felt free to confide his interest in acting. She encouraged him to commit himself to succeeding in that profession.
&nbsp&nbsp&nbsp&nbsp Her mother took an instnat liking to Tagwa, but understandably, her father, a retired math teacher, was wary of "this long-haired guy off the boardwalk". At the San Diego Yacht Club Tagawa tried to ignore all the glances he received. "I was more conscious ot it than Sally was," Tagawa recalls. Whatever reservations Sally's father may have had, they vanished when he saw how much Tagawa cared for Sally and the children.
&nbsp&nbsp&nbsp&nbsp Tagawa's first acting break was as an extra in Big Trouble in Little China. He fell in love with the whole process during the few minutes he got to stand in front of the camera. That was followed by a bit part in Armed Response starring David Carradine.
&nbsp&nbsp&nbsp&nbsp A friend sent Tagawa's photograph to Bertolucci's casting staff. "They called me in for a reading. I never read in my life and had nothing to lose. I overreacted but the casting woman liked it." With some discomfort he read the lines of a Japanese soldier. "All the Japanese parts were horrendous, horrible, showing the most negative aspects of the Japanese. I read through four different Japanese roles and each time I thought I blew it, but the part I finally got was the chief Chinese eunuch."
&nbsp&nbsp&nbsp&nbsp Tagawa was on location in China for 10 weeks. He was overwhelmed both by being in a country he had dreamed of visiting and by his association with Bertolucci.
&nbsp&nbsp&nbsp&nbsp "The first morning I woke up, I felt as if I had landed on another planet," Tagawa recalls. "The energies in China were so different from American vibes or even the Japanese experience. The history of China is so old you just felt the energy moving through them. They're very friendly and open but on the inside they have a lot of secrets- not just because they are Communists. Because of their vast experience, they have an inherent wisdom. The difference between the Chinese in China and the Japanese in Japan- the Chinese seem much freer- and louder. The Japanese were very conservative, very contained and controlled. It makes sense because Japan is the size of Wisconsin. If everybody were flamboyant and free, there would be total chaos." PAGE 3


CONTACT US | ADVERTISING INFO

© 1996-2013 Asian Media Group Inc
No part of the contents of this site may be reproduced without prior written permission.