GOLDSEA | ASIAMS.NET | ASIAN AMERICAN PERSONALITIES
AMERICA'S TOUGHEST COP ALIVE
Art Tom has earned that title in two consecutive international competitions.
PAGE 1 of 4
"I can beat him. I just haven't yet. I have no doubt in my mind that I'm fully capable of it. I'm faster than he is."

e's too humble to bring it up in polite conversation, but LAPD officer Art Tom is America's toughest cops alive. The New Jersey native has proven it over the past two years by finishing second only to a Swedish cop in the world's Toughest Cop Alive competition, an international event that attracts thousands of police officers from more than a dozen countries. The TCA, as Tom calls it, is a sort of decathlon for cops, except that there are eight events, not ten, and the competition is held on a single day, not spread over two. It's a grueling test of strength, agility and endurance. No one questions these qualities in Art Tom, a 31-year-old former Marine captain.
Tom thrives on physical challenge, whether it's vaulting an "impassable" fence or to chase down local gangbangers or taking down a particularly combative suspect. "He has so much energy it seems like he's going 100 miles per hour all the time," says LAPD Detective Randy Quan, Tom's former supervisor at the Los Angeles Police Academy's firearm training unit. "If I could have a squad of Art Toms, it would take the place of an entire platoon."
Tom is acknowledged to be America's toughest cop alive. But before he can claim the title of the world's toughest cop alive, he will have to wrest the TCA crown from the Swede who beat him out in two consecutive competitions. Amid the sporadic gunfire at the shooting range at the LAPD Academy, Tom talks about the TCA competition and his life as a memberof the LAPD.

GoldSea: When did you join the LAPD?
Art Tom In February 1990.

GS: When did you get involved with the TCA competition?
AT: As soon as I got out of the police academy I started competing in this, so it's been about 3 1/2 years.

GS: How did you get started in the competition?
AT: One of my physical training instructors suggested I do it based on my performance here at the academy. I did [my first] one on a team basis here at the police academy and did real well in my two events. A month later there was a state championship, so I decided to try that also. But I didn't train properly and I finished eighth. So I decided to train a little harder and in June 1992 I went to the world championships and got a silver. I also got a silver last year.

GS: Who got the gold?
AT: The world champion is from Sweden; he's a sponsored athlete. All of his travel is paid for and his training is on-duty, so it's hard to beat him.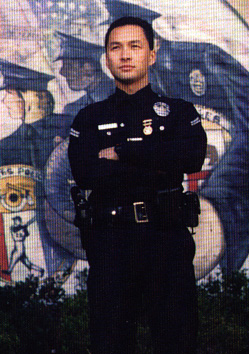 LAPD Officer Art Tom studied taekwondo for 7 years and put himself through years of rigorous daily training before he was ready to win the title of America's toughest cop alive.

GS: Is he head and shoulders above everyone else?
AT: Not really. I can beat him. I just haven't yet. I have no doubt in my mind that I'm fully capable of it. I'm faster than he is. Technically, he's a better athlete. He's better coached. He's the only one who's beaten me.

GS: How many officers compete in the world championships?
AT: About 150. About 30 are from the U.S. I'm the state champion from California.

GS: Is it an extremely competitive situation?
AT: Oh yeah.

GS: Is there much trash-talking?
AT: No, not really. All these guys are cops, so they get enough trash talk on the street. There are people who get upset when they don't do as well as they want to, but it's mostly against themselves and the judges. You're basically competing against yourself. PAGE 2


CONTACT US | ADVERTISING INFO

© 1996-2013 Asian Media Group Inc
No part of the contents of this site may be reproduced without prior written permission.