ASIAN AMERICAN
PERSONALITIES
CONTACT US | ADVERTISING INFO

© 1996-2013 Asian Media Group Inc
No part of the contents of this site may be reproduced without prior written permission.
GOLDSEA | ASIAMS.NET | ASIAN AMERICAN PERSONALITIES
DEEP, DARK & HANDSOME
PAGE 5 OF 5
We were a little surprised to learn that Wong keeps a personnal diary. Is he lonely? "Yes" came the quick reply. But he enjoys his own company, especially after the divorce. In his spare time he enjoys motorcycling and playing football and basketball with his brothers. Occasionally he likes to match wits with his personal computer over a good game of chess.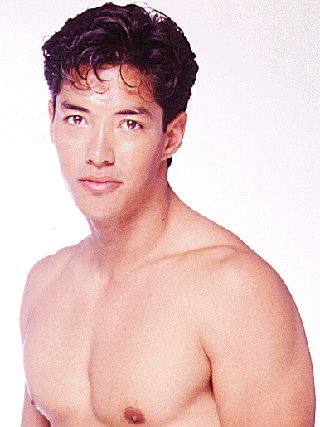 Though he divides his time between L.A. and New York, he calls New York home because "New York has a more competitive edge and Los Angeles is too laid back". But in the back of a New York taxi he adds, "You know, I'm really a gypsy".
In 1983 an agent came from Hong Kong looking for a new talent. A year later Wong signed a three-picture contract and flew to Hong Kong for his first film, Musical Singer. He quickly learned Cantonese for the part. Now he is a well-known actor in Hong Kong. In fact, according to his mother, there was a time when the two top movies in the city starred Russell and Michael Wong respectively.
The Wong brothers' dream of one day teaming up on a film project: Steve is an assistant cameraman, Bradley is a hair stylist, Gregory is a bass guitarist, Declan is a professional magician and actor and Michael is already a Hong Kong box-office star. There older sister Victoria, however, is happily married with two children.
Wong admires John Lone but carefully avoids naming his favorite Asian actress. He says he had a better working relationship with Joan Chen then with any other Asian actress. Christopher Walken is his all-time favorite actor.
What upsets Wong? "Racism", he snaps. He has a one-year-old daughter with a black dancer to whom he is not married. He adores his daughter and does his best to support her.
CONTINUED BELOW
---
---

"Being a father really changed me". Prior to that he admits to having been lazy in going to auditions. Now he averages five auditions a week even though most of them are in L.A.
Serious fan mail started coming after his appearance in As the World Turns. But he's modest about his popularity. "It's cute and everything but I want to be recognized for my acting. But I don't mind the attention".
The Hollywood Reporter said about his performance in China Girl, "Russell Wong, with his strong screen persona, has matinee idol looks and leading man charms". Wong longs for truly challenging roles as romantic leads or high-powered villains. His high school basketball coach taught Wong the importance of setting goals. Wong's chief goal, of course, is "becoming a well-respected actor". 1988 wasn't a good year as far as advancing this goal but 1989 has been very good. And it looks like his career is on the upswing.
That has inspired Wong to set a few tentative goals. He will marry, perhaps, and live in a spacious, monastic house in the wilderness of Northern California, tooling around in either a Jaguar or a BMW 7-series while working on producing a blockbuster movie with his brothers. How's that for goal-setting, Coach?
"You know, I'm really a gypsy"