ASIAN CALIFORNIA
Page 11 of 12

Koreatown is devoid of manufacturing and technology plants but serves as a favorite U.S. base of operations for Corean companies representing and marketing Corean-made hi-tech products. Koreatown is a relatively short drive from Los Angeles International Airport, the Port of Los Angeles and the Port of Long Beach--three of the world's highest volume conduits for the shipment of cargo and freight.

"In the 21st Century, it won't be the Japanese American community doing this, and the Corean American community doing that and the Chinese American community doing something else entirely."

Koreatown bustles with about 300,000 Coreans daily, though only about 75,000 of the more than 500,000 Corean Americans in Southern California live within its boundaries. Coreans are simply dissatisfied with the quality of elementary and secondary education offered in city schools. So-called "Asian flight" will send Corean Americans and recent Corean immigrants to those distant suburbs where the public schools are better qualified to prepare their children for a demanding world.
"Corean American parents want the best education for their children," says Choi. "They are shopping around for the schools that will best meet their expectations."
Education, however, is only the half of it. An open wound in the Corean psyche is the racial disparity and the violence associated with prospering in the neighborhoods they share with blacks and Hispanics. Nearly two decades of social tension blew itself out of proportion when rage and opportunism exploded in the aftermath of 1992's Rodney King beating verdict. The riot of '92 spread itself from South Central Los Angeles and fed upon Corean businesses. Broken glass and plundered aisles were the remains of many Corean families' dreams and savings. Others were simply burned to the ground, with nothing but memories of the owners' struggles.
2000 Corean-owned businesses were burned, looted or both. Out of these, 385 were discount swapmeets, 314 were food markets, 288 were clothing retailers and 220 were liquor stores. The damage tab was $400 million, nearly half of the total losses reported for all of Los Angeles.
In the hearts of many Coreans, the burning is equivalent to the pain of the Japanese during WWII. It is a pain that will always be remembered. But April 29, 1992 was also a day of fighting back.
As dusk fell that day, Elliot Park organized a troop of 150 or so Corean guards. Los Angeles Police Reservists, like Park, and South Korean army and marine veterans toted their guns and stood guard in front of Corean businesses and radio stations. "We are trained from the police and the military," says Park. "We had a right to protect ourselves since nobody else would."
All gun carriers were licensed. But the media portrayed armed Coreans in a race and turf war with blacks and Hispanics. "[The media thought] blacks, Hispanics, Coreans, they're all the same. Let them burn," says one Corean who witnessed the furor firsthand.
The afternoon of April 30th, Koreatown started to burn. Groups of kids, most between the ages of 17 to 25, began to light the fires. The opportunists smashed store windows and looted. Many armed Coreans locked themselves in their stores and watched as police cruisers simply drove by.
For three days and nights uncertainty and fear permeated Koreatown until National Guard troops were finally brought in. The LAPD's perfectly minimalist response shook the faith of many Coreans.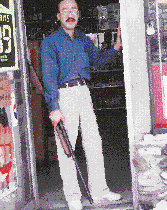 The right to bear arms turned necessity in the aftermath of the Rodney King beating verdict. 2000 Corean-owned businesses were burned, looted or both for three days while police cruisers drove by.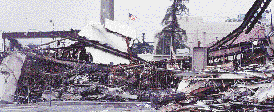 "Instead of calling the police from now on, I have to arm myself," the store owner says.
Koreatown lost that battle, but is far from losing the war. Since 1969, Coreans and Corean Americans have infused Koreatown, the largest Corean community outside Seoul, with over $6 billion. The California Korean Bank, Hanmi Bank and the Korean consulate have relocated there. Corean conglomerate LG has infused millions into some of the area's older buildings. Koreatown is fast becoming California's Corean financial center. Page 12

| Page 1 | 2 | 3 | 4 | 5 | 6 | 7 | 8 | 9 | 10 | 11 | 12 |

Problems or suggestions?
Email tea@goldsea.com
© 1998 by GoldSea
The graphics and writing contained herein may not be reproduced without prior written permission.