ASIAN CANADA
Page 3 of 5

Thomas Fung, Aberdeen Centre's owner, has managed to shoo away most of the sham businesses. He's in for the long haul and representative of the majority of Asian immigrants. Fung told Vancouver magazine about an employee of his who went back to Hong Kong for a better job. He lasted one month there. Colleagues who were once subordinates were now telling him what to do. He was ridiculed for failing in Canada. He came back.

"My family were the pioneers. Whenever people see familiar faces, that's where they tend to go."


Fung recently paid some $15 million for a monopoly on local Chinese broadcasting. July 1, 1997 doesn't scare him.
Western Canada's main source of news for the Japanese Canadian community is The Bulletin. The monthly magazine is divided in half, one section in English, the other Japanese and has a circulation of about 5,000. The Bulletin's main focus is to pull together the Japanese Canadian community which dispersed throughout the country after the Second World War.
"Following redress, which we achieved here about 6 years ago, the community is now in a period of transition," says English editor John Endo Greenaway. "Redress gave a focus to the community. It's over for all intents and purposes."
Unknown to many, the Canadian federal government imposed a WWII internment on Japanese Canadians that was just as harsh, if not harsher, than what their American counterparts faced. On December 7, 1941, the first Japanese were arrested by the Royal Canadian Mounted Police. Japanese community schools and newspapers were shut down. Fishing boats and automobiles were impounded. Radios and cameras were confiscated. A dusk to dawn curfew was imposed.
One month later, the federal government ordered the evacuation of all male nationals between the ages of 18 and 45. Soon after they began taking families. By October 1942, 22,000 people had been displaced from their homes. Adding economic insult to injury, the Canadian government liquidated all properties belonging to internees under the pretext of using proceeds to pay for their internment.
"Some people are looking to bring the community back together," says the half-Japanese, half-English/Irish Greenaway. "Others continue to assimilate. I think if we can bring the new immigrants into the community it will strengthen the community. Up until now, we have been defined by the three existing generations--Issei, Nissei and Sansei. Because the Issei are passing away, and the Nissei have a whole different perspective, it's getting hard to define the community."
The Powell Street Festival is one display of community strength. Begun in 1977, the annual celebration attracts about 8-10,000 people over the course of two days. An abundance of food, martial arts displays, arts and crafts and other festivities are capped off with a fireworks display on Saturday.
"There's not a lot of big, outward shows of activity," says Greenaway. "The Nissei sort of keep to themselves and the younger people tend to gather in small groups of friends. Compared to the Chinese Canadian community, it's very small."
Greenaway is also founder of Canada's first professional taiko group. Uzume Taiko mixes part costume drama, part jazz improv and part world music into the traditional Japanese drumming ceremony. The group performs throughout the year in concerts, festivals, corporate functions and in public schools. You might catch Greenaway's drumming in some Canadian films that he has scored.
For a small community, the Japanese cultural influence has been significant. Sushi has spread like wildfire. Japanese restaurants tend to be small, but they are all over the place. Perhaps the best known is Tojo's on Broadway. In Richmond four karaoke bars have sprung up in the last five years.
In the city of Burnaby, just outside of Vancouver, a planned community is under construction around Nikkei Place, a Japanese cultural center. Bosa Developments will build the majority of the 200-plus townhomes and about 800 apartment units. The goal is to create a town center within the city and provide a cultural and community home for Japanese Canadians.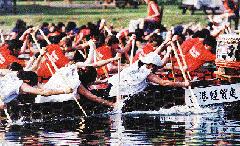 Dragon boat racing, a 2000-year-old celebration, is hosted by nearly every major City in Canada, drawing several hundred paddlers from teams across the country.

nother planned development is having an even bigger impact. Terry Hui, president and CEO of Concord Pacific Developments, has a few plans for the former site of Expo 86 on False Creek's north shore in downtown Vancouver. After 10 or 15 years and $3 billion, Concord Pacific Place will be a 204-acre futuristic city, networking retail stores, offices and residential areas with fiber optics automation. The 8,500 homes will be wired to accommodate mobile control of lighting, gas fireplace, motorized blinds, temperature, security system and even electronic appliances--all of which can be activated by phone from anywhere in the world. Windows will use LCD technology so they can go from transparent to opaque, blocking out the sun's rays and ensuring privacy. All homes and offices will also be wired to Fibre Net, which can transmit computer data at 45 megabits per second. Residents will surf the Internet at lightning speeds and experience the full spectrum of on-line multimedia.
Developer Hui may well be the unofficial head of Vancouver's business establishment. The 32-year-old's vision for Pacific Place will incorporate 40 high-rises and an equal number of low-rises, spanning the equivalent of 50 city blocks. The effort is so enormous that, once completed, Vancouver's center of gravity will actually shift southeast.
In keeping with Canada's commitment to the environment, the development won't be 50 city blocks of concrete. Far from it. More than half the site will be dedicated to the City of Vancouver for public amenities--parks and open spaces, waterfront walkways and public art.
For many Asian immigrants, Canada is the real land of opportunity. Tom Leung came to Vancouver from Hong Kong three years ago. Within months he began work at Gordon's Film, a major North American distributor of Asian films like John Woo's The Bullet In The Head. Now he's the company's manager, handling 50 to 60 films a year. It's a good business, and a growing one.
"Right now there are some big stars, like Jackie Chan and Chow Yun-Fat. Those movies attract lots and lots of people," says Leung. So do the movies based on comic book characters. "Teenagers these days only like to read comic books--Japanese comic books."
Vancouverite Leung describes the relationship between Vancouver and Richmond as akin to New York and New Jersey. During the week, Richmond residents drive into Vancouver to work and on the weekend, Vancouver residents like Lueng hit Richmond to shop.
The comparison may as well end there, however. "We don't have the pollution and crime here like other cities," says Wilson of the Richmond Chamber of Commerce. "It's not like parts of America. It's pretty safe here." Page 4
| Page 1 | 2 | 3 | 4 | 5 |

CONTACT US | ADVERTISING INFO

© 1996-2013 Asian Media Group Inc
No part of the contents of this site may be reproduced without prior written permission.