ASIAN CANADA
Page 4 of 5
TORONTO

espite Vancouver's promise of future eminence, for the moment Toronto remains Canada's economic powerhouse. It's the capitol of Ontario province and is Canada's largest city with a population of 4.6 million. It's also seat of the world's fourth-largest capital market. Toronto's stock exchange is North America's second-largest by volume and third-largest by value traded.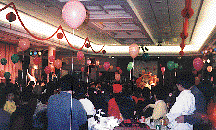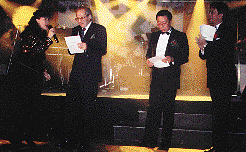 Patrick Chang's Century Palace is Toronto's most popular Chinese restaurant.


Toronto leads the way for Canada's multicultural distinction. 80 different cultures speaking 56 languages and practicing 25 religions keep the city pumping with cosmopolitan flavor. No culture is more visible there than the Asian Canadians. With five downtown Chinatowns and a significant Asian presence in Markham, Scarborough, Richmond Hill, Unionville and Mississuaga, Asian Canadians flavor much of Toronto's daily cultural and economic life.
Dr Ken Ng, chairman of the Chinese Chamber of Commerce, is somewhat of an elder statesman for Toronto's Asian community. In 1965, Ng left Hong Kong for Toronto. His parents had already established a family restaurant in the original Chinatown, and he worked there while studying family medicine at a local university. The restaurant was successful enough for the family to move out of the downtown area. Wherever the Ngs moved, it seemed, a new Chinatown sprung up.
"My family were the pioneers," says Ng. "Whenever people see familiar faces, that's where they tend to go. So with new movements of Asians, the need arose for new businesses. Gradually, they expanded further and further away."
First the family moved to Broadview, in eastern Toronto, then to Scarborough. Within Scarborough, Asians have flocked to an area called Agincourt, often called "Asian Court," Ng muses. Finally the family settled in Markham, a suburb which today is 10% Asian.
"That's the traditional movement," says Ng. "Nowadays, Chinese and Asians move directly to any of the areas. Many of the newer immigrants are upper middle class, with business and professional experience. They're buying new houses, bringing in plenty of money and are better off than many of the longtime Asian Canadians."
The Asian economic contribution, particularly by the Hong Kong Chinese, has played a very valuable role in sustaining Toronto, especially during recent recessionary times. More and more Asians are moving to the suburban outskirts, looking for new homes, boosting the real estate market, providing construction jobs. And many Asians are entering Canada on entrepreneur visas, starting small businesses, renting shops or building new developments. And as Ng stresses, they like to eat out. A lot.
The most popular Chinese restaurants in the Toronto area is the Century Palace, owned by Patrick Chang. It seats 1100 people and over the course of a busy Saturday serves between 3-4000 people. The Century Palace in Markham has been around for four years. In that time, Chang has opened four more in the Toronto area.
Chang is used to heavy business. His first restaurant was a Bob's Big Boy franchise he bought in 1973. Within the next five years, he opened another two. But his taste for Bob's decidely American fare soon ran thin, and he tried his hand at European cuisine. He opened an English pub, then a French restaurant and finally Italian before enough Asian immigrants made a Chinese venture possible.
"Chinese restaurants started appearing in Toronto around 1975," says Chang. "Then there were about 4 or 5 good ones. Now they're in the hundreds. I opened my first Chinese restaurant, Bamboo Court, in 1980."
Bamboo Court was located on Yonge Street, one of the main business streets in Toronto and one of the longest in the world--150 miles. Today Yonge Street is the "hip" street, full of record stores and pierced kids dressed in leather.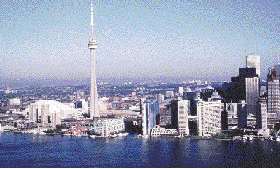 Toronto is Canada's leading city with a population of 4.6 million and boasts five distinct and separate Chinatowns within its borders.


"I opened Century Palace because many new immigrants have been coming to Markham. It's a very nice area and so different from Hong Kong and other Asian cities. It's peaceful, clean and very safe."
Markham hosted Autumn Festival during the August 31st weekend. Around 20,000 people, mostly from the Asian communities, gathered at Markham Village shopping center for a United Way walkathon, food, singing and festival revelry. The following Monday evening, Century Palace hosted a big gala Autumn Festival dinner. Close to 600 people finished the holiday with a Chinese feast.
At the root of Autumn Festival and other celebrations is not only community spirit, but an affirmation of Asian commitment to their new homeland as well . Each year during April's Arbor Day, Raymond Cho, the metropolitan Toronto councillor for the Scarborough-Malvern district, assembles between 300-1,000 Coreans to plant trees. Over the past 5 years, they've planted close to 8,000 trees.
"We Coreans have become very environmentally conscious," says Cho. "And we do it because we love Canada. But it doesn't matter where you live--Canada, China, Corea, America. It's your country. You should make environmental contributions."
Cho's thinking speaks to many in Canada who have chosen to live in an environmentally clean country. "Many developing countries want to get rich, but they end up hurting their environment," says Cho. "We have a very clean environment--good drinking water, fresh air. I think Asians, overall, have been adjusting to Canadian culture and society. Most feel at home here." Page 5


CONTACT US | ADVERTISING INFO

© 1996-2013 Asian Media Group Inc
No part of the contents of this site may be reproduced without prior written permission.