GOLDSEA | ASIAMS.NET | ASIAN AMERICAN PERSONALITIES
NEW ASIAN AMERICAN IMAGEMAKERS

he people featured here are so fascinating because they couldn't even have been imagined a decade ago. They're so much cooler, hipper, taller, bigger, slicker, bolder and more original than this society's preconceptions of Asians that they form the leading edge of a permanent image shift. They loom large in today's American mediascape and crowd out those creaky old images born of racial prejudice and nurtured by small-minded animosities -- the Hop Sings, the broken-English laundrymen, the short-time-alley hookers.

The subjects in this category aren't perennials. Ten years ago Asian major-league pitchers would have qualified. Today they swell the ranks of an emerging stereotype. In another decade the remarkable originals featured here may come to seem run-of-the-mill, but only because a new generation will have grown up with the benefit of their examples. We applaud them for showing us new ways to bust out of those cramped little boxes to which stereotypes would relegate us.
---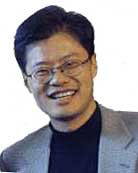 Jerry Yang
Yahoo! Co-Founder and Chief Yahoo

ure he's a geek but he's a fun-loving geek with two degrees from Stanford and a billion-plus net worth. Best of all, he's the crazily grinning face of the internet's most popular brand. That makes Jerry Yang a power geek. And no one has a cooler how-I-scored-in-the-net-boom story.

Back in the days when the internet was a gearhead domain (1994 to be precise), Yang and fellow Stanford EE grad student David Filo did some serious slacking to put up a little hobby site called Jerry's Guide to the World Wide Web. People found it useful and put it on their links pages. Before you knew it, it had become the portal for netizens in the know. By late 1994 Yahoo.com had its first million-hit day (a little under 100,000 unique visitors). Yang did the briefcase thing and found people dying to pour in a couple million (that would be Sequoia Capital) for a piece of the action. The IPO in April of 1996 was a smash hit, putting Yang and Filo on the road to billions before their 29th birthdays. Today Yahoo! remains the world's hottest site, logging over 230 million visitors a month. And Yang has the world's coolest title: Chief Yahoo.

As the hippest of ubergeeks, Jerry Yang has done more than anyone to take Asians out of nerdsville and turn them into icons of savvy tech fortunes.
---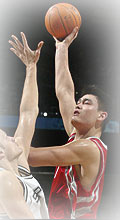 Yao Ming
Houston Rockets Center

What does it take to slap down the image of the vertically challenged Asian relegated to the sidelines? A 7-6, 310-pound Chinese NBA center who, in his rookie year, averaged 13.4 points a game and started for the Western Conference All-Star team.

It's no exaggeration to say that Yao Ming became the world's most visible human when he became the top draft pick of the 2002 NBA draft. The unprecedented pressure from the media circus and the expectations of an entire race didn't keep the 22-year-old from playing so sweetly that he ended his first season as the only rookie in NBA history to rank in the top 20 in three categories -- field-goal percentage, blocked shots and rebounds.

The second season will prove to be Yao's true test -- whether he can play big enough to be the polestar of a playoff-caliber team. As of December Yao was averaging 16.5 points, 10 rebounds and 1.9 assists per game. Not as good as Shaq (20.3/11.8/2.9) but better than, say, Vlade Divac (11.6/5.5/5.2), Michael Doleac (4.4/4.0/0.6) or Shawn Bradley (2.8/2.3/0.1). A quarter way through the 2003-4 season the Rockets are 13-9, ninth out of 29 NBA teams. The most important change from last season? Sportscasters now announce his team as "Yao Ming and the Rockets!"
CONTINUED BELOW
---
---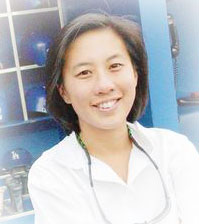 Kim Ng
Dodgers Assistant General Manager

s it possible to manage a major league baseball team without spitting or grabbing one's crotch? Kim Ng is likely to answer that question once and for all. The 32-year-old Dodgers's assistant GM is considered the leading prospect to become the first female general manager in Major League Baseball history.

In addition to her key role in arranging the trade that brought Hideo Nomo back to Los Angeles in 2002, Ng gained respect from Asian Americans in November 2003 for getting a Mets assistant GM fired for racially offensive conduct. In the bar of a Phoenix hotel in which an MLB general managers meeting was being held, Bill Singer had confronted Ng and asked where she was "from". Ng told him "China". Singer, 59, asked "Which country in China?", then began spouting mock-Chinese gibberish. The unpleasant encounter ended with intervention by Yankee GM Brian Cashman, one of Ng's former bosses. Ng complained to the Mets management. The onetime 20-game-winning-pitcher-turned-talent-scout offered up a public apology but got his walking papers anyway.

Kim Ng's connection with baseball is indirect but longstanding and sincere. As a child growing up in Queens, she became an avid Yankees fan. At the University of Chicago she distinguished herself as a star infielder on the softball team. Her career in MLB began in 1990 when she was hired as an intern by Chicago White Sox general manager Dan Evans. He ultimately promoted her to assistant director of baseball operations. In 1997 Ng moved over to the American League where she oversaw waivers and player records. Less than two years later, at the age of 29, Ng became MLB's youngest assistant GM when she joined the Yankees. Conducting research for salary arbitrations provided her first experience with the talent evaluation side of the business. In early 2002 Ng was lured to the Dodgers by Evans, her first MLB boss. In her new job she has been traveling extensively with the coaches, getting increasingly involved in talent evaluation and trade negotiations, giving Ng the experience she will need to become a credible general manager. PAGE 2
"In addition to her key role in arranging the trade that brought Hideo Nomo back to Los Angeles in 2002, Ng gained respect from Asian Americans in November 2003 for getting a Mets assistant GM fired for racially offensive conduct."
CONTACT US | ADVERTISING INFO

© 1996-2013 Asian Media Group Inc
No part of the contents of this site may be reproduced without prior written permission.