GOLDSEA | ASIAMS.NET | ASIAN AMERICAN PERSONALITIES
NEW ASIAN AMERICAN IMAGEMAKERS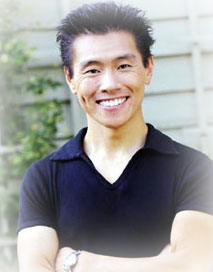 Vern Yip
Architect/Designer/TV Personality

e's intimidatingly hip, frighteningly cultured and shockingly well-mannered. When he rolls up his sleeves to redesign a room in 48 hours for The Learing Channel's hit yuppie nesting show Trading Spaces, he works as hard as five people. Through it all, his banter stays sharp enough for prime time.

Vern Yip is more than a tastemaker to thirty-somethings out to turn their homes into personal statements; his unique blend of hip and hardworking has made him something of a yuppie role model -- and the prototype of a new breed of Asian immigrants who bring not comical accents and cultural cluelessness but an intriguing new aesthetic, interpersonal sophistication and an awesome work ethic.

Yip seems to be expanding into his role as a reality-TV personality. A new edginess has begun surfacing. In the finale to the second season of Trading Spaces, when a dresser/desk combo built by Amy Wynn Pastor, the show's carpenter, didn't fit, Yip sniped that he might assume carpenter duties the next season. In a more recent episode, he quipped about his "very long" drill bit.

Vern Yip was born June 27, 1969 in Happy Valley, Hong Kong. He has become something of a southerner. After a BA in econ and a BS in chemistry from the University of Virginia, he went on to earn an MBA and master of architecture from Georgia Tech. His design and architectural work for Altanta hot spots has won him awards and recognition from regional and trade media. He owns an Atlanta design firm and sells distinctive decorative objects on the internet. With his hi-concept interiors and unerring instincts for the classy, Vern Yip is in serious danger of becoming the Martha Stewart of the hip-hop generation.
---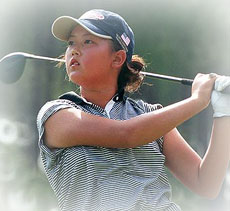 Michelle Wie
Champion Amateur Golfer

How many times have Asian American women gagged at the phrase "that lil' Asian (or worse yet, "oriental") gal"? Michelle Wie is well on her way to making that phrase stick in the craw of even the most out-of-touch. Start with her 6-foot frame. Add the fact that, at barely 14, she has a lot of growth left. The kicker: her 300-yard drives make most men look like dribblers.

Her limited tournament history suggests that Michelle may be very big for her age emotionally as well. She was only 10 when she became the youngest player ever to qualify for a USGA tournament. At 12 she became the youngest ever to qualify for an LPGA tournament. At 13 she won the U.S. Women's Amateur Public Links, becoming the youngest champion in the 108-year history of the USGA adult championships. Harboring the ultimate dream of playing in the Masters some day, in August of her 13th year Michelle took a shot at qualifying for the Bay Mills Open, a traditionally men's tournament. She didn't make the cut but no one doubts that it's only a matter of time.

Michelle Wie was born October 11, 1989 in Honolulu to Corean American immigrant parents. Father Byung-Wook ("BJ"), Michelle's coach and caddy, is a professor of transportation at the University of Hawaii's Manoa campus. Mother Bo is a Honolulu realtor. Michelle's day job is attending exclusive Punahou High, where she just began the ninth grade in the fall of 2003. She'll have to stick to her studies until she turns 18 and becomes eligible to join the LPGA, if not the PGA.
CONTINUED BELOW
---
---

If Asian Americans were asked to pick one actor to represent Asian men on screen, Russell Wong would appear at the top of the list. He's tall, buff, speaks English without an accent, has an in-your-face Asian name, can act and, last but not least, is a certified sex symbol. In addition to starring roles in the Vanishing Son and Black Sash TV series, the wattage of his sex appeal has made him a notorious big screen scene stealer.

In Romedo Must Die his portrayal of a stylish enforcer left audiences focusing more on Wong than on star Jet Li. In Prophecy II Wong inspired a cult following as the most seductive angel in Hollywood history. In The Joy Luck Club he turned even the relatively small role of an abusive husband into the film's sexual center of gravity.

Russell Wong was born March 1, 1963 in Troy, New York to a Chinese restaurateur from Shandung province and an aspiring actress of Dutch, French, Canadian and Indian ancestry. Russell attended Santa Monica City College while training to become a dancer. His acting career began in 1983 when a talent scout invited him and younger brother Michael to Hong Kong for a screentest. Only a handful of his three-dozen film and TV appearances have been sizeable roles, but Wong's looks and chrarisma have won him an enthusiastic fan following. 2003 was a big year. Wong turned forty and married Hong Kong fashion designer Flora Cheong-leen. He has embarked on a quest to find the kinds of leading-man roles that will make full use of his mature gifts. PAGE 3
"With his hi-concept interiors and unerring instincts for the classy, Vern Yip is in serious danger of becoming the Martha Stewart of the hip-hop generation. "
CONTACT US | ADVERTISING INFO

© 1996-2013 Asian Media Group Inc
No part of the contents of this site may be reproduced without prior written permission.