GOLDSEA | ASIAMS.NET | ASIAN AMERICAN PERSONALITIES
NEW ASIAN AMERICAN IMAGEMAKERS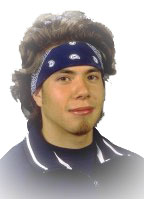 Anton Apolo Ohno
Olympic Short-Track Skater

adboys are a dime a dozen. A badboy who wins Olympic medals and sets world records is something else. If he happens be Asian American, you're probably talking about Apolo Anton Ohno, the 19-year-old Japanese hairdresser's son who made short-track skating the glamour sport of the 2002 Winter Games.

Ohno's superstar status goes beyond his Olympic gold and silver medals, or his puckish grin, thick toussled hair or even the soul patch he once sported. It's his attitude. There's a strong suspicion that he tanked a qualifying race so a buddy could make the U.S. Olympic team in place of a veteran skater. And the fact that he managed to get the entire nation of Corea to hate his guts by taking away their superstar's gold medal on a two-tracking violation.

Nearly two years after the Olympics, Coreans still hate Ohno. Death threats on the internet forced him and the U.S. team to withdraw from the Korean World Cup in late November of 2003. That didn't stop Ohno from setting a new 3,000-meter record and ending the year as the World Cup Overall Champion. Success and notoriety have hit Ohno hard. Since the 2002 Winter Games, he has been forced to skate through the heaviest, most aggressive traffic of his career -- swarms of agents cutting in on him with offers of book deals, movies, TV appearances and product endorsements.

Apolo Ohno was born May 22, 1982 in Seattle to father Yuki and mother Jerrie, a caucasian American. Apolo was only one when they divorced. Yuki got custody and raised him alone. From the age of eight Apolo was forced to fend for himself after school until his father finished work. By the time he was 12 Apolo began falling in with an tough older crowd. To occupy his son's energies more constructively, a worried Yuki got him involved with swimming. Apolo won a breastroke championship that year. He also took up rollerblading and became national champ in the 1000 meters at the age of 14. But after watching TV coverage of short-track skating from the 1994 Lillehammer Olympics, Apolo began focusing on skating and won a national junior championship two years later.
---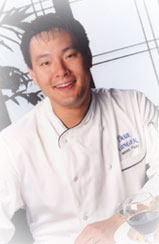 Ming Tsai
Chef/Restaurateur/TV Personality

emember Hop Sing, the gimp on Bonanza who talked like a brain-damaged stowaway but cooked up basic cattle-drive grub? Ming Tsai is his parallel-universe negative. The baby-faced kitchen god took to the airwaves to show Gen-X gourmands bold ways to infuse Asian flavors into dishes and lay down all-American patter to keep fingers off the remotes. Tsai made cooking look hip, fun and -- said many female fans -- sexy.

The cherub-cheeked Cordon-Bleu chef first invaded American kitchens in 1998 as host of a Food Network show called East Meets West. To help satisfy appetites whetted by the show, he and wife Polly opened the Blue Ginger bistro in Wellesley, Massachusettes. Two years later Ming began traveling around the world turning local ingredients into fusion dishes al fresco for Ming's Quest. In 2003 he moved over to PBS to host Simply Ming, a show that focuses on so-called master recipes for sauces, pestos, dressings and rubs that serve as the flavor-base for actual dishes.

Tsai's life could easily have been stereotypical. His father worked as a high-level scientist at Wright-Patterson Air Force Base near Dayton, Ohio. His mother ran the family's Mandarin Kitchen restaurant and taught cooking classes. As a teen Ming helped out in the restaurant while aspiring to follow in his father's footsteps. Not until college did Ming discover that his real passion wasn't science but cooking. He toughed out the Yale B.A. but went straight to Paris for two years of Cordon Bleu training and two years of apprenticing. Back in the states he went to Cornell for a masters in hotel management, then spent nine more years apprenticing under top chefs before opening the Blue Ginger and beginning his on-camera career.
CONTINUED BELOW
---
---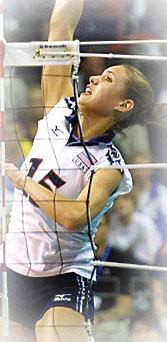 Logan Tom
Olympic Women's Volleyball Player

hen the U.S. National Women's Volleyball team goes to Athens in 2004, it will be led by an explosive 6-1 Chinese-Hawaiian outside hitter named Logan Tom. Her recent 20-point performances in leading the U.S. to a 3-1 win over three-time gold-medalist Cuba has rekindled the U.S. Olympic medal dreams that Tom had helped spark when she led the U.S. into the medal rounds at Sydney at the tender age of 19. Its ultimate fourth-place finish was disappointing, but better than the most optimistic predictions.

While smashing stereotypes of Asian women, Logan Tom won't do anything to reinforce the dumb-jock image. She compiled a 4.0 GPA while leading her Salt Lake City high school to two championships. She led Stanford to an NCAA championships in her junior year and became only the third player in Pac-10 history to repeat Player of the Year honors.

Genes may account for part of Tom's athletic success. Father Melvyn Tom played football for San Jose State and the Philadelphia Eagles. Another part may owe to the relaxed sun-and-surf lifestyle that has bred so many outstanding athletes from a small gene-pool. Logan Tom loves spending summers in Hawaii to enjoy the laid-back lifestyle of her childhood. PAGE 4
"Remember Hop Sing, the gimp on Bonanza who talked like a brain-damaged stowaway but cooked up basic cattle-drive grub? Ming Tsai is his parallel-universe negative."
CONTACT US | ADVERTISING INFO

© 1996-2013 Asian Media Group Inc
No part of the contents of this site may be reproduced without prior written permission.