GOLDSEA | ASIAMS.NET | ASIAN AMERICAN PERSONALITIES
NEW ASIAN AMERICAN IMAGEMAKERS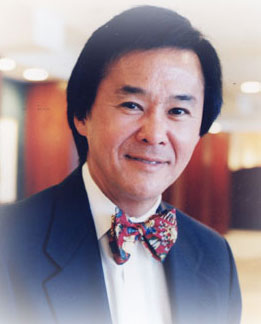 Morgan Chu
Intellectual Property Trial Lawyer

tanding before a jury and playing their biases to win a verdict for your client is the province of someone who has not only been validated by the system but embraced by the people, the ultimate "American insider". Until recently, the role of big-time trial lawyer has been off-limits to anyone but an obvious product of middle America. What litigant would want to risk getting on the wrong side of those biases with an attorney who didn't look and sound 100% middle America? The image of an Asian trial lawyer arguing a big case before an American jury once seemed like a scene out of Alice in Wonderland.

Morgan Chu, Irell & Manella's superstar partner, has turned that image on its head. Not only is he an acceptable choice as trial counsel but was the smart one in some of the nation's biggest intellectual property verdicts of all time. His $500 million verdict on behalf of the City of Hope was the second biggest of 2002. He is considered the nation's top intellectual property lawyer and is frequently counted among America's 10 best trial lawyers. Chu's impact on the image of Asian American lawyers has been more pronounced because he established himself as a bright star while in his 30s. He hasn't been hurt by the fact that he looks like central casting's idea of a devilishly dashing trial lawyer, complete with bowties.

Morgan Chu's early life didn't bear the earmarks of a stereotype buster. Aside from his Asian face, Morgan Chu is a product of upper-middle America. He was born in New York in 1950. Being precocious, he started UCLA at the age of 16. By 23 he had earned three degrees. He then got a second masters from Yale before enrolling at Harvard Law School. He graduated magna cum laude in 1976. He spent a year clerking for a federal appellate judge before joining Irell & Manella as an associate in 1977. He became a partner in 1982.
---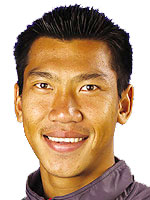 Paradorn Srichaphan
Professional Tennis Player

ennis may well be the ultimate test of mental toughness for an Asian athlete. Not only is it the whitest of professional men's sports, it's the only one in which an Asian player must take to the court before a predominantly white crowd and play head-to-head against a white opponent. That's one reason Michael Chang won so much admiration from Asians around the world. His relentless court coverage and superhuman focus made it seem possible for a small, quick Asian player to beat bigger, more powerful white players if he works hard enough.

As Michael Chang's career wound down to retirement at the 2003 U.S. Open, a new Asian player emerged to fill the void. Paradorn Srichaphan seemed to embody a new era of global nutritional equality. At 6-1 and 180 pounds the Thai sensation is considerably studlier than the average tour player. His serves are big enough to hold against most opponents. Unlike Michael Chang, whose emotional range seems to range between determined and grim, Srichaphan generally exudes an air of princely ease and expansiveness. That and his sturdy good looks have made him Thailand's top celebrity and a new idol for Asian tennis fans everywhere.

Paradorn Srichaphan was born June 14, 1979 in Bangkok, Thailand where he continues to make his home. He is youngest of three sons, all of whom were coached by their father Chanachai, a club player who taught himself to play tennis from an instructional video. All three have played on the Thai Davis Cub team. Paradorn gave up college ambitions in 1998 to turn pro. For the first three years he struggled outside the top 100. In 2001 he skyrocketed to number 31, then to 16 by the end of 2002. The climb continued in 2003. At the age of 24, Srichaphan has worked his way up to number 11 in the ATP rankings. Wins over top players like Andre Agassi, as well as four ATP titles, make him a Grand Slam threat. Some feel that he is disadvantaging himself by refusing to replace his father with a more acclaimed coach.
CONTINUED BELOW
---
---

Lindsay Yamasaki
New York Liberty Forward

asketball's growing popularity with Asian girls may owe to the fact that its in-your-face aggression, wholesome physicality and the un-geisha-like height of its players is the ultimate rejoinder to stereotyping of Asian women as submissive and/or sexually-available. Leading the trend is a 6-1 Japanese American forward named Lindsay Yamasaki, the first Asian American to play in the WNBA. The 22-year-old Oregon City native averaged just 0.7 points a game in her rookie (2003) season and the New York Liberty finished the year ranked sixth out of the seven Eastern Conference teams. That's a far cry from the 11.4 points Yamasaki averaged in her final year as Stanford's star point guard.

&nbsp&nbsp&nbsp&nbsp Admired for a go-for-broke style and lethal 3-pointers, Yamasaki improved her stats each of her four years as a Cardinal. Her final season ended in a 62-59 white-knuckle loss to Colorado in the West Regional semifinal of the 2002 NCAA Championship. For Yamasaki the sting was intensified by missing the game-tying 3-pointer passed off to her by the jittery designated shooter. Still she finished with one of the best career records in the Cardinals's illustrious history -- 9th in career points scored and 3rd in career 3-pointers.

&nbsp&nbsp&nbsp&nbsp What makes Yamasaki even more of a rarity is that during her first two years at Stanford she also moonlighted on its top-ranked volleyball team. She was good enough to be named to the 2001 U.S. World University Games team and was a standout in the eight-game series that ended in victory over China for the gold.

&nbsp&nbsp&nbsp&nbsp Yamasaki's WNBA starting salary of $40-50,000 is peanuts compared to the paychecks she might be getting in business, law or medicine, but she is inspiring a generation of AA girls in search of role models. Following hot on Yamasaki's heels are USC's Kyoko Miller and UCLA's Natalie Nakase, among others.
"What makes Yamasaki even more of a rarity is that during her first two years at Stanford she also moonlighted on its top-ranked volleyball team."
CONTACT US | ADVERTISING INFO

© 1996-2013 Asian Media Group Inc
No part of the contents of this site may be reproduced without prior written permission.